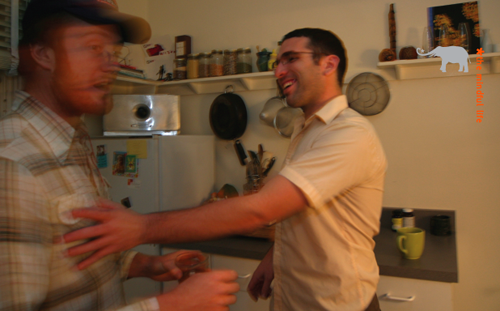 Waylon and Pangea Organics founder (and his former neighbor) Josh Onysko, 2006.
Christians may be excused if they look upon 2006 as a dark time: for pride, envy, gluttony, lust, anger, greed, and sloth are in rampant excess, for sale at every 7-11, as seen on TV.
Those heathens, the Buddhists, couldn't agree more. They call this 'the dark age,' when even devoted 'warriors' for peace and gentleness are losing heart. One of the signs of this 'dark age,' it's said, is a lack of respect for one's elders (reverence is a value particularly pronounced in Confucianism, the Tao, and Tibetan Buddhism—three ways of life that, less than welcome in their native country, survive primarily in $90 textbooks that college freshman have to, but don't, read).
I grew up as an only child with a single mom. I had to teach myself (ow!) how to shave. I had to rough and tumble my way into respek (Ali G) on the basketball court and baseball diamond (having skipped a grade, I was a little runt).
Oh, my mom made sure I had good father figures in my life. First among these was Sergeant Willy Ryken, a hard-living, ever-smiling Vietnam Vet/Buddhist drill instructor, who taught me how to be a (gentle)man—how to give up my pride, again and again (a lesson I've learned incredibly well, thank you). But I never felt comfortable around authority. I was the brash, demonstrative, insecure Icarus who always wanted approval, and never felt like I got it.
I thought Cary Grant was suave & funny, and Errol Flynn the kinda naughty yet noble hero I wanted to be like, someday, sweeping Lady Marian off her feet. Toshiro Mifune & Groucho Marx filled out my top 10. I loved my parent's Buddhist teacher, Chögyam Trungpa—but frankly, he was so slow-moving (he was half-paralyzed) and slow-talking that he bored me. I much preferred his Regent, the charismatic Ösel Tendzin, who always made sure that the children in his Buddhist talks understood what he was talking about and enjoyed themselves. And I particularly loved the Karmapa, who, equal in the Tibetan Buddhist world to the Dalai Lama, was nevertheless happiest when talking and playing with little punk kids like myself. The Big Man in the Big Hat, I called him. But Dave Winfield and Magic Johnson were at the top of my shrine—and somehow, they always played particularly well whenever I watched, in fervent reverence.
So what's the point? We all still have our hero(in)es. There's plenty of respect left in the world. As Uma once said, some of us love Elvis, and some of us love the Beatles. Some are fascinated with Jennifer Aniston, Brangelina, Paris. But no matter how pedestrian our affections, the intensity and joy with which we follow our idols' every move—every expression—is a precious thing. It means we're open to change, even if just in our hairstyle.
Now that I'm all grown-up, my Magic and Winfield (and Elle MacPherson) posters are down—Clooney, Jon Stewart, and RFK Jr. have taken their place. Bill McDonough and Yvon Chouinard are up there with Georg Feuerstein and Alice Waters, Pema Chödron, Paul Hawken, Jonathan Rose, Richard Freeman, and Cyndi Lee. I'm one of the few remaining to find a breath of fresh air and integrity in Howard Dean, and I join many in respecting John McCain. Franti rocks my boat; Gary Snyder is my kinda sage; Reggie Ray and Ken Wilber light up my dark brain like a roman candle. Newman and Redford, having taught me more about being a man than my old man, remain on the list—for they've leveraged their fame, through Newman's Own and Sundance, for the benefit of others.
Christian or Muslim, rich or poor, straight and/or gay—we all just want to be happy. Well, Buddhists say the secret is to stop thinking about yourself all the time. Oh, you can still buy yourself elegant clothes and eat good food. We're not talking Mother Theresa, here. You don't have to be the Lord Jesus Christ or Thoreau or Gandhi or MLK, Jr. or Thich Nhat Hanh or the Dalai Lama. That kind of self-sacrifice is a helpful example for the rest of us—these are the kinds of heroes we need in this dark age—but no.
We're talking about something as simple as bothering to recycle that torn envelope or bicycling to work or meditating two minutes each morn and eve or supporting your local mom n'pop instead of Targét. We're talking about brightening up this dark age, day by day, in little ways, by trying to mind our every action. And that, I've found, is a more joyful way to live. The Mindful Life, I call it. You can call it whatever you like.
Yours in the Vision of Enlightened Society,
Waylon Lewis, editor-in-chief