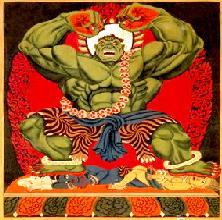 Buddhist Hulk smash all twitter discursive mind into Samsara, and to the other shore. Ho!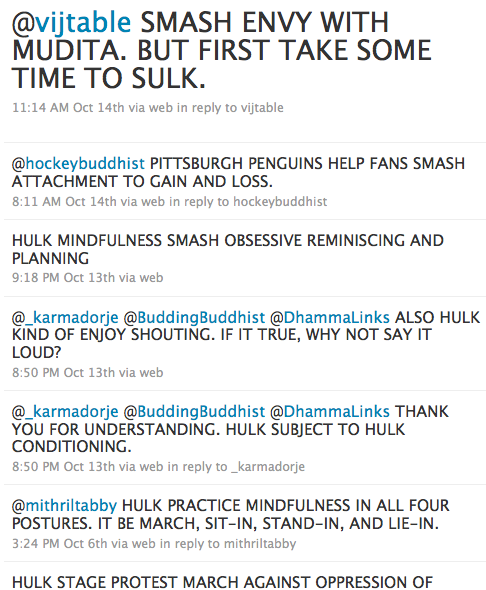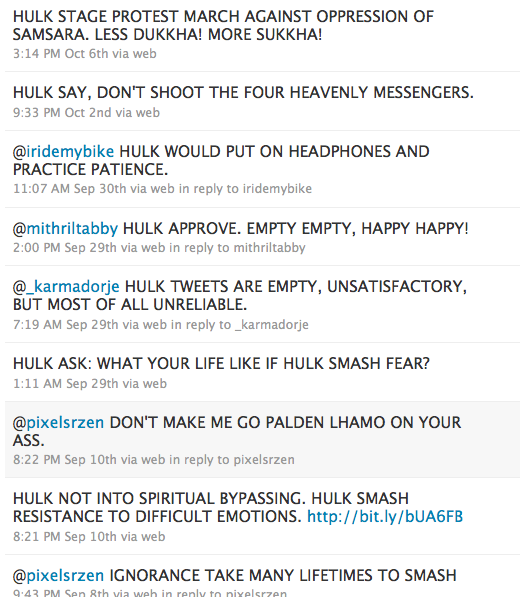 A few more recent classics:
HULK LOVE SMASH. ONLY THING HULK LOVE MORE THAN SMASH IS MINDFULNESS OF SMASH.
RAAAAR! HULK SMASH DELUSIONS!
HULK OFFER DHARMA REFLECTION: WHAT IN YOUR LIFE RIGHT NOW NEED SMASH?
SOME PEOPLE SAY SMASH NOT BUDDHIST. HULK SAY RAAAAAAAAAAR!
HULK SMASH FOR BENEFIT OF ALL SENTIENT BEINGS.
IF HULK CAN'T DANCE, HULK NOT WANT BE PART OF YOUR SPIRITUAL REVOLUTION.
HULK OBSERVE DESIRE TO SMASH ARISE, AROUSE WISDOM TO DISCERN FITNESS OF OBJECT, TIMING, AND INTENTION OF SMASH. THEN SMASH.
GIRL GET ALL UP IN HULK FACE AT STORE. HULK FULL OF GRATITUDE FOR CHANCE TO PRACTICE PATIENCE.
HULK SMASH OPPRESSION, MOTIVATED BY COMPASSION FOR BOTH OPPRESSED AND OPPRESSORS.
HULK CONSIDER SMASHING HEADACHE, BUT DECIDE ON TYLENOL INSTEAD. HULK ALL ABOUT SKILLFUL MEANS.

HULK ALWAYS PRACTICE LIKE HULK HAIR ON FIRE. LEARN HARD WAY THAT BETTER THAN PRACTICING WITH SOMEONE ELSE HAIR ON FIRE.
HULK ASK: WHAT YOUR LIFE LIKE IF HULK SMASH EVERYTHING THAT LIMIT YOU?
HULK PRACTICE LOVINGKINDNESS MEDITATION. HULK SMASH
BOUNDARIES BETWEEN FRIENDS AND ENEMIES.
DELUSION ARE ENDLESS. HULK VOW SMASH ALL.
MAY HULK PRACTICE BE FOR BENEFIT OF ALL LIVING BEINGS…EVEN THOSE THAT NEED SMASH.
MANJUSHRI HAVE FLAMING SWORD. HULK MAKE DO WITH SMASH.
HULK REFLECT: IS THIS SMASH FOR HULK LONG-TERM HAPPINESS AND WELL-BEING?
HULK SMASH IGNORANCE. IGNORANCE SMASH BACK. HULK MAKE COOKIES INSTEAD.
HULK SMASH MISCONCEPTION THAT BUDDHISTS PASSIVE IN FACE OF INJUSTICE. RAAAAAR!
ALL THINGS IMPERMANENT, THOUGH SMELL OF DILL IN HULK COMPOST BUCKET MAY BE EXCEPTION. HULK WAIT AND SEE.
HULK USE NOTING IN HULK MINDFULNESS PRACTICE TODAY: LIFTING…MOVING…SMASHING…LIFTING…MOVING…SMASHING…
MOTIVATED BY GREAT COMPASSION HULK SCREAM LIKE LITTLE GIRL
THEN TAKE SPIDER OUTSIDE.
For more smashing wisdom, check out the Buddhist Hulks' Twitter feed.