A Review of the Christ Church Cathedral
Suddenly I was no longer able to attend my neighborhood church, and I love to go to church. It just became too stressful.
So after a long year of no church, Sarah said, "There are about a million places in the city of Houston where you can go to worship God."
So we're off to find me a new church home. I grew up non-denominational, went to a Church of Christ college, worked overseas at an inter-denominational church as a worship minister/children's minister, but since I got married, our family has been firmly Episcopalian, so I'm not too picky about the denomination. I do like to raise my hands when I sing and speak in tongues when I pray (sometimes)—but I can do that anywhere.
I just want to find a place where I can worship God, feel safe, and be a part of a body.
Sarah will be providing guest commentary from her perspective as the world's worst Muslim/Quaker/lapsed Athiest. Sarah's commentary will be in italics, so you can tell who is saying what about our experiences.
We have developed a simple rating system based on these categories:
Beauty
Joy
Children"s Ministries
Music
Preaching
Body
Spirituality
Green
Outreach
&
Travel
10 points for each category, the total is based on a scale of 100 points.
*I would like to add an additional 10 bonus points rating the availability of snacks and coffee—by far, the most important part of any pre-worship ritual for me. Because really, you cannot hear the voice of God without three or four cups of coffee on board.
Beauty:
Christ Church Cathedral is beautiful in an understated and classy sort of way.
Located centrally downtown, the church compound itself takes up an entire city block with sprawling courtyards, meeting areas, halls, courtyards and magnificent live oak trees that overlook a beautiful courtyard with a pretty fountain. There is a sort of newly constructed great hall,  featuring a rotating selection of art on the walls from local artists; it smells slightly of stale spaghetti dinners and garlic bread, like a church meeting hall should. The great hall could double as the world's fanciest basketball court, with high ceilings, gleaming floors, nice lighting and lovely exposed woodwork. 
The cathedral itself is really stunning. It's shaped like the letter T, with pretty wood, stained glass, and a nice looking cage for the chior. It really "feels" like a church. I don't know about you guys, but I can't stand many of the contemporary churches that possess no beauty, no architectural interest, no passion.
Overall, I would give Christ Church Cathedral a 7/10 on the beauty scale. It' really is a pretty place to worship.
People were, of course nice, polite, friendly and social, but I don't think I heard anybody really burst forth with genuine, unrestrained laughter. Eye contact was minimal, though there were plenty of smiles once eye contact was established.
As I was standing outside the cathedral on the street having a smoke after the services, only one person leaving returned my smile or greeting while walking to their cars. They might however have thought I was homeless or a crackhead or just plain weird. And they would have been right in the third count I suppose.  I would give them 4/10 on Joy.
*     *     *
You can just get a feeling bursting in the air sometimes—a general "loosened" freedom-feeling that comes with familiarity and makes you relax. Call it "Joy."
I get a hoot out of utilizing nametags. I think it's funny and fun. And I've noticed that usually people like it too, but it can come as a surprise if someone's not "open." Maybe it was the the fancy building, maybe it was other stuff weighing on people's minds the fifth Sunday of Lent, but somehow, a lot of people were looking at the floor.
Not to say that tight clothes, or proper-looking church garb are a problem—there is definitely a kind of joy that comes with putting on your Sunday best for God, but these people sort of seemed like they were holding their breath.  4/10 on Joy.
Children seem to be integral to the worship experience of this cathedral. They have amazing children's services, and a fantastic playground in one of the central courtyards. I hope you will all be as delighted as I was to learn that there is no horrible, boxed in "Sin Bin" at the back of the cathedral where babies and their parents are caged, lest children be children during the services.
I was delighted to hear from another woman that she had always felt welcome to bring her children right into the cathedral, to nurse her baby in the pews during services, to rely on fellow parishoners to hold her baby while she took communion, or sang along with the music. There were lots of kid friendly snacks available everywhere, and lots of other kids enjoying the services. In the basement great room for the children, the walls were painted with an amazing mural that has something to do with Jesus providing fish, or something. Whatever it means, it's really really really pretty.
I would give the cathedral 10/10 for children's services. Outstanding job, guys!!!
*     *     *
We met this little boy there who wanted to play with my camera….
The Dean of the Cathedral was playing songs on his guitar downstairs—not a typical kind of Sunday morning. While the rest of the church had a "town hall" meeting to figure out the process for recruiting the next Dean, Sarah had graciously volunteered to attend the meeting, so I got to enjoy song time with the children.
I was just loving being at church again and the freedom that came with being a "visitor, " knowing that I could just drift.
A few kids made a pinwheel configuration around me—we were dancing on the back row to:
This Little Light if Mine, I'm Gonna Let it Shine

This Little Light of Mine, I'm Gonna let it shine,

This Little Light of Mine, I'm Gonna let it Shine,

let it shine let it shine, all the time…. Oh yeah!
It was all pretty organic, no Veggie Tale videos or coerced parents reading scripted Bible lessons. A nice woman read a story book, I could not tell you what the story was about—I couldn't see the pages (or really hear) from the back, but at the end she asked the children what kinds of things they were afraid of. And when one of the little girls said "the dark," she replied,
"I used to be afraid of the dark, but then I realized I had a light inside of me!"
I liked that a lot; it stayed with me all week long.
I don't have much to add on the music front, except that I have never heard Jo sing in church before and I was all like "Holy Sh*t, you have an amazing voice!" I think wherever Jo chooses to go to church, it should have an awesome chior, so that she can sing in it.
*     *     *
Thanks, Sarah! I come from old West Texas Church of Christ folk, they don't have instruments, so it forces you to listen to voices—and harmonies and descants you can really sink your teeth into! I love singing!
The music at the Cathedral was your typical Episcopalian fair, old hymns, Choir, Big organ (blows me away every time). I do love how they sing the psalm of the day, and there's some beautiful poetry in the hymns, which can be appreciated, but unless you are a great sight-reader or have been going for at least year, you won't really be able to sing-along.
But that was ok, to be expected. I think everybody knows that Episcopalians don't really care for music … and I got my fill of good praise downstairs during the children's time!
Music 5/10
I don't know anything about preaching, and also missed most of the sermon because I wanted to go test drive the playground with the kids.
That said, before I took off with the kiddies, I was delighted to hear three strong women give the opening sermons and readings. There is a saying in Islam, that the doors to heaven lie at the feet of our mothers. How wonderful to hear mothers and women speaking about heaven, god, and goodness in life. All religions should allow women to the forefront of the pulpit the way the Episcipalians do.
*     *     *
Ditto on that—Sarah, I really appreciate that women are up front in the Episcopal, though I think they should get to wear a prettier outfit if they want to. Not to be anti-feminist, but just something that's different from the men. They are women. For the sermon, Dean Joe was up today. He didn't quite sell-it to me passion-wise, but the content was great!
Here were my notes:
6.5/10
The body of the church is made up of predominantly white, upper middle class people from the inner loop and Memorial/Bellaire areas, I think. They also offer a well attended service in Spanish at 1:30 on Sundays, which I assume is why we didn't seen any members of the Hispanic community during the 11:oo service.
What they lack in terms of racial and socio-economic diversity, they make up in age diversity. It was really cool for me to go to a church that wasn't all old people, and wasn't all young people. In my past experiences, It always seems to be one or the other, but not such a mixed group.
We attended the church during an interesting week when the regular meeting and prayer groups were replaced with discussion groups to talk about the direction the church itself was headed, and issues that were important when selecting a new Dean. The discussion was really illuminating as to the character of the Church. Here are some highlights that I took away from the discussion:
The church body has some truly passionate members, who really love the church, and Jesus, and the word.
The church operates a well-funded downtown soup kitchen and charity mission located just around the corner from the main entrance, in the parking complex.
One man made sort of a big deal about how he is a conservative Christian republican and he hated it when the church brought politics into the pulpit. He had a fair point, but I really wanted to ask him if it would be possible for the church to return the favor and stay out of politics (and my uterus, while they are at it).

Further to that discussion, a number of people commented that they are perceived as one of the most liberal Episcopal churches in Houston, which I think is kind of cool, but I can understand how that would not be attractive to a conservative.

There was also a mention of increasing the diversity within the church, which I think is a noble and awesome goal. That said, it's not like they have to look too hard, or even really try to attract a more diverse population, given the location of the church. I worry that that was brought up more because it's nice to talk about diversity, but less nice to actually do something about it. Yes, I am a cynical asshole.    
I give the body a rating of 6/10 I think. Very nice people, but perhaps not my kind of people.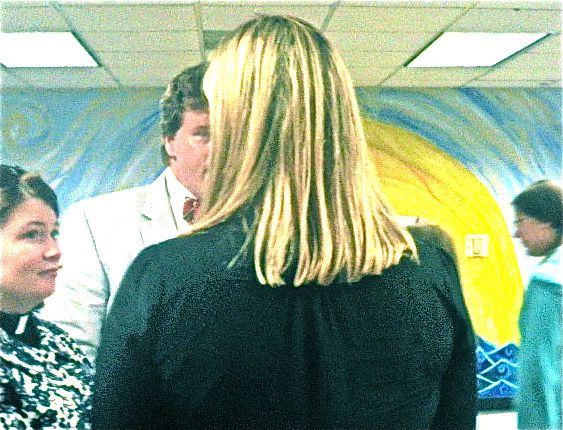 The Sunday stuff in the sanctuary left me cold as far as spirituality goes, but I was thinking more about why I wanted to have this as a category.
When I think of the Spirit, or spirituality, I think of it as some kind of fruition happening in the soul working between people, so the hand of God comes through causing something unexpected.
Just after we arrived I ran into a woman who I had met at the zoo only a month before, and also later at the park. I had not expected to see her that morning, so it had been a total surprise to me. And then she showed us around. It was her place (and the multi-tiered map was looking like too much to take in), so she truly was a God-send! Thanks, you!
10/10
Some people think that because God gave man dominion over the earth (Gen. 1:26) that means we can just trash away. But some (me included) like to interpret it more as  stewardship; we are custodians.
Plus, it's just respectful. We want our children to enjoy the beauty of the earth too. And wanting what's best for your children is a Christian ethic. Isn't it?
Since forever, I have thought that Christians should be on the side of green, and I always used to try and get my church in England to switch from styrofoam cups. 400 years in a landfill for one moment as your coffee cup!? There is nothing you can say to make that seem even remotely justifiable! But it's just too dang cheap (styrofoam) so, I'm sure most churches have enormous stock-piles.
Christ Church recycles their paper programs, but styrofoam cups were ever-present, and I find that… "forgivable," but not happy.
5/10 for Green.
The Cathedral's Outreach ministries are:
"The Beacon"—a ministry that seeks to implement the homeless with everything they need to get by and start over: a clinic, food, clothing, job counseling, a shelter for women just coming out of prison, social justice. Here is the link to the extensive list of services they provide.
"The Lighthouse"—ministries for special needs children. (This is a big deal. The only Episcopal one in the diocese, I have heard.)
10/10
The church was downtown, so we couldn't ride bikes there, which is preferable to me, but Sarah doesn't mind a drive.
Parking was easy on San Jacinto Street, right across the street—and the garage is owned by the cathedral, so it's free. Here's the link for how to get there.
The soup kitchen is connected to the parking garage. That was where we ran into William, a veteran who lost his leg in Riyadh. He asked us for three dollars, and since he didn't take credit cards we stocked him up on cigarettes and gum, and then we were off.
Travel: 8/10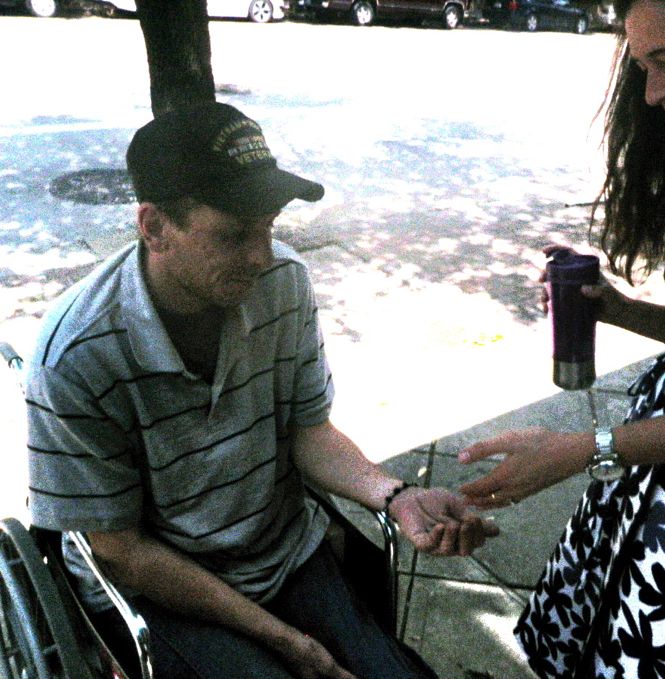 Christ Church Cathedral gets 73.5/100!
I think that's pretty good!
Thanks for DRIVING, Sarah!
~
Editor: Brianna Bemel