"And you? When will you begin that long journey into yourself?"

~ Rumi
It is seldom that I am speechless—perhaps that is not the correct word. It is seldom that I am thoughtless.
With an open heart I follow my yoga and meditation practice, connecting to spirit to connect to deeper aspects of myself, connecting with my breath to find peace, reconnecting with my soul to find clarity in the dreams I want to live, for the gift of life is beautiful and it is one I intend to fill with the pursuit of as many dreams as I can in this lifetime. The forever optimist, the Mrs. Big Dreamer all reside within following my passion to live what I love and making it all happen.
I have been back from the Chicago Marathon for three days now, staring at this blank page thoughtless yet with the feeling of having my heart so full of peace, full of love, full of inspiration and awe, that all is well and a sense of deep inner peace accompanies my heart, my soul and my dreams as of early morning.
I went to the Chicago Marathon to photograph my friend Maickel Melamed walk his way through the Marathon. Maickel was the last runner to cross the finish line with a time of 16hr46min. Yes, you read it right, 16 hours and 46 minutes and a whole team of coaches, trainers, friends, family, volunteers, photographers, videographers, reporters, live stream cameras and fans, who followed and documented his journey every step of the way. Over the years, Maickel has surrounded himself with a community that supports him and builds him up, to share and fulfill his dream of inspiring others to pursue their dreams and make them happen.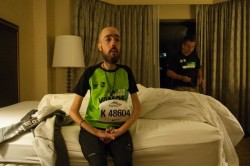 Maickel finished the Chicago Marathon in 'a lot of physical pain, but with a lot more love'. We were up at 4:30am on Sunday morning, after very little sleep and one too many meetings on logistics for a life changing event, that had many uncertainties. There was much anxiety in the room as we left early morning and made our way to the fourth gate for Maickel and his team to go to the starting line. Only the most intimate team was allowed in to be with him at the starting gate. As his coach Federico pushed him on the wheelchair to make our way down, thousands of people all with their marathon numbers on, full of excitement, were buzzing around the streets of Chicago making their way to their gates.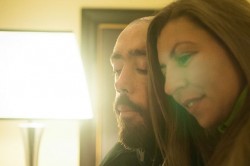 Yet as I photographed Maickel, what I saw in his face was not excitement—he was meditating his way through the marathon from the hotel to the gate. He was deeply focused within, with a stern look without. He was a man with a mission. A man of small steps building great journeys; a man with a message the world didn't know yet—a humble man with a golden heart. Maickel's journey has been one of many struggles and challenges. He was born in Caracas, Venezuela with the umbilical cord wrapped around his neck, which deprived him of oxygen and the damage to his nervous system led doctors to eventually diagnose him with myopathy (a rare muscular disorder).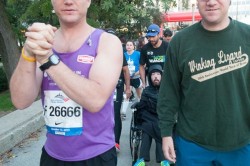 He was not supposed to live a week, he was not supposed to live a month, he was not supposed to walk, he was not supposed to talk. He was not supposed to climb a mountain, yet he summited Pico Bolivar, the tallest mountain in the Venezuelan Andes. He was not supposed to do so many things, but he has done them all and turned every no into a yes, into a journey through the self to the world. He has found his personal challenge to be the medium that carries his message loud and clear. He has made it a priority to live his dreams, to inspire others to pursuit their dreams and to awaken our golden hearts to a world full of possibility, love, and peace. His purpose in life is to "help others to be better than they think they can be."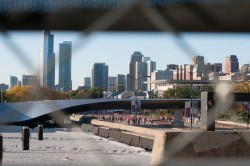 An hour after the marathon started, we saw Maickel with his determined walk pass under the bridge where thousands of runners had already left their footprints. Now it was his turn and it would continue to be his turn for the day and night that lay ahead was one filled with many challenges. As he walked the downtown part of the marathon course, the sunlight was continuing to rise up leading the way, the streets where empty yet still closed by the official marathon, so he was able to continue walking on the streets. Early on, strangers and pedestrians passing by began to cheer him on, to take his picture, to applaud his effort.
Maickel's face and pace were still determined. He had a very clear mission to accomplish, and dream to fulfill. As the hours started to add up and the streets opened up again to a lively city, we had to move onto the sidewalk, his step loosened up, his team became more and more protective of him, and their love, support and concern for him more and more palpable. Oscar, one of his coaches, would line up his steps from behind to continue to support his rhythm, while Federico—the other coach—was in front of him, feeling the ground under his feet and communicating non stop with Maickel onto where to step, how high or low to step, what grade, focusing his vision, keeping him awake, with strong yet loving words of encouragement. The depth of their bond and the intimacy of their deeply rooted love made a knot in my heart as night began to fall and the moon began to rise.
Maickel's steps where loose now, his left leg dragging, his hands hitting his thighs with every move, everyone could feel his energy dropping, his undetermined will being questioned by every change in the grading of the sidewalk, every up and down felt more like an intense obstacle course to his body than a marathon.
Many drinks of liquid, a few bites of food, a few sips of soup, two bathroom stops later, he fell down. He fell down, and his team got him up. He collected himself together and carried on, moving without attachment to his fall. Forward until the next wind of exhaustion would hit him, only to be supported for a few seconds, some water, a pause long enough to inhale and exhale and away Maickel was walking again, often with his eyes closed.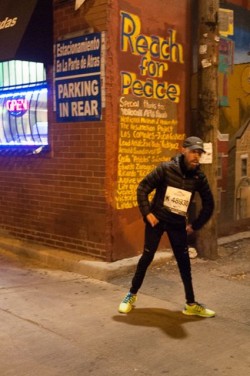 As the deep night accompanied us through the empty streets of Chicago, we made our way following the course of the map of the Marathon. Stopping cars to cross the street so that Maickel wouldn't have to stop and slow his flow.  First stumble, then pause, water, his face looking more and more pale, a deep look of exhaustion, the inner battle of the soul versus the challenge and the team that carried him through…. 'when the legs and the heart can't walk anymore you must walk on with your soul'… 'come'on Maickel, find your strength from within'… 'Vamos Querido'… 'Let's go, let's carry on, dearest one'… were the words that filled the air.
Our silence grew ever more quiet. Our bodies ached, but not a word was said. We were there as a team, to support Maickel.
From the 32nd kilometer to the 40th, time seemed to stretch itself beyond the limits of my imagination. It was long, and if it felt long for me, it must have felt endless for Maickel. What he calls his 12 Possibilities—or tools for making our dreams happen became my Mantra: Family, Will, being a Team member, Solidarity, Commitment, Perseverance, Excellence, Honesty, Dignity, Creativity, Humility and Willingness to learn.
As he walked every step of the way, each of the 12 possibilities found their way from my mind into my heart and from there, a deep sense of inner peace began to radiate outwards. With a sweet taste in my mouth, I was walking, floating my way through the streets. My body didn't ache anymore. My heart was humming along. My mind was quiet. As if we meditated our way through the Chicago Marathon, I found myself present in the moment. Firmly rooted down into the Earth, yet feeling a different lightness of being within. Phone calls from dearest family members and friends carried Maickel through the last couple of Km's until we got to the kilometer 40, where a crowd of family, friends, friendly strangers, Venezuelan and world citizens began to cheer him on. We could hear them from afar—my skin began to crawl, my heart began to beat faster and Maickel opened his eyes wide—I mean wide, like I have never seen him do before.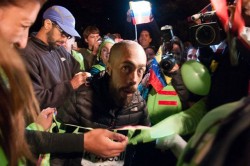 It was as if his inner dragon woke up from a long deep meditation to embrace the now, the moment he had been actively dormant for the last 14 odd hours. It was as if his soul came back into his body, he picked up his speed again, his determined walk and pace came back to life and there he was two kilometers away from the finish line being cheered on by everyone around, asking what the time was and if there was any chance that he could beat his own record.
The closer we got to the finish line, the bigger the crowds around us grew.
The more the excitement began to feel palpable, the more the magnitude of what was about to happen became a reachable thought.
All throughout the 40 kilometers, I never once thought about the finish line. I was present in what was happening at the moment—but as the goal got closer and closer, anticipation, excitement, joy and happiness took a hold of my heart. Maickel was about to complete his third world marathon; Maickel was about to fulfill his dream of inspiring people to pursue their dreams, he was about to activate our own seed of pure creative potential.
Maickel was about to become a world phenomenon.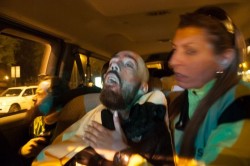 As we turned the corner to get back into the park where the finish line was, Maickel had to give it all his heart and soul, he had to go up the hill one more time. We could see his effort was beyond his body, now his effort was pure mind power—it was his inner warrior getting on this horse to face the great battle within. He had to use each and everyone of all his tools, all the long hours of training six days a week got him to kilometer 41.
The journey from here to kilometer 42 was one of tapping deeply into the core strength of the mind and the belly of the inner warrior, deeply into the cave where the inner demons of our ego, our perception, our programming live, offering the purity of his soul, the purity of his service to the world, to rescue his own golden seed of pure creative potential. Turning every no in his life to a solid yes, yet again. His golden seed: who he really is, away from his body, away from his mind, away from his emotions. The golden seed we all spend our lives searching for, that is inside of us, that we battle our inner selves with for, and the world at large. The seed that is worth our lives, our sweat, our effort, our challenges, our will, our drive and the beauty and inspiration we create along the way.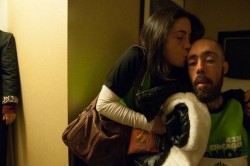 The journey from here to kilometer 42 was filled with a crowd that pushed into him, media that seemed to materialize with every step; Venezuelan flags being raised in the air, cheers of optimism, cheers of inspiration, cheers of courage, cheers of faith. As Maickel reached the finish line, his parents were first amongst the crowd to greet him. 'I did it, Daddy. I did it' Maickel said as his dad embraced him. The policeman that spontaneously escorted us through the last two miles gave Maickel his Marathon Medal. As he has done in other Marathon's, Maickel gave his medal to his Dad, in honour of the life his parents have given him.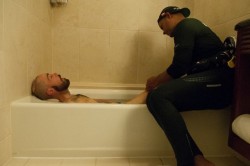 The media all had questions for him, and my friend Maickel's clarity of speech was incredible to witness after 16 hr46min of exhaustion. He said:
"When you give it all, you feel real peace inside. I do these marathons for the children of the world, to inspire them to fulfill their dreams despite struggles and challenges with great effort anything is possible. I do these marathons to show people that we can all treat each other with dignity, and that by acting on our dreams we can make this world a better place."
Maickel Melamed and Perla Sananes have created a Foundation called "Somos Posible" ("We are Possible") that includes "Proyecto Vamos" (Project Let's Go), a platform for people to gather support and community along the way in their pursuit of their dreams, and "Paz con Todo" ("Full Peace"), a project to move people to perform acts of peace in their everyday lives that have the potential to lead humanity into new possibilities of peace. Maickel is a Goodwill Ambassador for the United Nations in Venezuela. For more information, visit the website.
Relephant:
Brittany's Message to a Restaurant Worker.
Bonus:
Want 15 free additional reads weekly, just our best?
Ed: Bryonie Wise
Photos: Natalie Schonfeld Howard