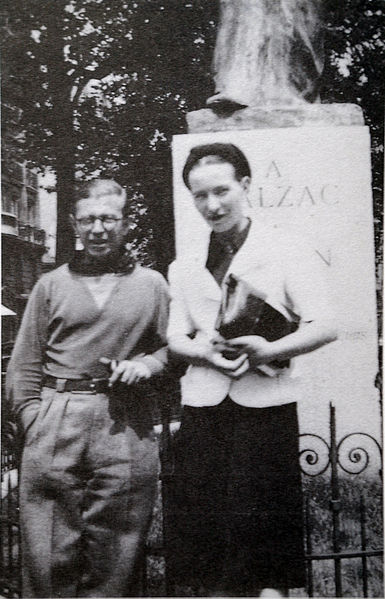 When it comes to what makes a relationship work, most people immediately answer with "compatibility."
It's true, being compatible is a key ingredient to making any relationship work, especially a romantic one, but compatibility does not necessary mean what most people think it does.
History is full of couples who made many scratch their heads and do a double-take. However, someone of the oddest couples had some of the most lasting and loving relationships imaginable. That isn't to say that most of them were conventional in the least, but it worked for them and ultimately that is all that matters.
Therefore, the next time you meet someone and feel a connection with but worry that you may not be "compatible," keep in mind these four famous, well-known couples:
1. Virginia Woolf and Leonard Woolf.
On the surface, they had all of the traits that could have made for a marriage from hell: Virginia was a member of the upper-classes and a sexual abuse survivor who had a strong disdain for sex and preferred women to men whereas Leonard was one of nine children from a humble background. Add to this that the former was an anti-Semite who once wrote: "I do not like the Jewish voice; I do not like the Jewish laugh" and the latter was Jewish, one would think that this was a relationship doomed from the start.
However, that wasn't the case at all. Drawn together by their mutual love of the written word, the two founded a printing press and published several aspiring writers that would go on to become some of the leading literary voices of the 20th century.
Leonard was strongly supportive of his wife both creatively and personally and even tolerated her long-term lesbian affair with fellow writer Vita Sackville-Witt.
While there is strong evidence that the two never consummated their marriage, they nonetheless loved each other and remained together for nearly 30 years until Virginia's suicide in 1941. The man she once referred to as "that penniless Jew" was to be the great love of her life and in her suicide note addressed to him she wrote:
I owe all the happiness of my life to you. You have been entirely patient with me and incredibly good… If anybody could have saved me it would have been you. Everything has gone from me but the certainty of your goodness. I can't go on spoiling your life any longer. I don't think two people could have been happier than we have been.
2 . Richard Strauss and Pauline de Ahn
One the surface, these two seemed like a great match at first: Strauss was a composer and de Ahn was a soprano. The two met while the former was conducting the opera Hansel and Gretel, and de Ahn was playing the role of Hansel. (In those days, young boy characters were often played by women.) Strauss was immediately smitten by her and fell hard.
It was only after they married he learned that his bride suffered from what was probably OCD and often went into screaming fits at everyone around her—including her husband—whom she berated frequently and often by declaring that she had married beneath her.
Nonetheless, he cheerfully put up with her ways—even though it meant that he had to wipe his feet on three doormats before entering his own home, lest he track in dirt—and even dedicated several of his musical works to her. While many women would be flattered by this, Pauline famously replied, "I don't give a damn."
However, all this paled into comparison to an incident during World War II, when Pauline—who, unlike her husband made no bones she was no fan of Hitler—told a regional leader of the Nazi Party in front of several others that she "liked him" and would offer [him] a place "after the war is lost and over. . . and you are on the run," but she did not extend that invitation to "the other trash."
Strauss was able to use his celebrity status to prevent anything bad from happening to them, and the pair remained married until he died of heart failure in September 1949 at the age of 85. By that time, he and Pauline had been married for 55 years.
Despite all of the abuse she hurled him, Pauline was by all accounts in a genuine state of grief over his death. She died less than a year later in May 1950. Her friends said she died of a broken heart.
3. Jean-Paul Sartre and Simone de Beauvoir
Proving that brains can be far more powerful than brawn, the short, balding Sarte was already someone of a ladies' man when he meet the attractive de Beauvoir while she was sitting in on a class at the world-famous Sorbonne University where she was at the time only the 9th woman to ever receive a degree from there.
Despite the fact that Sarte proposed in 1929, the two never got married or even lived together except very briefly during World War II.
For the rest of their lives, they would remain a couple though theirs was an open relationship and both took other lovers as they chose. (In some cases, de Beauvoir, who was bisexual, would pass on her former lovers to Sarte.)
Both went on to publish highly influential works on philosophy and become famous in their own respective ways.
Sarte died in 1980 and de Beauvoir followed in 1986. The pair are buried next to each other at Cimetière du Montparnasse in Paris.
4. Frida Kahlo and Diego Rivera
Kahlo once said that she suffered two great tragedies in her life: one was the trolly car accident that left her with multiple, horrific injuries and the other was meeting her future husband, the well-respected painter Diego Rivera. Of the two, she often said the latter was worst.
The pairing of the petite Kahlo to the fat-bordering-on-morbidly-obese Rivera who was 20 years her senior even had many of their mutual friends shaking their heads in bewilderment. Despite his appearance, Rivera had an eye for the ladies and slept with multiple women while he was married to Kahlo, including her own sister.
At one point they divorced, but then the pair remarried, and Kahlo eventually learned to tolerant her husband's dalliances. (Along the way, she had a number of affairs herself including a notable one with Leon Trotsky.)
Unable to carry a pregnancy to term due the trolley accident, Kahlo doted on her husband calling him the child she never had and reportedly even bathed him like a baby complete with bath toys.
He encouraged her work, and she later achieved iconic status upon her death in 1957 at the age of 47.
While the above couples were extraordinary in many ways, the thing that is most memorable about their pairings is how they made their respective relationships work for them.
In all of them, the partnerships they created didn't just work but actually flourished and resulted in great levels of professional and personal satisfaction.
While most of us won't go on to became famous artists or philosophers, we can nonetheless can learn from these examples. In the end, the only people who can judge if a relationship is working are the two parties involved. If it's working, great. Ignore the naysayers.
Also, to all the women reading this, may we all have a partner one day as loving and supportive as Leonard Woolf was to Virginia. Apparently, when he signed on "for better and for worse" he meant it.
Love elephant and want to go steady?
Editor: Catherine Monkman
Photo: Wikimedia Commons