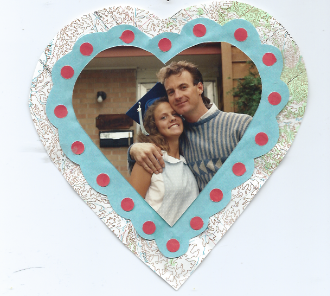 The most tragic events in our lives can teach us valuable lessons. Otherwise, what good are they?
All of my life, my siblings have been my best friends. Feeling this kind of big love is my favorite blessing.
Life is full of ups and downs. 22 years ago the rug was yanked right out from under me in the worst way.
My brother, the favorite guy in my life, was attacked and killed by cancer.
It wasn't fun. It wasn't pretty. But the way he handled it and shared it with all of us was lighthearted and graceful.
We grew up in Colorado, where the sun is usually shining and we were always outside playing. We never wore sunscreen. On the contrary, Malibu Barbie was our hero and we endeavored to have deep, dark Africa suntans all summer long.
My brother had freckles. Lots of them. He did not have the skin type that was cut out to protect him from UV rays. In 1991 he finally got around to having a bad mole removed. The biopsy revealed it to be malignant melanoma. He died 14 months later.
He was a fighter.
He faced his cancer as the biggest challenge of his life and met it headlong. He adopted lots of alternative therapies, like Food is Your Best Medicine nutrition, medicinal herbs, visualization and prayer. He also endured many surgeries and chemotherapy. Although it must have been scary and miserable, I never heard him complain.
And he truly believed he would live through it. I also believed he would survive.
But, that's how my brother was. He always had a positive attitude, loved helping others, had a lot of fun and found joy in even the most mundane chores. I'll never forget how exciting it was to be on dish pit duty with him after dinner. He would snap us with the dishtowel and sometimes toss it up into the ceiling fan.
Six Things I Learned from my Brother's Death:
1. Everyone dies. Death is inevitable. It can happen suddenly and without warning. No one is above it. When a loved one shows us how to die gracefully, it can be comforting.
2. Death is a natural part of life. It's peaceful to die at home, in a familiar and nurturing environment. It allows the sick person to enjoy hobbies and activities as long as possible. It decreases the likelihood of being bombarded with uncomfortable tests and procedures. Loved ones and pets can surround the person who's dying.
3. The sun still comes up the next day. Life goes on and should be appreciated and embraced for all of its wonders. I pay homage to the life of my brother by living my highest potential. I don't waste any time with negativity. Life is short and should not be taken for granted. Life is a precious gift not to be squandered.
4. Don't take our health lightly. Prevention and early detection are important. For many years, my brother's friends recommended that he have his mole checked out by a dermatologist. Had he listened to their advice, it may have added years to his life.
5. Wear sunscreen. Period. Everyday. Even if it's cloudy. Wearing layers of protective clothing can also help defend against the sun's harmful rays. The skin is our largest organ and skin cancer is the most common type in the United States. I've worn sunscreen everyday for the past 22 years of my life. My skin is healthy and looks young.
6. Love is the most powerful force in the universe. It transcends death. My brother and I have never stopped loving each other, even since his death. I feel his love and guidance all the time. We will be together forever. He's my best angel.
My heart is still broken, but I will never quit smiling. I cherish every minute of the 19 years I got to spend with my brother. I honor his spirit by taking care of my relationships, having a fun life and constantly going out of my way to say, "I love you."
Happy Valentine's Day.
~
Relephant read:
~ 
Love elephant and want to go steady?
Editor: Catherine Monkman
Photo: Author's Own.