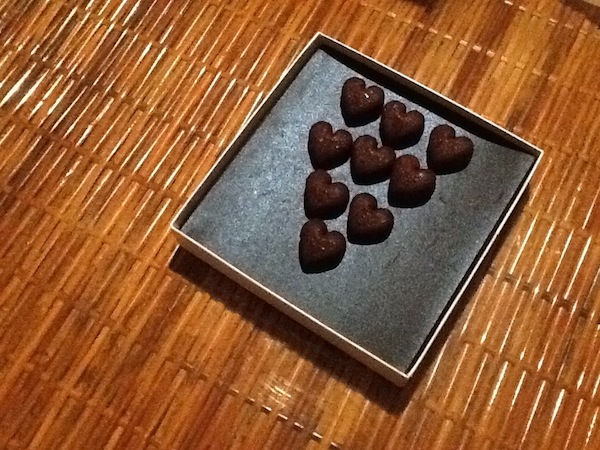 You will need:
A bain marie (or saucepan of hot water and heat-proof bowl) to melt cacao butter in
a balloon whisk (ensure these are all washed and dry, as water can cause the ingredients to separate)
1 tsp organic chili powder
100g raw cacao butter
6 tbsp raw cacao powder
2-4 tbsp agave nectar
pinch of sea salt (helps to bring out the sweetness)
Method:
1. Place the pan with around ½ inch of water over a low heat.
2. Chop the raw cacao butter into small pieces and place in the heat-proof bowl.
3. Place the bowl over the water and gently melt the cacao butter.
4. Once cacao butter has melted, add the remaining ingredients to the bowl and mix well with the balloon whisk (I would add the sweetener and chili sparingly and adjust to taste. Remember the spiciness will increase on cooling, so don't over do it).
5. Melt the ingredients, blend well with the balloon whisk, tasting as you go.
6. When all is melted, mix again and taste to ensure you have the right level of sweetness. Remove from heat.
7. The consistency should be runny and smooth. Pour/ spoon the mix into the moulds.
8. Leave in the freezer for 15-20 minutes or in the fridge for around two hours.
9. Once made, store in the fridge or freezer until ready to be enjoyed.
* Notes:

If you don't like spice, you could replace with vanilla, orange or peppermint essences. You could also sprinkle the tops with nuts, seeds, spices, citrus peels or even add liquors such as orange or coffee.

If are making these bad boys for yourself, I recommend doing as I did: putting a bit of extra chili in to limit your consumption to one at a time. 😉

P.S. This other delicious recipe can be made with a palm-oil free nut butter!
Love elephant and want to go steady?
Assistant Editor: Tifany Lee / Editor: Catherine Monkman

Photo: Hannah Marie Martin