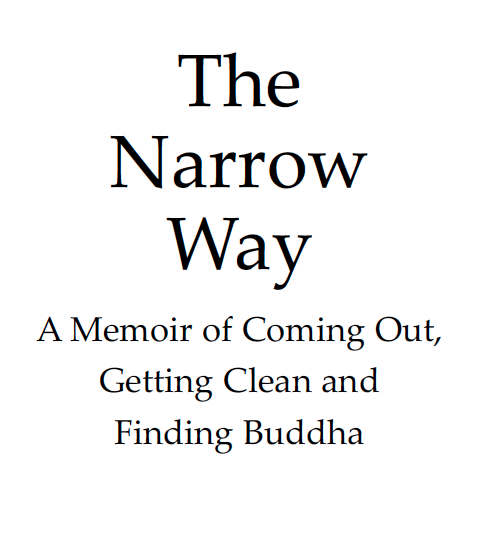 All things change and die, making the end of one the beginning of another.
For Chris Lemig the healing and ending of his addiction was ultimately the start of his journey to find peace, salvation and the ability to love himself.
The Narrow Way starts, appropriately, at the end of Chris's journey through addiction and coming out and we meet him one year later, in the airport while waiting for his flight to India.
Although we start, in what seems like the middle of the story, the author wastes no time in describing the catalyst that lead up to this spiritual journey. It came in the form of a vicious, two decades-long, battle with drugs, alcohol and sex.
He paints a vivid and, at times, very bleak picture of his struggles.
"…it is four in the morning and my eyes are wild and bloodshot as I pick through the carpet, searching for tiny pieces of crack cocaine that may have sizzled off the end of my pipe. …I try to smoke what turns out to be the clipping of a dirty toenail, and it fills my mouth with the taste of burnt skin and rubber."
The vision he paints is almost too good, too real, and it is hard to stomach in large doses. I am grateful for the way the chapters alternate between the throws of his addiction and his navigation through his spiritual journey and new found sobriety in India.
The contrast of these two worlds helps to move the story along and keeps me wondering what will happen next. As I grew to like and care about Chris, the style offered some relief that, as bad as it got for him there would be an end to the mad, dark nights and a beginning to something else, something better.
I appreciated the authenticity and truthfulness of this story. It could have easily been written with a happy, fairy-tale like ending in which the main character struggles with his demons but is "cured", as if by magic, through a simple trip.
That is not the case. He did not take the easy way out. Instead, Chris took the opportunity to chronicle the inevitable mis-steps and mistakes along his path to recovery.
He described a lonely scene at an empty train station, late at night in which he has missed his train and is lost. As he sits to collect himself he notices a homeless man who is in bad shape. The man moves as if in pain. He has skinny ribs, dirty skin and nothing but a pile of rags to keep him warm.
The description of this man is eerily similar to the visual of the author, in his darkest moments, I have created and stored in the back of my head. Just a year ago, this man could have been him, the scene, part of his story.
Given the guilt ridden past the author describes and his journey of spiritual awakening, the scene is set for him to help his homeless, Indian doppelgänger, so I was surprised at how the scene ended.
"I could take two decisive steps and help him to his feet, take him to God-Knows-Who, to someone, to anyone for help. But I don't. All the meditations on compassion, the wish to free others from their suffering and pain, are sucked out of me like air into the vacuum of space."
In sharing this scene with us the author shows that one pilgrimage does not "cure" you, enlightenment is not given. It is not decisive or stagnant or permanent, it is an ongoing, and ever changing quest.
I have always been drawn to this kind of dark story and I can't help but think it has something to do with my background. Addiction runs in my family and has affected people I care about too deeply to know the whole story. I remain curious, supportive and saddened that I cannot do more to ease their suffering. In reading about the struggles of others it helps me to understand, if only a little, without getting so close to my own story that I can't breathe, can't bear it.
Thank you Chris for sharing your courageous and brave words. It will forever inform my understanding of an addict's struggle.
Note: elephantjournal.com received this book free, in return for a guarantee that we would review said offering. That said, we say what we want—good and bad, happy and sad.
Love elephant and want to go steady?
Editor: Rachel Nussbaum

Photo: The Narrow Way