Two images: The difference is glaring.
"I really want to buy American-made clothing, but it's just so expensive!"
Have you ever heard that? Or said that?
Most of us do  want to support local brands. We want to keep our money local, create jobs, and support transparency. But often, it seems to come at a steeper price.
Why do responsible choices cost so much?
Let's take a look at the world's most popular garment: the t-shirt. NPR's Planet Money recently made 24,470 t-shirts during their Planet Money T-shirt Project. They told the story of how their tees were made, from interviews with cotton farmers to the women sewing the actual shirts.
As a wrap-up, Planet Money released estimates of their t-shirt prices (which "sold" for $25 via Kickstarter Project.) With the help of Jockey (yes, the huge t-shirt company) they produced their men's tee in Bangladesh, and published their costs. The entire goal of the project was transparency. (I think they did an excellent job.)
The Planet Money tee is one data point of overseas production. But what do things look like on the other end of the spectrum, back here in America?
I'm a small, indie designer using a hyper-localized process and USA-based manufacturing. My last production run of t-shirts was 165 pieces. I buy surplus fabric (excess and leftovers from other companies) and work with a cut-and-sew shop thirty minutes from my house. I am the polar opposite of Jockey.
Here's a comparison of my biggest costs per tee—fabric and labor—versus the fabric and labor costs for the Planet Money tee. (Keep in mind, these aren't all of the costs, but the two biggest ones for USA garment manufacturers. Check out Planet Money for their final cost breakdown.)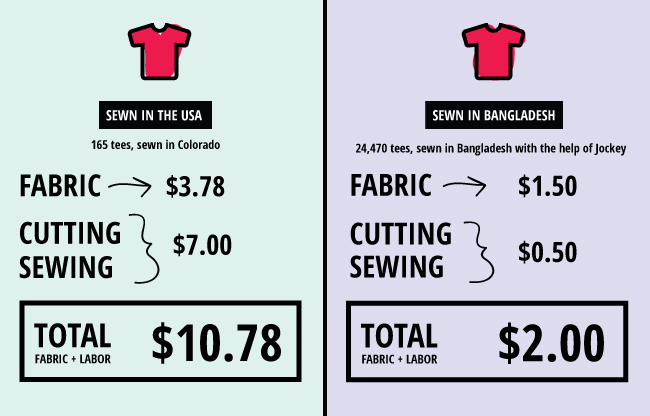 The difference is glaring.
The reason why virtually all garment manufacturing has moved overseas in the last 50 years is oh-so-obvious when you take a look at the numbers: even if I were producing thousands of t-shirts, my labor costs could never, ever be as low as $0.50.
Bangladesh's minimum wage just rose from $39 per month to $68 per month. The factory that Planet Money worked with paid workers $80 per month. The seamstress who sewed my tees makes between $15 – 20 per hour, depending on the project.
This is the reality of pricey American-made clothing. Most indie designers aren't much different from me, making smaller quantities at higher costs. Tack on other expenses (packaging, shipping, design, sampling), add margins for wholesale and retail, and voila: USA-made isn't cheap (and shouldn't be).
Your favorite local designers certainly aren't dragging bags of money to the bank.
The next time you find yourself browsing through a rack of clothing, no matter where it came from, think about the numbers. While higher prices don't always mean better ethics, consider this:  What has to happen in order for a t-shirt to cost only $5, $10, or $15 in the store?
Can you support that answer?
Love elephant and want to go steady?
Editor: Renée Picard

Photo: Seamly.co (Kristin Glenn)