I exchanged the comforts of my parents home for a life of adventure on the road.
Sixteen years and many countries later, I've learned how to be a vegan/vegetarian on the road, traveling my way ethically and deliciously without stress!
Here are my five reasons to inspire the veggie traveler beyond the salad of their continent:
1. Expand horizons.
While being home usually reminds us of every "limitation" we vegetarians might face and how much of a "minority" we are, this can feel like the absolute opposite somewhere else. In India, Thailand and Malaysia for instance, vegan and vegetarian foods are everywhere and it's part of their traditional gastronomy! Many Eastern religions or spiritual practices are based in Ahimsa, which means, there is respect for all living creatures. It's wonderful to experience a radically different point of view and ethics!
2. It's possible and easier than we think.
In the past, being on the road while being a vegan or vegetarian could be tough—particularly in some more meat heavy countries. Nowadays, we have a huge resource of information on the internet, like the happy cow directory and travel guides, with gigantic lists of vegan and vegetarian restaurants around the world.  And in case you're not aware, major airlines provide different vegan and vegetarian meals on board—some even include gluten-free and raw options! Because of the challenges I faced while traveling in the past, I created a vegetarian's travel blog and in 2014, I have plans to travel from the most western point of Europe (Lisbon ) to Asia by land. And as a solo female traveler, I'll be eating 100% vegan. Yes, it will be an awesome vegan extravaganza!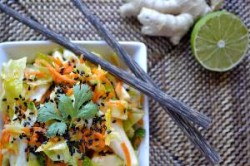 3. Inspiration.
Want some inspiration to create and recreate tons of exotic dishes once you're back home? The vegetarian gastronomy around the world is extremely rich and every single country in the world has a least one vegetarian traditional dis. From the exotic curries of India, to the hybrid foods of Malaysia, to the Thai noodles of Thailand, to the German potato salads in Germany, to the Portuguese soups of Portugal or the Italian pizzas and pastas of Italy…there's plenty of exoticism to inspire.
4. Try new things.
This is not only about trying different foods you've never heard of, but it's also about getting out of your comfort zone. Explore other sides of yourself and meet like minded-people. When traveling we tend to bump into people we would probably never meet back home. Some of these new acquaintances might turn into great friendships that will last a lifetime. I've crossed paths with many of my dear friends during trips. They teach me about their countries, language and culture and our lives are enriched because of our ability to expand our bubble.
5. Life is too short and the world is too big.
The world has so much to see and explore! Traveling doesn't have to be expensive, you don't have to save for months at a time or come from a wealthy family (I definitely haven't!) Traveling can actually be one of the best investments. Thanks to my extensive traveling, I'm now 100% tri-lingual, lived in many countries and have friends spread all over the world.
The book, The Top Five Regrets of The Dying, written by a palliative nurse, shares that the number one regret of the people on their death bed was, "I wish I'd had the courage to live a life true to myself, not the life others expected of me. "
So go out and live life, be happy, expand horizons and follow your bliss!
Love elephant and want to go steady?
Editorial Apprentice: Jessica Sandhu/ Editor: Bryonie Wise
Photo: Yara Coelho/Caley Alyssa