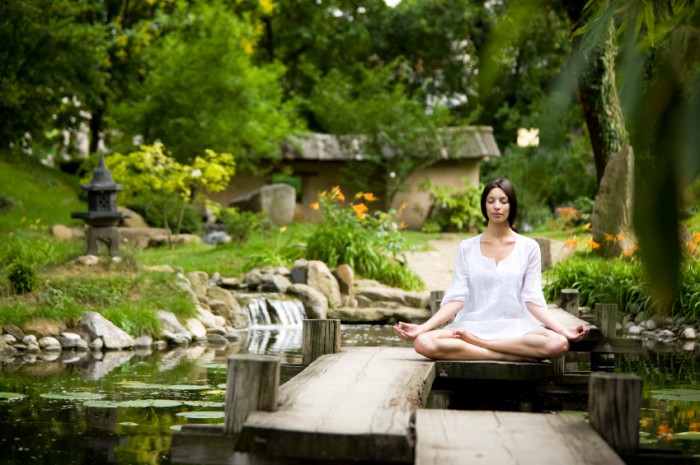 Six years ago, when I bid adieu to the corporate lifestyle after working for 12 years, I wasn't quite prepared for the silence in my life.
From juggling teams to dealing with client calls and more, life came to a standstill. The break was due to a complicated pregnancy and I had to rest.
Making presentations and brainstorming were replaced by changing soiled diapers and indulging in babbling with the boys. Was I happy with my boys? Of course, I was. Was I happy with myself? No, I wasn't. I had this perpetual feeling that there was a lacuna in my life. Something was missing and I could not place a finger on what it was.
A chance conversation with a friend made me discover happiness within and made me happy with myself. She introduced me to meditation. Meditation has been long practiced in India to promote not just a physical fitness, but also an emotional well-being.
When I first tried it, I would be so busy making  to-do lists in my mind that I often forgot I was meditating!
As the months passed things improved. And today, I love meditation.
5 reasons why we should should meditate:
1. Helps us start the day positively.
It really does. I spend at least five minutes in the morning with myself. I like to concentrate on the breathing and think of the best things that can happen to me through the day. I've been doing this for months and I've noticed that my days start on a positive note. When you focus on good things, good things happen.
2. Gets us out of the mental trap.
Many a times when I've had a long and an exhausting day with the kids as well as my work, I resort to meditation. Ten minutes of calmness does the trick. All the negativity and the anger that I have within me recedes.
3. Helps us focus.
When I am managing multiple roles, there is a lack of concentration. Often ,I didn't know what I needed to prioritize and while I managed to finish my work, I was often unhappy with the end results. That was me trying to fit in too much in a day. With meditation, I learned to improve my focus. When we meditate, it helps calm the mind and we think with clarity.
4. Take time out for ourselves.
With two hyper boys, I am always pressed for time. Juggling chores at home, managing work and the boys takes up my time. I look forward to meditation because I call it the "me" time. I get to be calm and focus on things that make me happy. Spending time with yourself is important because you need to love yourself!
5. Makes us healthy. When we focus on calm, it helps us declutter the negative spaces that have occupied our minds. When we declutter our minds, it helps us think clearer and promotes happy thoughts. Happy thoughts make us healthier. When we seek a sense of calm, we get rid of the stress and anxiety. With the reduction of stress and anxiety, we promote a sense of well-being.
When we mediate we are focusing on compassion, love and good will, all of these qualities that make us wonderful people. Meditation is not just about sitting crossed leg and chanting mantras. It is present in all that we do, from watching a sunrise, to doing an activity we love, switching off the Wi-Fi and being present in the moment. All there is to do is start!
Love elephant and want to go steady?
Editorial Assistant: Aaron Gillespie/Editor: Bryonie Wise
Photo: Flickr