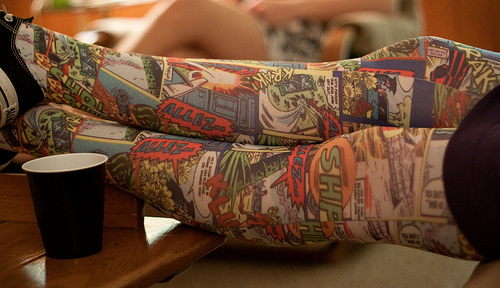 Just about anyone over the age of 10 knows the following is true: life is full of setbacks.
Sometimes, even the most confident among us can feel lower than a snake's belly following a traumatic blow, like a job loss, a break-up, etc.
It's all well and good to hear things like, "You'll come out of this stronger than ever!" or "One day, you'll look back and see this as lesson!" However, as someone who has been in the dumps more times than I care to remember, I know how hard it can be to believe these things. After a while, it's tempting to say, "Cut the B.S.!" and we end up feeling even worse than before.
While there is no magic formula to get back in the groove, experience has taught me that some things are helpful in getting us on the right path:
1. Make something.
As a needlework instructor, I feel that it can be an amazing form of therapy. Just the feel of the yarn or material I am working with as well as the rhythmic clacking of knitting needles or the whirl of a sewing machine instills a sense of calmness in me.
Also, there is just something cool about creating an item—be it a throw cover, scarf or a blanket and saying, "Yeah. I made that!"
Of course, there are many forms of needlework besides knitting and sewing including quilting, crochet, embroidery and needlepoint. Many local fabric and yarn stores as well as many national chains (such as Michael's and Joann's Fabrics) offer classes for beginners
If needlework is not your thing, check out another activity like woodworking or metal design. At the very least, just hitting away at wood or metal with a tool can be a good way to let go of any frustrations.
2. Take a martial arts class.
While many just think of kick-ass moves, martial arts emphasizes the connection between the mind and the body. Many mainstream doctors recommend various marital arts like tai chi to deal with stress. Some of the more vigorous types like Kung Fu can also be used as a form of self-defense which may help mentally as many setbacks leave us feeling weak in every sense of the word.
If the idea of actually doing it is not something that appeals to you, just watching it can be helpful. (The ancient Greeks were well-aware of the value of catharsis.) Many local martial arts schools put on free public demonstrations, and there are a ton of martial arts films widely available via Netflix or other internet movie providers.
A recent one that I enjoyed was The Grandmaster which was a dramatization of the life of legendary Kung Fu master, Ip Man who later taught Bruce Lee. While Ip's story was fascinating, I was more intrigued by his female rival who was one of the few women Kung Fu masters ever.
3. Read a book or watch a movie about an inspiring person.
We all know of people like Martin Luther King, Jr., Gandhi, Susan B. Anthony, etc. Reading about their struggles can be amazingly inspirational. However, we need not limit ourselves to only the well-known. There are so many inspiring people out there that many of us have never heard of but should have. (One of my favorite books that covers inspirational women both well-known and lesser-known is Sheroes.)
Also, look to your own community or circle of friends for inspiring people.
Lastly, why limit ourselves to real people? One of my favorite heroines of all time is Pippi Longstocking, the red-haired star of the classic children's book series by Astrid Lindgren. Pippi rules!
Helping others feels good and tends to take our mind off our own problems at least for awhile. While volunteering to build a home for a needy family for Habitat for Humanity or working a shift at a soup kitchen is noble, even doing something like collecting ticket money for a local non-profit event can feel good. Plus, it's nice to get out and mingle with others.
5. Put on your superhero pants.
As a young child in the early 80s, I remember underoos and owned several pairs including a set of Wonder Woman underroos. Apparently, they make something similar for adults.
If you want to buy some, then go for it. However, a cheaper alternative is just writing on an undershirt of pair of plain underpants, "I'm a superhero!" It may sound corny, but humor in any form is often something we greatly lacking at these times.
Plus, if you see it, you may start to believe it. Can't hurt to try.
Superheros aren't just for the comics.
Often when we are tested to our limits, we find that we truly have it within ourselves to rival Batman, Spiderman, Wonder Woman, etc.
Tapping in to our superhero selves doesn't require a lot of work. Just following one of the above tips may be enough.
Best of all, you don't even need to own a cape to be a true superhero.
Love elephant and want to go steady?
Editor: Catherine Monkman
Photo: gfairchild/Flickr