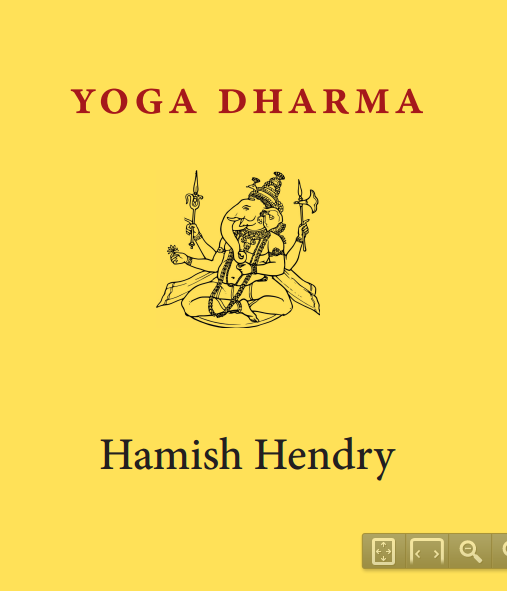 "Yoga Dharma" by Hamish Hendry takes yoga to a deeper level.
Dharma Shala in London is much like Pattabhi Jois' old Ashtanga Yoga school in Lakshimpurum, Mysore—a thriving, if little bit grotty, small shala in a quiet pocket of a big city.  One hundred students flock to Dharma Shala every day from 5 am to practice under the watchful eye of Hamish Hendry. The quiet and unassuming 47-year-old has created a trusted space where sometimes insight comes and ego goes.
Hendry, one of 43 teachers worldwide certified to teach Ashtanga by the Shri K. Pattabhi Jois Ashtanga Yoga Institute (KPJAYI), has been practicing Ashtanga since he was 18, or as he says, "when I couldn't touch my toes." Three decades later, after dozens of trips to Mysore and much Svadhyaya (self-study), Hendry has written a book called "Yoga Dharma."
This is not a coffee table book full of glossy pictures of the Ashtanga Primary Series, or a detailed breakdown of the Vinyasa count of each and every posture. (There are enough of those in publication). Rather, this little gem was written to serve as a handbook on the philosophy of yoga to which you might refer on the train as you travel to work, or waiting in the supermarket queue.
Anywhere you might need inspiration, comfort or understanding.
"My aim is to help yoga students move beyond the physical practice of asanas and to offer a handbook which students can return to and find refuge in," Hendry writes in the introduction.
"Yoga Dharma" is ambitious in its reach, but Hendry manages to keep it light and simple without losing the core meaning of the texts that form the backbone of yoga philosophy including The Yoga Sutras, the Mahabharata, the Bhagavad-Gita and more. There are many Sanskrit quotes—some famous, and some esoteric—that Hendry recommends be used as mantras, or quotations to "help protect the mind."
His touch is personal, for instance explaining that his favourite aphorism from the Yoga Sutras (Cultivate happiness for those who are successful, compassion for those in pain, joy for the virtuous and impartiality to the unvirtuous, 1.33) boils down to this: "We often have an image of how someone should be and we get disappointed when they are not that. We should love someone the way they are."
Hindu mythology gets ample treatment with summaries of how Ganesh got his elephant head, the monkey god Hanuman's search for Rama's wife Sita, and Yudhisthira's answers to the god Indra's riddles. Hendry is clearly fascinated with these stories, not simply because he is a father used to sharing them with his child, but rather because he is drawn to the message of these fables (be an honorable friend, there is nothing more powerful than the soul, the path to wisdom.)
The book is peppered with humour, as when Hendry summarizes the moral of one particular Shiva story: "If you don't want a goat's head make sure you invite Shiva to a party."
Usefully, the book features a short primer on Sanskrit, as well as a timeline of major historical events on the Indian subcontinent as they relate to yoga.
Hendry is not an academic scholar; nor does he pretend to be. He writes in an accessible and engaging way, which is one of the book's biggest strengths. It's not only fun to read, but it's honest. Its simplicity belies its effect—this little book takes yoga to a deeper level, all the while keeping it light.
"Yoga Dharma" (£10) can be bought here.
Love elephant and want to go steady?
Editorial Assistant: Edith Lazenby / Editor: Renee Picard
Photo: Photo provided by author