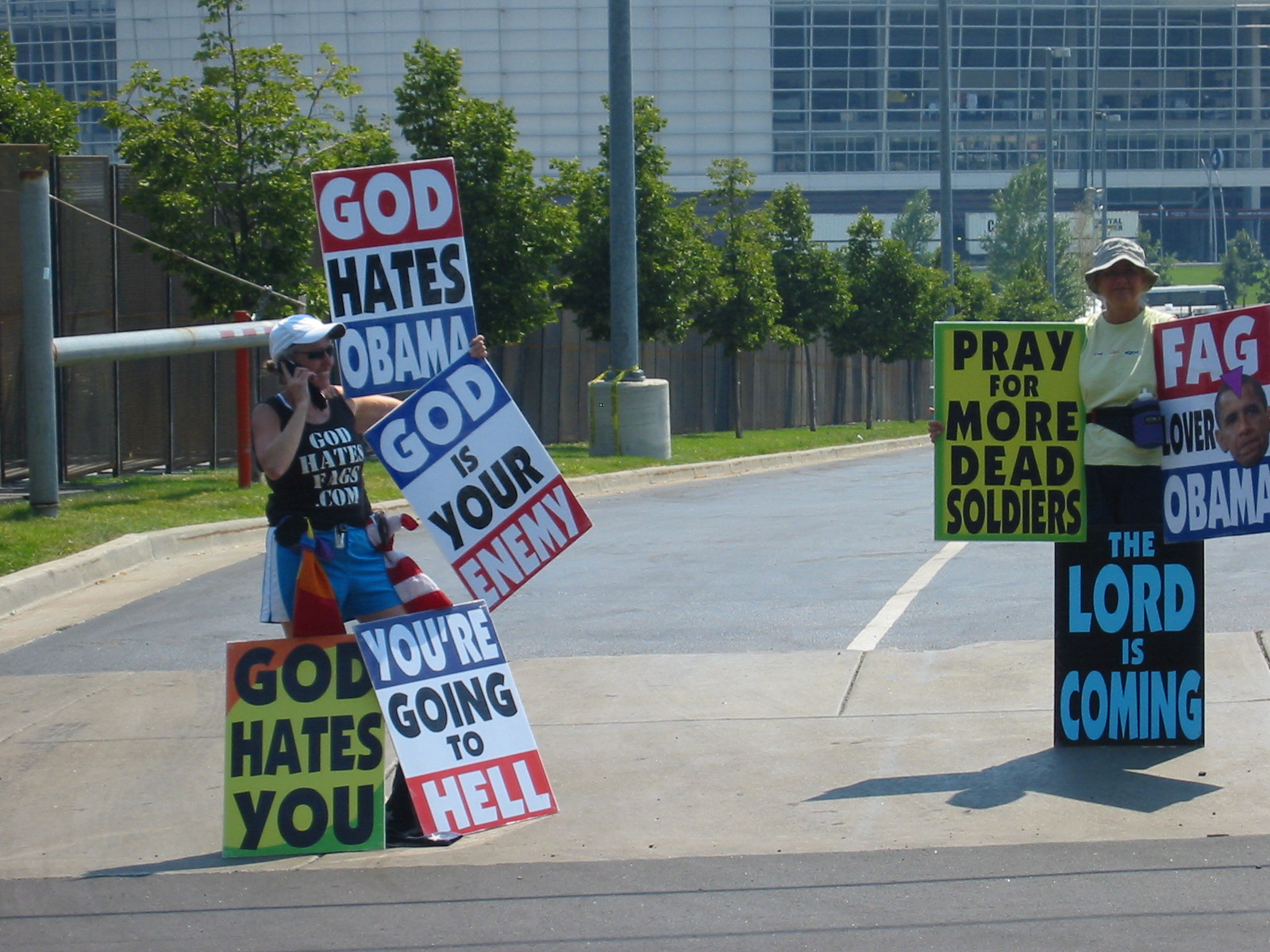 Disclaimer: The below represents the a personal opinion, view or experience, and does not necessarily reflect elephant journal as a whole. 
Disagree with this Op-Ed or opinion? We're happy to share your experience. If you are offering a rebuttal, please say so in notes, and we will give it priority if it passes the smell test. elephant takes our role as a community forum as a fun privilege, and is always happy to make corrections or in rare cases take an article down as need be.
elephant is a diverse community. We are reader-created. Many blogs here are opinion and not fact; views and experiences rather than The One Right Point of View. We welcome different points of view, especially when offered with more sources and less invective, more frankness and less PR. Dislike this Op-Ed or opinion? Share your own take here.
It was in the news today. It's all over the news here in Kansas City, but it's a story that has gone nationwide.
Fred Phelps is on his deathbed. It should come as no surprise. He is over 80 years old.
Now, I don't want to assume that everyone reading this knows who Fred Phelps is.
He's the worst kind of homophobe. Of all of the people and events from my home state, he is the biggest embarrassment.
Fred Phelps is the founder of the Westboro Baptist Church—a religious organization in Topeka, Kansas with about 100 members. If you haven't heard of the WBC, I'm sure you've heard of their slogan. It's: "God Hates Fags."
He was a lawyer before he founded this church and put most of his many children through law school as well. Why does that matter? Because they know exactly where the line is regarding the first amendment and they're prepared to defend themselves with the maximum amount of legal action possible. They have been to court many times.
Fred Phelps has dedicated his life to preaching hate.
I remember them from my childhood. In the early days they protested things like gay pride parades and funerals of gay men and women. They held up signs that said things like "God Hates Fags," and "You're going to Hell."
And then they started protesting other things too.
Sometimes their protests were seemingly random. During disasters, like the bridge collapse in Minneapolis in 2007, they arrived saying these things happened because God was mad about homosexuality. He protested the filmmaker Kevin Smith when he visited Kansas City, and Kevin Smith was then inspired to create the horror film Red State.
After the two wars of the Bush administration, they started protesting soldier's funerals.
I was a college student when I saw them at the University of Kansas in 2003. I heard that they came every year during Pride Week. There were about 20 of them, which was usual—this is not a big organization. I saw a sign that said "Thank God for 9/11" and another one that said, "God Hates America." That sounds awful enough now, but this was in 2003, when the wounds from 9/11 were still fresh; when America was so wounded that the Bush Administration started an extra war.
But I didn't see Fred Phelps there. I've never seen him, only his followers.
I saw a Facebook group not long ago called: "When Fred Phelps Dies I'm Going to Protest His Funeral."
Is that the right way to handle this?
He's the most hateful person I can think of in the world today. So much of what the WBC has done is to gain attention: "Hey look at me, I'm more hate-filled than you."
Giving them attention just inspires them to do more. I think that if we respond in any way other than ignoring the passing of this man, we are giving them what they want. If we respond with hate, that can't be helpful. If we respond with hate, his followers can describe him as a martyr.
I think ignoring his passing is the best course of action.
What do you think?
Love elephant and want to go steady?
Editor: Catherine Monkman
Photo: elephant journal archives