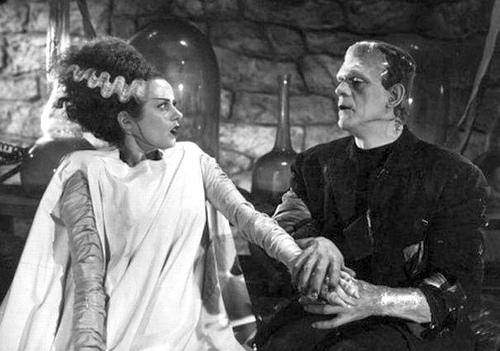 Recently, I attended something called a Wedding Expo. I went, attempting to gather ideas to plan my wedding, and to have somewhere to start…I wanted to leave almost immediately.
As soon as I walked in I was branded with an over-sized, too-bright pink sticker declaring to everyone that I was the Bride. My excitement for stickers soon faded as I realized this was not an ordinary sticker but a bull's-eye, notifying all the vendors in the place of their prey. Now they would know who to target with their barrage of free samples, custom packages, "just for you", and leading questions about venues, music and cake.
As my mom, sister and I skirted around a vendor aggressively yelling about the benefits of having an ice sculpture, we passed another specializing in flower arrangements, and I desperately hid behind my sister. I explained that part of the Maid of Honor duties were to shield me from this craziness and take a few "bullets" for the team. I promptly removed that big, pink sticker from my T-shirt and pushed it gently against the side of the nearest table, casually returning to the flow of brides-to-be.
However, it didn't seem to thwart the advances of the vendors at all. Having narrowly escaped a short, pudgy woman shoving a tray of Slim Fast "punch" at me while I finished the last of my ironically free cake samples, I decided to take a break and sat down.
I sat in the middle of the crowded Expo feeling exhausted, eyes glazed over. Looking around I saw vendors pushing everything from hotels for your wedding guests to tent rentals for inclement whether. They seemed to have a booth selling everything for a wedding but the grooms! If they did you could literally walk in and purchase a ready-made wedding…just add water.
My mind wondered and I found myself wishing I were more of a Bridezilla.
Bridezillas are odd creatures. They get a bad wrap because, as defined by Wictionary.org, a Bridezilla is "A woman who, in the course of planning her wedding, exercises or attempts to exercise a high degree of control over all or many minor details of the ceremony and reception."
Society paints them as crazy, obsessive and demanding women, but since my experience at the Expo I can't help but think how great it would be to have some of their super powers for organizing details and making decisions.
As a Bridezilla I would be armed with the answers to all those wedding questions, I might even have some of my own! I might have a solid idea of how many people to invite, what to feed them and how much it would cost. I would definitely know whether or not to have an ice-shaped likeness of myself at the hors d'oeuvres table and the colors and flowers would have been decided on long ago.
Say what you will about them, but Bridezillas are simply brides who have learned how to adapt to the overwhelming and stressful task of planning a wedding. They've learned how to survive.
I have not adapted to this strange and new environment and I don't think I will, but to all the Bridezillas out there, I now know what has caused your strange and brightly colored adaptation and I sympathize.
I, however, choose not to adapt but instead to migrate to another environment completely. One that does not require me to stress over these wedding details but instead allows me to joyously embrace this very special day without paying large sums of money for unnecessary party favors and a wear-one-time-only dress.
I'm taking a stand.
I will be planning this wedding on my own mindful, minimalistic and inexpensive terms. It will be a fun, stress-free party, full of all my favorite people, just as a wedding should be.
Love elephant and want to go steady?
Editor: Renee Picard

Photo: Liz!/Flickr Creative Commons