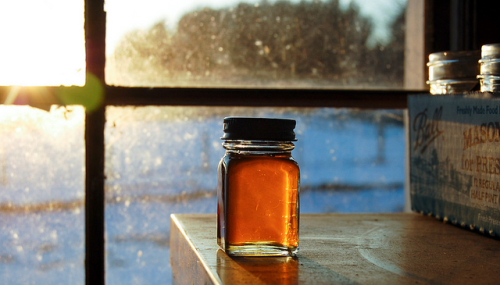 'Tis the season of maple syrup!
As the maple trees are slowly defrosting and awakening from the cold winter, the taps are reopened, the sap begins to flow and the fires are stoked to get the long boiling process going.
This year the season started late since the winter was long, but as long as Quebec and Ontario enjoy frosty nights and sunny days, 80% of the world's maple syrup production is guaranteed for the year. Knowing how weather dependent the manufacturing of this natural sweetener is, is already enough argument to savour and cherish each drop.
But there are more reasons to give maple syrup a few extra nudges up the list of preferred ingredients. Here's a few:
1. It's 100% natural
Maple syrup is a wholefood, meaning it's hardly processed, non-refined and without any additives. What you taste is pure maple tree anti-freeze.
2. It's a superfood
Researchers of the University of Rhode Island have discovered that maple syrup contains many antioxidants, acting as anti-inflammatory and anti-cancer agents and helping in the prevention of Alzheimer, cancer and other chronic diseases. Think blueberries, flaxseed, tea, broccoli. Maple syrup may actually help type 2 diabetics keeping their blood sugar levels balanced, as it's packed with phenolics which help inhibiting the enzymes that convert carbohydrates to sugar.
3. It's packed with minerals and nutrients
All pure maple syrup, but especially the darker grades are a source of essential minerals, such as manganese, zinc, magnesium and potassium. It helps in muscles and cell repair, keeps bones strong and boosts the immune system.
4. It's lower on calories than sugar
Maple syrup is even lower on calories than honey. It's also less likely to cause indigestion, gas and bloating than other refined sweeteners.
5. It's organic
Although not all brands are labelled as organic, most maple syrup is produced without any chemicals or pesticides. The tree is tapped, the sap is boiled and the syrup is bottled. There is not much more to it.
Next time, before thoughtlessly pouring the syrup over our pancake, let's taste this liquid gold with awareness and gratitude. Let's swirl it in our mouth like a sip of 1975 Château Lafite-Rothschild.
Let's think of the tree that poured its old soul into that bottle on the breakfast table.
And let's thank Mother Nature for providing us with this sweet, yet simple, superfood.
Love elephant and want to go steady?
Editor: Jenna Penielle Lyons
Photo: Flickr / Sterling College and Pixoto / Janet Lyle