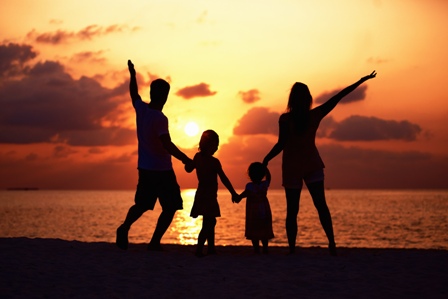 Before the civil rights era, many blacks, or at least those that could, lived a social life passing themselves off as white.
"Passe Blanc" became a way of life for those who sought to avoid the negative connotations associated with being born into a black family. It wasn't that hard, if your skin was light enough and yours eyes were a lighter color, if you were accepted by your neighbors and fulfilled community obligations, you could pass.
Basically, if you looked white and acted within the framework of society you had a chance for a normal social experience. Fast forward 150 years and you will recognize the same pattern of passing exists within the non heterosexual landscape.
Because sexual orientation differences exist within the normally occurring heterosexual community—that's right, gay kids most often come from heterosexual parents—passing today isn't quite the same as it was for blacks passing as white.
What determined the ability to pass for blacks was their appearance; if you looked white, you were in. Today it's more about behavior than appearance; as long as you understand and honor the hetero code of behavior, you can be accepted within your family, at school, at work and within the greater society.
Today, If your dress is gender appropriate and your interests are somewhat gender appropriate, if you are accepted by your neighbors and fulfill community obligations you will likely pass. Basically, if you look straight and act within the framework of society you have a chance for a normal social experience.
All of the typical stages should be reached: finish high school and go to college, find a good job, buy a home and maintain it well, have a monogamous relationship and maybe even children—and then what you do in the privacy of your bedroom can be forgiven, and even better, forgotten. You will have made it, you will be a member of the heteronormal society and the reward will be a normal social experience.
Yet just as those who experienced "passe blanc" experienced second hand racism, so to will those who live a "passe hetero" lifestyle experience second hand bias as well.
Those off the cuff remarks made as a lively queen crosses the street and a casual friend mocks and ridicules the way he/she/it sashays.
The political hopeful who suggests home schooling as an alternative to allowing a child to be taught by a transgendered women who has made the ultimate decision to go all the way and become transsexual over spring break. She will return to a group of students who will have only known their teacher as Miss. They will not recognize any difference before or after the break, but their parents will know—having read the news or heard wagging lips exposing the truth.
Today's challenge for civil society is whether Lesbians, Gays, Bisexual, and Transgendered (LGBT) individuals deserve the same rights afforded to our heterosexual relatives. Current trends seem to indicate that acceptance is near and that a new normal is being born.
Gays and lesbians, riding this new wave of support surrounding marriage equality, will continue to come out of the closet and embrace their new found freedom. And this freedom will extend not just to those that pass as socially normative, but to all LGBT—queers, fringe and marginalized LGBT others who did not have the good fortune of being born into a loving and accepting family. Those who are not accepted struggle greatly with a sense of identity and community and the saddest part is this: when you don't know what you are or if you belong, you get your heart broken every single day.
It is a great challenge to survive let alone thrive with a broken heart and to live within a society that sees the strange as something to avoid or reject. We humans are mammals and like all mammals we need connection and secure attachments just to survive, but to thrive we need to be seen, see our strengths that show our worth and see our weaknesses that need shoring up, only then can we truly contribute to society.
Acting responsible is not a matter of strengthening our reason but of deepening our feelings for the welfare of others. ~ Jostein Gaarder
It is said that nature abhors a vacuum, and as acceptance for equal rights for all flows and those that were once the majority become the minority, those that reject the changes in society will find themselves forced to curb their animus, at least publicly. This unintended consequence stirs the greatest fear of the homophobe, that they will be forced by a new normal to enter into the newly vacated space, in the closet.
Ultimately homophobes know what happens in the closet, and they're not going to like it there, because they are used to being free to express their biases and the closet is a space where individual freedoms hibernate or die.
These newly closeted homophobes will be forced to suppress their moral outrage or risk challenging the new social norms of acceptance. Racism hasn't died and neither will homophobia but the remnants will wilt and become less virulent as long as we never forget they exist.
Like elephant and want to go steady?
Editor: Catherine Monkman
Photo: Wikimedia Commons