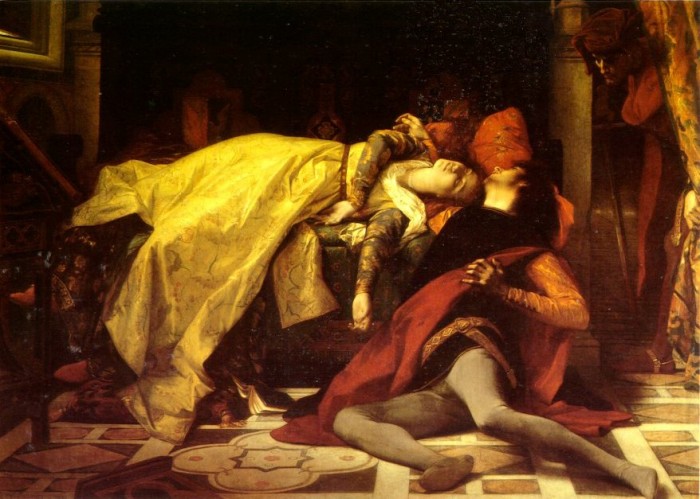 "You know you're in love when you can't fall asleep because reality is finally better than your dreams."

~ Dr. Seuss
A few days ago Waylon Lewis posted an interesting infographic about sleeping positions and what they say about relationships.
I studied the graph carefully and proceeded to a self-analysis that lead to a couple of sleepless nights. Except for setting up a camera (and we're not at that stage of the relationship yet—or perhaps we're past that stage), I didn't see any other option but to stay awake in order to observe our sleeping behaviour.
So here are my empirical findings.
Let me start by specifying that we are not a standard couple with average habits.
Firstly, we tend to spend several months a year apart. Not because we don't want to be together, but because I want to do this (e.g. yoga in India) and he wants to do that (e.g. spend the summer in Italy).
And so we do, meaning we sleep in separate beds for many days.
"A poor relationship indicator."
We just got married six months ago. Shoot me.
Secondly, even when are together, we are nomads. In the five, almost six years that we have been a couple, we have not slept in the same bed for longer than half a year, either together or separate.
We move from boat in the Maldives, to mom's house in The Hague, to friend's place in Amsterdam, to homestay in Bali, to guesthouse in Goa, to parent's house in Egypt, to rented room in Perth.
Every time we land in a new bed, we re-choose sides. In the attic in Italy, I sleep on the right but in the downstairs bedroom, I sleep left. In the staff accommodation in the Maldives I was on the left, but on the boat I was on the right.  I don't always need to be closest to the door and he doesn't always need to be next to the bedside table.
No OCD symptoms when it comes to our sleeping routines, that's for sure.
So as said, taking it one step further, I tried to apply to us the thoroughly scientific research visualised in the aforementioned infographic.
Let me walk you through our pattern.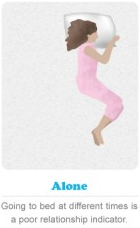 Sometimes, we go to bed at different times.
In those cases, I usually go to bed later because I like to watch re-runs of all sorts of crappy TV series when I don't have to get up early, while he is more the I-prefer-not-to-fall-asleep-on-the-couch kind of guy.
Apparently a bad sign for the state of our relationship too.  Fantastic.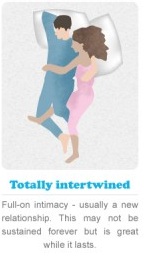 More often than not however, we do go to bed together and if so, nine out of ten times, we start of like this: totally intertwined.
("So, how did you sleep last night?"  "Great, totally intertwined!")
Excellent, full on intimacy. I like that.
We can sleep like this for a bit.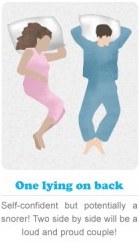 After a while however, my beloved heat generator gets a little too hot for me or my neck starts aching, so I turn onto my back ending up in the potential snoring zone (yes, I do).
Like the image here but then vice versa.
I snore for a while, after which he pokes me, I grumble and turn to the other side.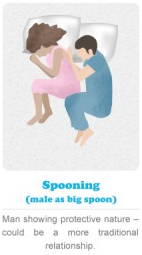 Sometimes, he smoothly turns around with me, which lands us in a male dominant spooning position.
He's Italian, so protective and traditional do make sense, I guess.
We sleep some more.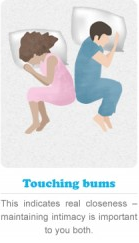 A while later however, he gets uncomfortable and turns on his back again or he may even do a bum-to-bum.
Nothing like some quality cheek-to-cheek sleep.
Good, our intimacy is back on track.
And then, through the night, we flow from being "independent yet affectionate", to "independent and potentially argumentative", to "independent and practical".
While sound asleep.
I'm thinking I should fix an appointment with a psychotherapist for us.
Finally, in the morning, when the heat of the night has dropped, we usually crawl back towards each other and end up where we started, legs intertwined, my head on his shoulder, his arms snugly around me.
I love hearing the beating of his heart.
I feel so much more enlightened about my relationship than I was before.
At last, I can go to sleep without a single shred of doubt.
Relephant reads:
The 12 Sleeping Positions & What they say about Us.
Sleep: More Important than a Healthy Diet.
Dear Sleep, Come to Bed with Me.
Love elephant and want to go steady?
Editor: Bryonie Wise
Photos: Wikimedia Commons and Visual.ly