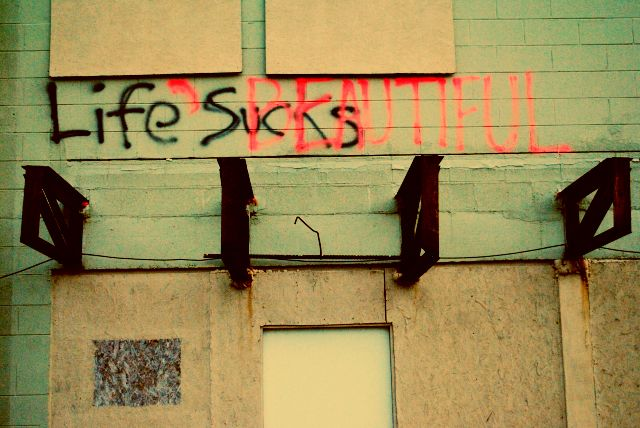 Warning: F-bombs up ahead. 
"I am pathetic, a waste of fucking skin, a waste of existence," I yell out and continue to lie on the concrete, a blubbering mess.
It is a cold, overcast day, in 2004. I am consumed by thoughts of death—ending it all and stopping the pain.
As I stand on the top floor of the parking garage, a vehicle is backing up, so I pretend that I am looking at the view of the reservoir while I wait for them to leave. All clear, I climb up on top of the pillar. I stand here, pausing for a moment to look around and at the surface below.
Briefly I think back to 10 years before, when my ex-boyfriend leapt to his death from a 14-story building. If he could do it, so can I.
I stand there, looking down at the concrete below. "This isn't high enough. What if I survive? Then I will be mentally screwed up and physically battered and broken," I say out loud, though no one is there to hear me.
For what seems forever, I continue to stand there, completely alone. The conflict raging inside me is devastating: yes, no, yes, no, yes, no…I can't do this. I step down and lie on the concrete, once again feeling thoroughly defeated.
"You are so pathetic!" I say out loud, but no one is around, no one hears me; it's just me, all by myself.
Eventually, I go back to the ward and lie on my bed, sobbing. Totally alone, desperate and hopeless, all I want to do is die, but I can't do it.
I am brutally aware of my frailty, how desperate I have become, and the delicate thread between life and death. I disappear for hours on end around the hospital grounds, in spite of the fact I am supposed to be gone for only one hour at a time. Yet no one seems to notice my lengthy absences. No one is aware, because I choose to be alone. I choose not to speak with a nurse, and I choose to be consumed by ending my life. Quite frankly, I have no idea why.
All I know is that I want to die.
An excerpt from A Quiet Strong Voice: A Voice of Hope Amidst Depression, Anxiety, and Suicidal Thoughts:
What I Know Now That I Didn't Know Then
There is no shame in asking for help: Asking for help is not a sign of weakness, in fact it truly is a sign of strength to be vulnerable enough to say "I need help." Be open and willing to receive the help you need.
Help is a phone call away: All across the world there are caring people willing and able to listen, and be there.  24-hour crisis lines are there for you, and are confidential. Find the closest one to you here.
You are not alone: There are 350 million people across the world impacted by depression. You may feel so alone right now, completely isolated, helpless, and withdrawn. Rest assured—there are many people who understand the pain you are going through, they know the darkness, and pain. Many have overcome the darkness, to live life fully again, and you can too.
You are loved: You may feel that you are a burden to those you love. You may think everyone is better off without you. In fact, if you were gone—the pain they would endure would be forever. The people who matter most in your life love you deeply. There are many people who love you, yet some may not know how to show you that love right now.
Remember—you are loved.

Breathe, relax, this too shall pass: Even though it may not feel like it right now, please know that this unimaginable pain you are feeling will pass. In this moment right now, take a deep breath—breathe in peacefulness, and breathe out with a loud exhale all your worry and stress. Repeat as often as necessary.
I am proud of you, you thought this would never end, that life is unfair, the pain will never stop, and that nobody cared. Yet through this you courageously stepped through your healing journey—even though it wasn't easy. You displayed resilience, courage, determination, faith, and persistence.
After nine years of living with major depressive episodes several times a year, you will live depression free—enjoying life to its fullest, with peaceful contentment. I see you. I hear you. I am proud of you. I love you.
 Relephant Reads:
Survival & the Physiology of Resilience.
Developing Emotional Resilience.
What I Wish Her to Know About Suicide.
Love elephant and want to go steady?
Apprentice Editor: Emily Bartran/ Editor: Catherine Monkman
Photo: elephant archives