1. Boulder exists within a different time-space continuum than the rest of America.
It's like simultaneously living in the past and the future. Remnants of the 90s are apparent all over town as people rollerblade to work and grungy-looking hippies hacky sack in the park. However, progressive drug laws, disposable bag fees and the advanced public transit system place Boulder years ahead of everyone else.
2. No one is actually from here.
Californians and New Englanders run this place. Occasionally, I'll meet someone from the Midwest or Canada. I remember the first time I came in contact with a Boulder native—it was like meeting a unicorn.
3. We win awards for being awesome.
Boulder has won just about every lifestyle award possible: Happiest, Healthiest, Greenest, Brainiest. Outside and National Geographic repeatedly list Boulder as one of the "Best Places to Live & Play." Just in case you don't read those magazines (except you totally do if you live here), our official city website profiles every accolade this town has received since 1989.
4. We have three million days of sunshine a year.
This place is like a real life postcard. I could count the number of days it has rained since I moved here on one hand. As an East Coast girl, I'm accustomed to those occasional rainy days that allowed me to veg out and watch Friends in my favorite sweatpants all day. Now, even when I want to be lazy, the weather guilt trips me into getting off my ass.
5. We don't do well inside.
Do people around here actually work? While everyone else in the country is at the office from nine to five, we are hiking, climbing, mountain biking, trail running and skiing. The most important quality a person can have in this town (besides their Chaco tan) is their dedication to the outdoors.
6. We are healthier than you.
Think the air is thin up here? Try looking at the people: I have yet to see a morbidly obese person—seriously, not one. We use our vacation time on yoga retreats and mountaineering expeditions. Elite athletes from all over the country come here to train, so don't feel bad when that 50-year-old silver fox yells "On your left!" and cycles past you as you're huffing and puffing up Flagstaff. We even have an annual town run called the Bolder Boulder, a 10-kilometer road race that features over 54,000 participants, (making it the largest race in the U.S. and the fifth largest race in the world).
7. We eat better than everyone else.
When it comes to pretentious foodies, Boulder takes the cake, or in this case—the kale. If it's not organic, local, free-range, vegan or gluten-free, we won't eat it. We spend our Saturdays at the farmer's market, so if you're at King Soopers using a plastic bag (one of the most pure forms of evil in this town), you might as well wrap it around your head and hope that you suffocate before someone else sees you.
8. We are the highest state in the nation.
Yea, we all smoke pot, but that's not what I'm talking about. Two things every Boulderite always has on them: Chapstick and a Nalgene. When living at higher altitudes, the body has to work harder which helps to strengthen the heart and improves stamina and endurance. Because of this phenomenon, our life expectancy is longer. You think a cold beer tastes good at sea level? Try chugging one after running at an altitude of 5,435 feet.
9. We care about the planet more than you do.
Boulder has worked hard for its reputation as an environmental leader, passing some of the most stringent laws to control urban expansion in the nation. We have both curbside recycling and composting. Here, going green is more than a trend; it's a way of life. In fact, when recent federal tax cuts gutted city budgets, residents voted themselves a third sales-tax hike to raise $51 million to buy and protect even more open land.
10. We hate cars.
When it snows in Boulder, bike lanes are plowed first. To the grocery store or work, in the freezing cold or scorching heat, Boulderites enjoy over 300 miles of bike lanes and paths that connect throughout the town. As a result, around 10 percent of trips to work are made by bicycle—that's almost 20 times the national average. You can't look at a list of "Most Bike Friendly Towns" without seeing us in the top 3. If you're doing it right, you spend more time wearing spandex and jerseys with pockets than all other articles of clothing combined.

11. But we all drive Subarus.
There are so many Subarus in this town that you would think they handed them out with your ski pass. I drive an Outback. My roommate drives a WRX. Bonus points if you have a ski or bike rack.
12. There is little to no diversity.
The only minorities in this town are the fat people. According to the 2010 Census, 89 percent of the Boulder County population is Caucasian. If you live here, you are most likely a rich, white professional who can afford the outrageous real estate prices or a rich, white college student. However, it's not unusual to see the Lululemon moms (our version of a soccer mom) toting around their obviously adopted children—a status symbol to let everyone else know they spent $10,000 buying a kid in a foreign country.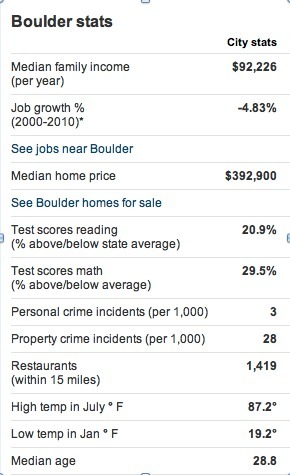 13. Left is right.
Do you really think Obama would have won Colorado without Boulder? There's a reason we are often referred to as "The People's Republic of Boulder."
14. Yoga is the most popular religion.
Why do you think elephant journal is based in Boulder? There is practically a meditation center on every street corner. This Daily Camera quote sums up just how absurd we are by getting a foreigner's take on things: "And Patel—who has practiced yoga since he was a child—found it odd that in a Boulder yoga studio, the instructor repeated 'Namaste' throughout the class. 'It was like he was saying 'Hello' throughout the entire class,' he said."
15. Pearl Street is the center of our Universe.
When we are not being hardcore outdoorsy, you can find us enjoying chai teas and microbrews on our main drag: Pearl Street. This is a favorite gathering spot for homeless people and trustafarians alike. Here, you can bear witness to the eclectic street performers, shop for a new bong and be assaulted by Greenpeace volunteers—all in one day!
16. NASA loves us.
Does your school have a moon rock? We have put 18 people into space and the Laboratory for Atmospheric and Space Physics (LASP) at CU Boulder is the only lab in the world to design and build instruments that have visited every planet in the solar system.
17. We are beer snobs.
According to the Brewers Association, we are ranked fourth in the country in number of brewpubs and craft breweries. Want a real Boulder experience? Head to the Mountain Sun—a brewpub that loves Phish, chalk art and always has at least 20 beers on tap. Warning: they don't take credit cards (it's an image thing), but they will give you a "karma envelope," a pre-stamped, pre-addressed envelope for you to mail cash in later if you can't pay your tab.
18. We don't know how to dress ourselves.
Patagucci jackets, Crocs and spandex. We suck at fashion so hard that GQ named us one of the worst dressed cities in America: "This town is always obnoxiously flaunting its "fittest-place-in-the-country" awards, and you will be hard-pressed to find one person here, including your 85-year-old grandmother, without a six-pack. It is, in fact, a worst-dressed city that looks best naked. So Boulderites, do your fellow citizens a favor: next time you reach for the biking-shorts-and-sneakers as eveningwear combo, just take it all off."
Relephant:
~
One of my favorite field trips to take when I'm in Boulder:


~
Love elephant and want to go steady?
Apprentice Editor: Marcee Murray King / Editor: Rachel Nussbaum

Photo: nasus89/Flick