When it comes to style, "The best thing you can wear is self-confidence."
(Apologies for the cliché.)
As an environmentalist with a frugal New England upbringing, I spend extremely little on clothing, and almost nothing on new clothing. I believe in the three 'Rs" for fashion, too: Reduce (buy less), Reuse (if you do buy, buy used), and Recycle (swap with your friends). Even with my hand-me-down and thrift store wardrobe, I feel stylish and confident.
I take this style on my bike and have been documenting my style and others' through my Bike Stylish project.
We are on a mission to promote cycling as fun, attainable, and even aspirational, helping those who are on the fence about biking to understand how to get around easily by bike and still look good (if not better) than when driving a car.
For those unfamiliar with the project, check out our recent ventures: Community Bike Stylish, Winter Bike Style, tips on How to Bike in a Mini-Skirt, and, for National Bike Month (May 2014), we are currently promoting Giving away Upcycled Made-in-USA Green Guru Gear just for you sharing your Bike Style.
We recently paired up with Meghan Sampson of Little Song Blog to capture her thrift store bike style, shoot our Green Guru Gear Giveaways, and get her tips on accessible fashion. Meghan's look for this bike stylish shoot focused on maximizing with less.
In each shot she wore the same dress and changed up accessories to make a completely unique outfit. Meghan discusses all of this in her blog, How to Bike Stylish. All photos © Tanya Dueri Photography.
What are your staples for biking stylishly?
"Breathability is key; stay away from unnatural fabrics when thrifting: polyester, rayon, and most synthetics stink—literally. My favorite bike style features mid-length skirts that are loose. I've made mistakes with tight dresses having one that rode up to be very short. I like bloomers for under short shirt-dresses, but mind the elastic around the legs, which can squeeze your legs and be unflattering."
"I always want to wear a hat, but they just don't stay on. So my hat stays in my basket or at home. Sunscreen is key (especially without that hat I wanted). My favorite bike stylish shoes are the Jeffrey Campbell Lita; I wedge the pedal between the platform and the heel and I feel like a badass biking in them."
What are the current trends you're excited about?
"I like mixing and matching patterns. This trend has allowed me to rediscover pieces in the back of my closet. "Normcore" is big, a trend featuring that it's okay to be normal and that normal is now high fashion. Marc Jacobs is featuring sneakers and simple shirt dresses are big." [Author's note, I had to look up "Normcore" and loved this title from NY Magazine Normcore: Fashion for Those Who Realize They're One in Seven Billion.]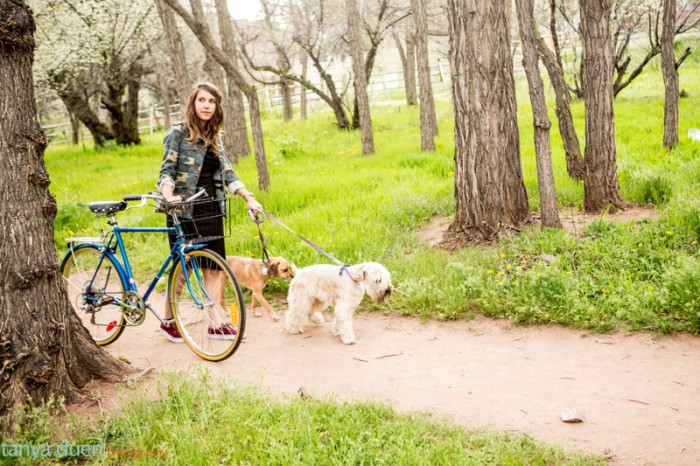 While I've never heard of "Normcore" that sounds perfect for biking, but how do you make a trend like everyday fashion effortlessly glamorous?
"You can make these outfits glamorous by focusing on accessories—a simple necklace or bracelet stack. Caroline De Maigret is a great example; she will add a tailored blazer to her outfit and it will be glamorous. You don't need a lot; invest in one statement piece."
You've mentioned that you love thrift shops. Are you more into curated consignment-style stores or true thrift shops like Goodwill and Salvation Army?
"There is a time and a place for both options. I love Buffalo Exchange for a curated collection, but will also spend time in the dollar bins at Goodwill."
What are your tips for navigating each type of second-hand store?
"For Buffalo Exchange, it pays to befriend the staff. My friends at Buffalo will put something good on hold for me when it comes in. Take your ego out of selling your clothing. Don't take it personally if they don't buy what you brought in. It's not an insult to your fashion, it's about what they already have in stock and what is selling at that exact season."
"For Goodwill, go on a day when you have patience. Before you go, Google current trends, which could include a cut, color, pattern, or other style. If you stumble across a true name-brand piece, I sometimes find myself wanting it because of the name. So I will cover up the tag, look it over, and if I still want it regardless of the brand, then I'll buy it. Conversely, if you're up on trends and value of name brands, you could potentially buy it and resell it at a higher-end consignment shop—but it's a risk. I've also stopped buying fixer-uppers. I used to say,  'Oh, this has a tiny stain or needs sewing,' but I never got around to fixing it and it was a wasted purchase."
Most important piece of advice from the fashionista herself?
"If you don't feel like YOU in something, don't bother! Who cares if it's in trend or not."
We want to see your thrift store or haute couture bike style!
Share your bike style with us this month for a chance to win upcycled & made in USA gear from Green Guru, a chance to be featured on BikeStylish.com, and possibly included in our upcoming Elephant Journal article on Bike Stylish Street Style! Learn more about Meghan Sampson and get all of her tips on accessible fashion and How to Bike Stylish.
Next we'll cover how you can take Bike Stylish photos with the ins and outs of producing a photo shoot. Sneak peak of behind the scenes with Little Song Blog for Bike Stylish with Tanya Dueri Photography (photography & videography) and 23 Sons Creative (production & management).
Love elephant and want to go steady?
Editor: Catherine Monkman
Photos: © Tanya Dueri Photography.