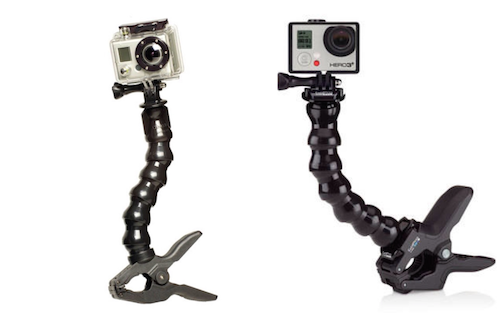 (Dinkum Systems' ActionPod camera mount)                         (GoPro's Jaws Flex Clamp)
~
**Update: Settlement reached in patent infringement case…
Boulder, Colorado-based company Dinkum Systems Inc and GoPro, Inc have reached a settlement agreement pertaining to the lawsuit, the terms of which are confidential.  Given their friendly relationship with many of the team at GoPro, and admiration for the brand built by founder Nick Woodman, Dinkum Systems CEO and inventor, John Mans and Chief of Operations Andi Lucas have said they are relieved to have resolution to the case.
#2013CV031832—Dinkum Systems Inc v. Woodman Labs Inc dba GoPro
For further information and comment please contact Co-owner and Chief of Operations Andi Lucas.
~
After years of a friendly relationship, GoPro (Goliath) has allegedly copied (little) Dinkum Systems' action mount. Waylon gets to the bottom of this sad situation with the ever-charming, snarky Andi Lucas.
More information:
> Boulder camera mount maker Dinkum Systems sues GoPro, alleging patent infringement, deceptive trade
> Boulder's Dinkum Systems sues GoPro, alleging patent infringement, deceptive trade
> Official Statement re the GoPro Lawsuit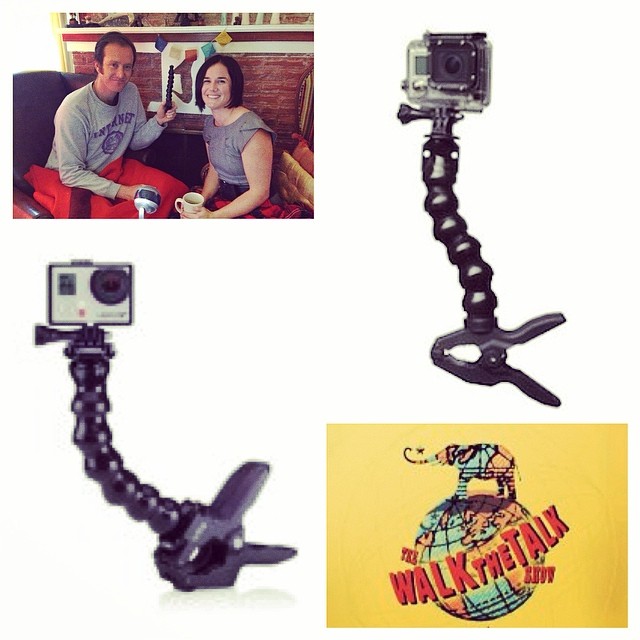 ~
GoPro hosts Dinkum Systems in their booth at a trade show: 
Other videos from Dinkum Systems: 
Elephant is psyched to be working in partnership with Google+ on our new live video series, which features three live videos a week (that can be watched later, too).
~
Info from the Dinkum Systems site: 

John Mans was raised in a small Rocky Mountain mining town and is currently based in Boulder, Colorado. As one of the first graduates from the newly established Film Program at the University of Colorado in 1985, John spent more than a decade working in the camera departments of serialized television before making the decision to pursue his passion for the outdoors and adventure. Around this same time, he invented the first clamping French flag and the FlexiMount microphone mount. Designed to deal with the on-set challenges on exactly the types of shoots John was now working on (fast paced filming in rugged environments and difficult conditions) these products were sold through a handful of specialty camera stores in LA while John pursued his career as a Director of Photography. John is also a National Primetime Emmy nominee for Outstanding Cinematography for his work as a DP on Whale Wars in the Antarctic (where we met), and an Emmy-award winner for his work on National Geographic's "Great Migrations" in 2010.

In 2009 Andi Lucas began working with John on a variety of other film related projects and through that collaboration became aware of the camera accessories line. With a diverse professional background in restaurants, venue operations, event management and the financial sector, it quickly became apparent to Andi that the line of specialty accessories John had been selling for over a decade had fantastic applications for the new styles of camera equipment on the market, specifically the exploding action camera market and the move to shooting on DSLRs. Coming on-board in the role of Chief Operations Officer in 2010, Andi worked with John on taking the Dinkum Systems line to the next level, with over a year spent in R&D making improvements to existing designs, creating new products and engineering and tooling specific parts. Since the official launch of the full line in 2012, Dinkum Systems is rapidly expanding its US-based dealer network and now distributes internationally.
Find Dinkum Systems on their website, Facebook, Twitter and YouTube.
~
We got your social mediums right heah:
Hangout on Google+ every Monday, Wednesday & Friday at Noon MST.
Listen: Walk your Talk on your commute or over dishes with Soundcloud.
Subscribe directly to our award-winning Youtube Channel.
Editor: Rachel Nussbaum
Photo: Dinkum Systems