~
Dodging a Family History of Cancer with Vegan Diet & Exercise
Waylon chats with "The Veg Coach", Ellen Jaffe Jones, about the Paleo-Vegan Diet, thriving vegan athletes, beating breast cancer odds and affordable healthy eating:
~
~
More from Ellen's YouTube Channel:
Elephant is psyched to be working in partnership with Google+ on our new live video series, which features three live videos a week (that can be watched later, too).
~
Info from Ellen's site: 
At 61, Ellen Jaffe Jones is "THE VEG COACH." She is an inspiring motivational speaker, personal trainer, running coach, author, vegan lifestyle coach and teaches healthy cooking classes.
Ellen's best-selling book, "Eat Vegan on $4 a Day" rapidly became her publisher's #1 seller. "Kitchen Divided—Vegan Recipes for the Semi-Vegan Household" was Ellen's second book and appeals to those who live in "mixed marriages" where not everyone eats vegan. Ellen wanted to provide recipes that were easy for a vegan to prepare but flexible enough for a non-vegan to add whatever to the basic recipe.
Her third cookbook, "Paleo Vegan", was chosen by VegNews Magazine as one of the "Most Anticipated Vegan Cookbooks of 2014.
Ellen was a popular TV investigative reporter and anchor for 18 years in Miami and St. Louis winning two Emmys and The National Press Club Award for Consumer Reporting. She is also a rare accomplished endurance and sprint runner. She was seventh in the US in the 1500 meters for her age group.
A decades-long vegan, Ellen is no flash in the pan. As one of her cooking class students said, "It would take me a lifetime to know what she knows." Her goal with clients is "Finish Without Injury" and enjoy safe, but effective fitness until 100.
Connect with Ellen on her website, Facebook, YouTube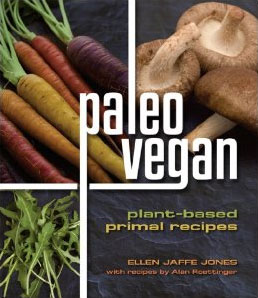 ~
Relephant:
~
We got your social mediums right heah:
Hangout on Google+ every Monday, Wednesday & Friday at Noon MST.
Listen: Walk your Talk on your commute or over dishes with Soundcloud.
Subscribe directly to our award-winning Youtube Channel.
Editor: Rachel Nussbaum
Photo: Ellen Jaffe Jones