Doing the dishes is my favorite chore.
There are so many things I like about doing the dishes.
I always do the dishes by hand. I've never lived in a house with an electric dishwasher. It's like taking a bubble bath with our hands.
It warms us up in the winter.
"To my mind, the idea that doing dishes is unpleasant can occur only when you aren't doing them. Once you are standing in front of the sink with your sleeves rolled up and your hands in the warm water, it is really quite pleasant." ~ Thich Nhat Hanh
A sink full of bubbly dishwater is great aroma therapy. I splurge and use Mrs. Meyers.
I love organizing how the clean dishes fit efficiently in the dish drainer and stacking the cups, just for fun. My air drying method also gives the kitchen a very cute look.
Speaking of cute looks, I have the prettiest set of mismatched dishes. I've been collecting them for years.
I have very nice pieces, but am hopelessly frugal and got them all second hand. I like to get adorable dishes at yard sales, free boxes, the thrift store, eBay and as hand-me-downs.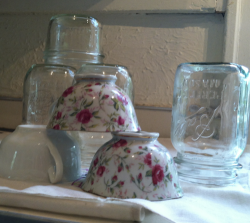 We have nice silverware too. Also mismatched. A few years ago, my little girl took a liking to the authentic silver, silverware. She suggested it would be very civilized to fill our silverware drawer exclusively with silver. It took about a year of hunting, but it's been worth it. We eat with silver every meal. It makes us feel spoiled.
I love my pots and pans. We cook in cast iron skillets, so it adds iron to our food. Yay!
Mason jars are my weakness. Don't even get me started.
Everyone has to do the dishes. It's just more fun, especially if we have dishes we love.
Doing dishes with a partner is my favorite. Taking turns washing, rinsing and drying is a treat. Some of my fondest memories are doing the dishes with loved ones and friends.
I always like to listen to music when I'm doing the dishes. If enough people are in the kitchen, a spontaneous dance party may break out. If the kitchen has a ceiling fan, watch out, someone may throw the dishtowel up into it and watch it whip around in the air. That's when things get rowdy.
In the end, there is nothing quite as satisfying as an empty sink and filling the cupboard with a stack of sparkling clean dishes. If anyone ever asks me why I don't use a dishwasher, I simply reply:
"Dishwashers take all the fun out of doing the dishes."
Bonus: doing the dishes by hand is economical. It uses less water, energy and soap than the electric dishwasher!
~
Love elephant and want to go steady?
Editor: Rachel Nussbaum
Photo: Author's own