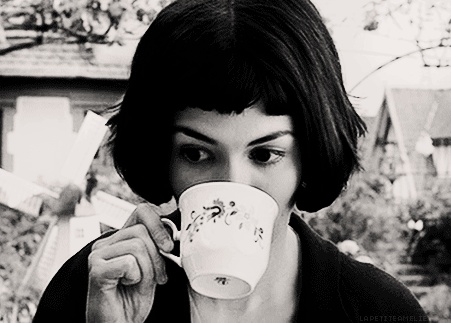 Caressing the curves of my shoulder
The smell of coffee runs up the stairs to greet you
Hummingbirds hover
Saying soft hellos the flowers woven upon my balcony
I press the French down slowly
Letting the grains resist my urgency
Just milk, he says.
Pitter patter falls the rain
Jose Gonzalez fills the kitchen
My denim shirt falls open
Carelessly buttoned
I shiver
The sun has not yet reached my cabin
The logs still hold the night
The rain falls gently, then fast.
Like Mother Nature's finger tips
Drumming away on the roof
Where did the inside sheet run off to?
I pull you close
We are too tangled to start a fire
Drinking each others' body heat
Murmuring nonsensical romance
Nine days? It can't be.
The creek beside my cabin rushes wildly
Tormented by the rain
A wood pecker drills away in the distance
All I feel is your lips drift upon my spine
Gasps in sweet delight
Tightens itself
And lets go into the abyss
Strength within surrender
Kissing away hours
Finger tips glide between thighs
Pillows astray
As we meet between the sheets
I find your mouth
Again and again
And again.
He leaves fresh cut wildflowers on every window sill
purple lilies on the doorstep
whittles the day away
palms full of splinters
my heart warms quietly in my chest
can one eat kisses?
I'm starving for your lips
and they just left mine.
Love elephant and want to go steady?
Editor: Travis May
Photo: Pixoto