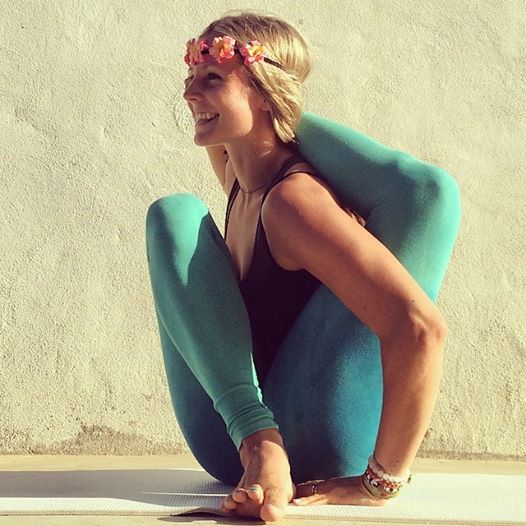 My name is Rachel.
I am a yoga teacher.
I practice yoga every day and I meditate, read books on spirituality and search for a deeper truth in everything I do.
I spend a lot of time on my yoga mat, but I also like to dance and go out with my friends. I drink green juice every morning and I like to drink wine with dinner (and beer. And tequila). I care about the environment but I love travelling so I fly a lot.
I think fashion is fun but not as fun as playing with my dogs on the beach. I am a vegetarian and but I love to eat chocolate and sugary sweets. I care for my body and have learned to love it and accept that it's always changing. The soft parts, the giggly parts, the strong parts, the scarred parts.
Tattoos make me happy right now and I could not care less about what the world thinks of them. I curse, a lot, in all of the four different languages I speak, sometimes also in class. When I teach I speak of love and I often feel a connection to a divine power. Most days I am a happy, balanced person.
But I also have bad days. I get angry. Sad.
I lost my best friend and these days even when I'm smiling my heart hurts.
Sometimes I read comments on [my blog] and my mind spirals out of control and I feel totally worthless. To snap out of it I need to remind myself that I am who I am, and this does not change. I can have 787,000 people telling me I'm great one day and that I'm terrible the next—neither has anything to do with who I actually am.
It's not the content of what people tell me that affects how I feel about myself, but my reaction to it.
It's all up to me.
I am who I am and what I'm giving you here is a raw, unfiltered view of who I am and that includes happiness and sadness, green juice and wine, telling people to fuck off when it's needed, yoga in all it's forms and words of love and truth but also words of pain.
If you resonate with this, stick around.
If you don't, get off the internet and go spend some time in silence on your yoga mat and reflect on why you feel a need to judge who you are (because judging others is simply a testimony to how you judge yourself).
Love elephant and want to go steady?
Editor: Renée Picard
Photo: courtesy Rachel Brathen