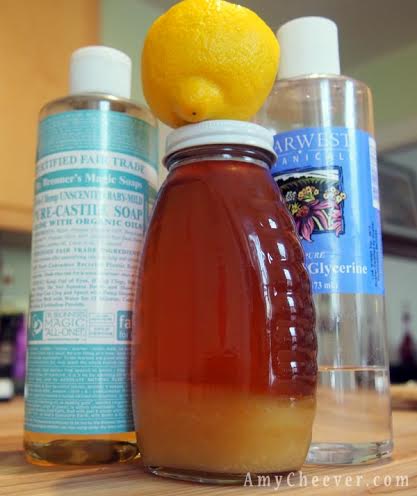 I haven't bought face cleanser in years.
When I began experimenting with making my own face wash, I mixed up a couple batches that, admittedly, weren't great. But I kept trying until I ended up this recipe, the one I've been using for two years now.
Have you ever noticed the list of approximately 12,000 ingredients on the back of cleansers from the store or makeup department? I'm not a fan. Most of the words are unpronounceable, and evoke images of beaker-shaking scientists in chemistry labs.
I decided my face would look better without the daily dose of gryzambeloxydrite.
Ok, I just made that one up. But you couldn't tell, could you? How can any laboratory chemical be good for my skin?
Ingredients:
2 Tablespoons honey
1 Tbsp lemon juice
1/2 cup vegetable glycerine
3 Tablespoons liquid castile soap
Honey is a natural cleanser and humectant. Not only does it absorb the dirt, it helps retain moisture. It's also an antioxidant. Lemon tightens and tones pores, and lightens dark spots for a more even skin tone.
I washed and recycled an old pump bottle to use. Pour all ingredients into your container, and shake well to combine.
Apply to face and massage it around for several seconds. Rinse with warm water. I like to follow with a rose water toner, and then my anti-aging grapefruit moisturizer.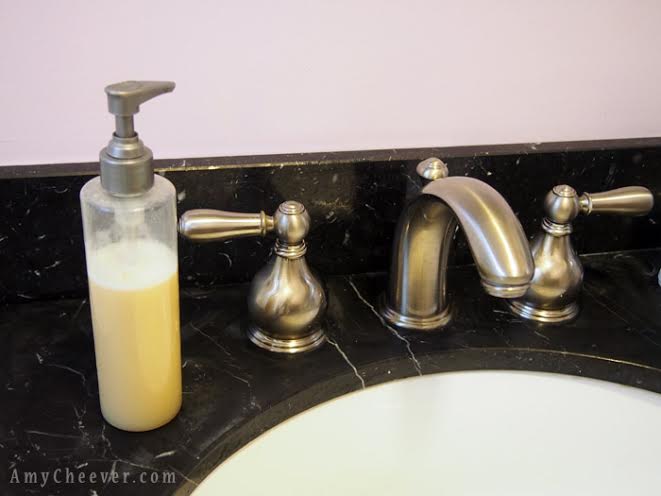 Love elephant and want to go steady?
Apprentice Editor: Hannah Harris/Editor: Catherine Monkman
Photos: Courtesy of the Author