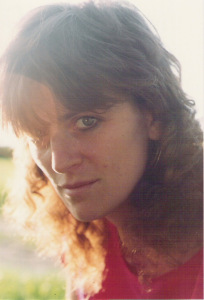 Mother's Day has weighed heavily on me for the past seven years now.
Not because I don't have time to make a date for brunch or because I forget to call or have to rush out last-minute to get a card.
But because the day serves as an insistent reminder that I no longer have a mother.
It represents the time that I watched, powerless and petulant, as the claws of death—slowly but very surely—sank deeper and deeper into the being of someone I didn't think I could live without. No part of her was safe from this slow infestation; she was affected physically, mentally, emotionally, spiritually.
What a strange thing it is to watch as life drains out of the vessel that holds it.
I think particularly of the night, the first time, that I realized my mom was going to die.
Looking back, it seems like I would have realized sooner, but in situations that demand it, we cling hungrily to senseless hope, believing the impossible.
And so I became aware of Impending Death probably only a week or a few days before it crossed the doorframe of our home.
It must have been quite late at night because it was very dark.
And I was laid out, screaming between sobs, giving ragged and nightmarish voice to all my horror, fear, anger and helplessness. I wasn't so much pouring these things out as they tumbled from me, escaping without asking permission.
Most of all, my heart aches for my father on that night, faced with the hellish and impossible task of comforting both his grief-possessed teenage daughter and his dying wife as she wondered, to the best of her diminished ability, if "Hanny was alright." I marvel endlessly at the strength and grace he possesses.
The years that have followed that night contain confusion, anger, and sadness too big to explore in a single piece of writing.
More daunting for me, perhaps, is the the reality that there's so much more to come; recently, I picked up a book called Motherless Daughters only to discover that I could make my way through no more than two paragraphs before I had to tuck it away again, where it's likely to remain for years before I feel able to broach it once again.
After her death I remember, at the fresh-faced age of 18, I looked forward with an admirably firm resolve. I wouldn't be "like all the others;" I would face my grief, I would handle the situation in a healthy manner, I would actively stamp out avoidance and blocking.
Ah, naive optimism.
In the years since, I've blocked and avoided unspeakably more than I've accepted. This, despite the contractual agreement I made with myself all those years ago, despite raging sessions in the therapist's office and despite immeasurable amounts of misplaced anger and fear—haphazardly aimed, generally, at those who loved me most.
Fortunately, and in spite of me, my mom comes alive in fleeting, invaluable moments.
Like the first time I glimpsed my reflection in a window and understood what people see when they tell me how much I look like my mom, or the passing remarks from long-time family friends that my mother would be proud of who I am now.
These are sentiments I grasp at hungrily, clutching them and caressing them in my mind, willing them to be enough.
And I believe them.
I believe my mom would be proud of me, but the simple fact is that I would never, ever have arrived here without her.
"To lose your mother, well, that is like losing the sun above you."  – Yann Martel
Love elephant and want to go steady?
Editor: Renee Picard
Photo: Author's Own