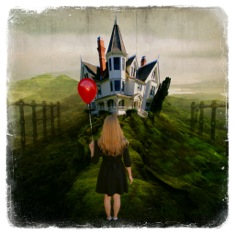 Is it me or this house? Tipping the scales with feng shui and karmic interference. ~ Eileen Kennedy
It wasn't until I nearly lost my shirt back in 2008 that I started to pay attention to feng shui.
After all, feng shui seemed so schlocky and woo woo—but as a designer, I'd always wondered—was there hidden treasure behind all the cheap trinkets and bogus claims I'd heard about?
The spell of bad luck had begun when we bought the house.
Was it possible that though I'd been working hard, received accolades in my professional work, and was committed to my inner work, self development, etc, that my feng shui was the missing piece to the puzzle—perhaps the reason money wasn't flowing in and my bank account was always dry?
As I began an exploration of feng shui, I was surprised to discover that feng shui can mean almost anything and is different things to different people.
Some people talked about money corners, red sashes and chanting, others said to look at the hills and water, and some said it's enmeshed with astrology.
About $10,000 into feng shui later, I can tell you this—yes. Feng shui matters; feng shui's real.
It is the reason I almost lost my shirt back in 2008.
Do you notice that living next to a freeway or having a view of the ocean, can change everything?
Or you've felt the wind on the top of the hill and how damp and shady it can be at the bottom?
These things affect us deeply, because no living creature is inert to its environment.
Feng Shui's a study of how unseen energy moves through our environment and how that unseen energy affects us.  The quality of your feng shui is determined by visually assessing your environment. First, we look at your region, then town, neighborhood, and finally building, to make judgments about the condition of the unseen energy, and how the environment might affect you.
I learned that people tend to live in places that mirror themselves, and often unconsciously choose places that feel comfortable, in the way like attracts like. If you're a super private person, you might choose a place without visibility, or if you're an extrovert—you might pick a place that's over exposed.
Our feng shui can celebrate our greatest strengths or gut us to the core.
Feng shui's about: who, what, when, where—just like the beginning of a story.
Albeit a multidimensional story it's based upon probability and is sometimes called "house fortune telling," and determines the likelihood of an event happening at a place to a particular person. A real feng shui consultant looks at the features in the landscape, the building archetype and tries to find or create the place that fits with what you want in life.
My own home shows that though my property receives "good" energy, the topography of my landscape suggests it will be difficult for residents to accumulate wealth.
The geographical features in my neighborhood indicate that living on this block doesn't support men—that there will be weak or no adult male residents.
The reality is most homes on my block are inhabited by solo women, some widows, single moms. Turns out, this house has a history of unmarried female residents and divorce. I'm also now divorced and unattached.
Chinese Metaphysics says that feng shui affects our life by one third, the other two thirds are the decisions we make in our lives, and our genetics. So, feng shui isn't the end all, but we all struggle with good decisions and can't control our DNA, so good feng shui can certainly tip things in your favor.
Love elephant and want to go steady?
Editorial Apprentice: Lauryn DeGrado/Editor: Travis May

Photo: Via Author