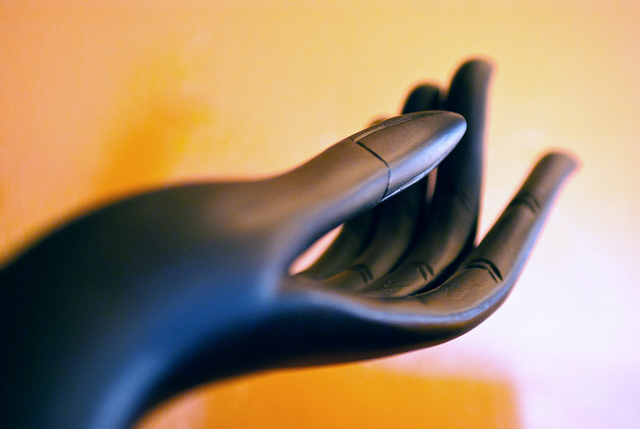 Giving loss meaning as we find all we need to share with those who need more.
Vīrya:  this is a word that has a few meanings; In Hinduism it means "state of a strong man." In Buddhism, it means effort, energy, perseverance and my personal interpretation of it is strength—not in the physical aspect, but the mental, emotional and spiritual aspect of it.
Recently, I lost my niece. You tend to begin to question your beliefs, constantly asking why. We're good people, why would He take her? Why would He not give her the chance like we were given? She was so young, it's just not fair. It has taken a toll on my family, as it would any family that has been through something like this.
I did my best to be strong for myself, my family, my nephew. We have pulled together to be strong as a whole, and because of this, this practice of virya, living in the moment, and taking everything one day at a time, we will pull through, especially now that we have an angel in heaven to guide us.
The way I see it, she serves a bigger purpose. She is gone so she can guide us, give us strength, and give us a shoulder to lean on.
After the funeral, I had lunch with my husband and my mother-in-law. On the way home, we stopped at a local McDonald's to use the restroom. Now, in this area of town, for the past week or two, I have seen a young girl, probably late teens/early twenties, with a homeless sign, looking for whatever anyone can give.
As I got out of the car, I gave her all the quarters I had in my wallet, since I didn't have any cash on me. I could see the gratitude in her eyes as I handed it to her, and she said, "God Bless You" and wished my foot well (my foot is currently in a boot due to a fractured toe).
I have a ring that I wear that says Vīrya on it. I wear it every day, and it helps me to get through some difficult times, like the passing of my niece. As I was in McDonald's, I looked at my ring, and thought that maybe my time with it is up.
I'm not going to lie; initially, as I looked at my ring, I felt empty, sort of betrayed, that something that has helped me get through some tough times that left me wanting more during this time of loss.
Then it hit me, this wave of contentment. I may have even felt some form of peace with everything that was going on. Maybe, just maybe, this ring served its purpose, and it was time for me to let go. In yoga, we're constantly hearing about non attachment and how we should do our best to practice it. Yes, it's hard and sometimes downright stinks, but it's something that we do to better our spiritual selves.
I looked at this ring, and suddenly felt selfish. I thought, "What if someone else may be able to find some strength in it?" As I left, I went back to the girl, handed her my ring and said, "I think you should have this, it has gotten me through some tough times, and I don't know what you're going through, but find the strength, keep your head up, and it will all fall into place."
Her eyes welled up, she thanked me and went to shake my hand. I just pulled her and gave her a big hug. Then we went our separate ways.
As I write this, this only happened two days ago, I haven't seen the girl since. A part of me hopes I don't, because if I don't, maybe she took that step in the right direction. However, a part of me hopes I do, so I can see how she is doing, and maybe I can do something else to help her.
I feel she was a sign from the Universe, a hidden teacher that was sent to me to teach me that no matter how tough things are, someone might be going through something just as tough, or even worse. Find it in your heart to have compassion for all beings, because we are all on this Earth together. It is best put by the quote from Ram Dass, "We are all just walking each other home."
The point of all this is, even in your darkest hour, you can still find it in your heart to help someone, as small as it may seem, may be huge to them. And doing that made me feel good, and I know my angel in heaven was smiling down on me. She gave me the strength to take this action, and maybe my action, will give that girl the strength to take the steps that could better her situation.
Lokah Samastah Sukhino Bhavantu
May all beings be happy and free from suffering, and may our thoughts, words, and actions, contribute to that freedom.
Love elephant and want to go steady?
Apprentice Editor: Edith Lazenby/Editor: Travis May
Photo: Flickr Creative Commons