I live in the Northwest where medicinal and herbal plants grow like…well, weeds.
Every region has its own plant food and medicine but here in Oregon we are blessed with an abundance of quiet, often overlooked, colorful, delicious plants that pack a punch when it comes to medicinal and nutritional value. Some herbal tea plants can be harvested year round but Spring is by far the season of greatest variety and availability.
Many of the herbs I use in my teas I buy at my local natural food store, others I wildcraft and use fresh and still others I harvest, dry and store for later use.
I don't measure amounts since weed tea varies not only by plants available but by what I feel my body needs at the time.
If I feel the need to cleanse I will add more Dandelion and Milk Thistle. If I need to increase brain power I will add Ginko and Gotu Kola. If I am feeling anxious I would add calming herbs like Passionflower, Chamomile, Oat straw or Hops. If I am struggling with depression I would add Melissa, or Lemon Balm.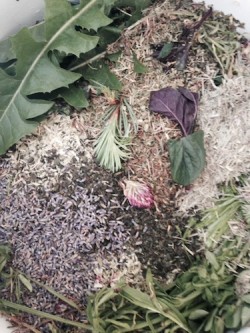 My base tea includes the following:
1) Hibiscus: This tart and delicious flower gives your tea a bright red color and fruity flavor. It is rich in Chromium, manganese, selenium.
Egyptians used hibiscus flower to calm muscle spasms associated with heart and nerve disease.
2) Lemongrass: Antioxidant, Anti fungal and high in vitamin A.
Lemongrass gives your tea a light lemon flavor. It is used to reduce blood pressure, treat vomiting, cough, fever and the common cold.
3) Rosehips: Very high in vitamin C. High in Vitamin A Selenium, Riboflavin, Niacin and Chromium.
Rosehips are the fruit of roses. This herb is useful in treating stress, infection and gastritis.
4) Lavender flowers: Antioxidant.
Lavender is used as a perfume and a mood enhancer. It is also thought to act as an aphrodisiac. Its nutritional quality is not high but in small amount it adds a flowery fragrance and taste to tea. It is considered a calming herb and is widely used as a relaxant.
5) Dandelion leaf: High in Iron, potassium, vitamins C and A.
Dandelion, thought of by some as a noxious weed and more than likely the primary catalyst in the marketing of toxic weed killers like round up, is a highly nutritive plant with more vitamin C than lettuce and more iron than spinach. This common weed is a wonderful addition to a nutritive tea.
6) Red Clover Flower: Very high in chromium, high in calcium, magnesium, niacin, phosphorus, potassium, thiamin and vitamin C .
Red clover is a widely used folk remedy for cancer and all tumors. It is also a blood purifier.
7) Nettle: High in calcium, chromium, magnesium, niacin, phosphorus, potassium, riboflavin, selenium, thiamine, vitamins A and C.
When fresh the sting of the nettle leaf will last for hours but when dried or cooked she is rendered gentle. Nettle is a highly nutritive and tonic herb with uses to numerous to list. Not only is this a wonderful addition to tea but makes delicious pie, quiche or soup.
To this base any combination of herbs, plants and flowers can be added. I generally stick to the ones whose taste I enjoy. Like Lemon Balm, mint, fresh pine needles, cleavers and chickweed. Cinnamon can be a nice addition to add a little spice.
This tea does not last long in my house so I make nearly two gallons at a time.
Place all of the ingredients in a large pot of water. Use two to three cups of dried of fresh plants. Cook on medium until not quite boiling and let simmer for as long as an hour. Strain through cheesecloth. Add honey to taste and drink either hot or cold.
If drunk cold this tea concentrate can be added to sparkling water or juice over ice.
For an added treat during summer months if fresh Borage flowers are available to you place one or two in an ice cube tray and fill with water.
Serve with a sprig of mint or a slice of lemon or lime and enjoy.
* Use caution with herbs if you are taking medications or pregnant. Do not use plants that you are unfamiliar with.
Love elephant and want to go steady?
Editor: Catherine Monkman
Photos: Provided by author