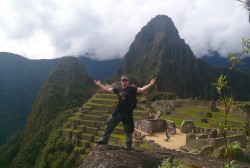 My girlfriend and I individually felt a calling to journey to Peru for many years, so when we got back together after a ten year break, we decided it was time to embark on this adventure.
We didn't really understand why we felt it in our hearts, but we committed anyway.
Checking out flight prices we knew it would be expensive. A minimum return flight from Australia was going to cost $3200 each, although that rose to nearly five grand depending on the timing. So when I got an email from a travel company saying they were having a massive flight sale, I jumped on it. They were asking $1600 return, so I searched a few different dates to work out the best time of year to do it.
To my surprise, one search came back with $2650 return for both of us. Checking the same parameters in a different tab page, it was saying the advertised $3200. I rang my girl: "What do you reckon, this one-time-offer will be by far the cheapest we'll get and the extra saving will pay for the internal flights?"
"Let's go for it baby, it's meant to be," she replied enthusiastically.
For pre-planning I only booked the internal flights, the first night accommodation in Lima and the next two in Cusco. I booked through the airline StarPeru as they were a much cheaper option then the competing airlines. Now that a blueprint route had been established, we decided to leave the rest of the trip to a synchronistic unfolding. We're stoked we did.
We only had three major goals: explore Machu Picchu, immerse in the tribal culture and consume the legally administered Ayahuasca medicine in the jungle. We had investigated the cost of retreats, both commercial and authentic, which were time restrictive and/or expensive.
Instead, we'd wing it and naturally follow where our energy flowed.
On the eighth of May 2014, we got to Sydney airport early in the morning to leave for Peru. Once we had arrived we were informed our flight was delayed by seven hours—should we go back home or just hang out and get drunk?
We got drunk. There was a method to our madness, as we thought if we time the way we sleep (or pass out), we can avoid jet lag.
It worked.
Lima City
At 11pm we arrived in the capital Lima, a city with a population of 10 million people. First we learned that trading Aussie cash generated a poor exchange rate of about 1.5. For Aussie travelers, the rate is around 2.5 if withdrawn through ATMs. On the other hand, US dollars are readily accepted throughout Peru and attract the rate of around 2.8.
We were taken to the hostel by a friendly taxi driver named Denis (arranged by the hostel). We had a couple of beers, a game of pool, conversed with the new and friendly employee, slept perfectly, and awoke for our domestic flight to Cusco.
The hostel we stayed at was close to the airport so for anyone having a quick stay in Lima, it's perfect. The staff were friendly, there was a rooftop, cold cheap beer and the rooms were clean. But it was in a bit of a sketchy part of town.
I was happy to leave Lima so quickly because what I had experienced in that short time—a rushed snapshot of a huge crazy urban jungle—was not where I needed be.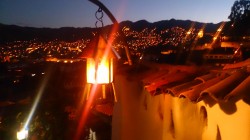 Much to our relief we arrived at the stunning city of Cusco and got a taxi to our pre-booked hotel, Casa de Campo. This place was awesome. We must remember however that we're staying in a South American city, so don't expect flawlessness.
All our exploratory needs were met extremely well by one of their employees. We spoke little Spanish, so if we wanted to know where to go and not get ripped off, he informed us. If only we'd met him the first day, because we learnt the hard way that it's easy to be conned. Cheaper alcohol, food, tours etc. were all part of his personalized service.
The most invaluable aspect however was that we made a life long friend in him.
We booked for the remaining 3 nights we had in Cusco which was influenced by the hotel being nothing short of amazing. Beautifully designed by the owner, it has a cottage-like ambiance and primarily made of stone and wood. There's a human skull in a hole in a wall, whose job is to protect the home's energy from evil spirits.
Fireplaces, gorgeous gardens, a fantastic breakfast and a view to die for were all-inclusive.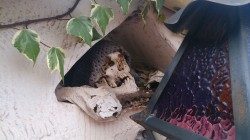 Cusco is a gorgeous place and well worth a visit. Watching a shooting star skim over the valley one night, and fireworks on another was reverence in action.
The most humorous feature was that all drivers seemed to be obsessed with their horns; I'm sure they have intervention groups for the seriously addicted. Some of the time there were justifiable reasons to use it, yet at other moments it appeared for no apparent reason other than to add to the mass of horns drowning out the city's inner peace.
Machu Picchu, around a three hour train trip away, is usually the main tourist agenda item, but there's a lot else going for it. Cusco's thriving city energy grips you. At around 3500 meters high, its mountainous backdrop is humbling. You actually feel like you're always exercising so high up too; its easy to run out of breath simply climbing the city slopes.
It also has all your adrenalin-fueled adventures catered for. We did white water rafting but unfortunately I ran out of time to do the 120 meter bungee jump.
Machu Picchu is the grand experience, as advertised. You can feel the energy of that place.
We began a walk that was at least two kilometers up the ridge of the mountain, although the distance wasn't made explicit on the map. Half way up, with time running out and an ongoing battle with the flu, we decided to pull into a ritual site and reevaluate our plan.
Down in the lower chamber there was a lawn of clovers. Within five to ten seconds looking, we both found—wait, were given —a four leaf clover each. In that moment we knew the mountain had blessed us and we decided to head back down to the main arena to properly explore.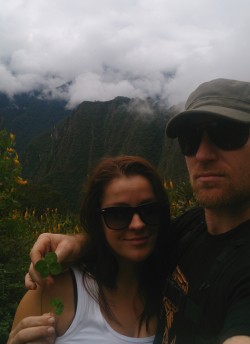 It's majestic. With up to 3000 visitors every day, there can be a bit of traffic. Yet if you know the right places to look, you might even be able to score areas to explore privately.
We did the usual tour through the temples after taking it all in from above. My partner asked me to take a photo whilst she sat on a window sill, and if I was only three seconds earlier, she would have been photo-bombed by a llama. That's right, it popped its head around the back of the window—and boom—it was confirmed that llamas do actually photo-bomb like the iconic tourist photo of Machu Picchu suggests.
With huge views, an air of magnetic energy, seemingly purpose-built dance floors and tingles through your soul, it's no wonder that Machu Picchu has been named one of seven wonders of the ancient world.
The rest of our time in Cusco included exploring parts of the city, the markets, the local foods and Sacred Valley. This valley runs from Pisac up the Urubamba River all the way to Machu Picchu. It's jaw-dropping and absolutely suits its epic name.
In Pisac I prematurely purchased some Ayahuasca in a café, but without a shaman and good health, we decided to opt out. Better left for our Iquitos jungle adventure, we thought. You can do a ceremony very near to the city center, although I'm not sure on the quality of the shamans, so you may want to get some local advice. It may be worth it if you are short on time, although I would advise to go to the mountains or at least a quiet setting if possible.
San Miguel, Lima
We said our goodbyes to Cusco and headed back to Lima for one night. Because we had some time during the day we decided to stay somewhere more hospitable to tourist exploration. We knew that Miraflores was the usual choice, but because we had another two nights after Iquitos we thought we'd try out the district of San Miguel.
This was our first real experience of crazy Lima traffic. How the fuck there aren't more accidents, I don't know. They all seem to be great drivers, and even though they're constantly beeping their horns, it didn't seem coupled with road rage.
We stayed at a homely hostel called Just Imagine. Even though the surrounding area wasn't that impressive, we're so glad we made that choice. Situated across from a little park and next to a church, it had a nice vibration to it. The hostel is very simple with not much else than a nice cozy room, but there's a local family living upstairs and they were an absolute delight.
If I had ever imagined the most gorgeous Peruvian city kids, they were it. There were three children, two boys and a girl, with Mum and Dad, and they invited us to have lunch with them. They were serving the local icon dish Ceviche (raw fish in citrus) and it wasn't too bad, although I was slightly worried as it was quite watery, so it took away from my experience. In Peru it's crucial to only drink bottled water and not the local water supply.
Nevertheless, the family was gorgeous and it was such a unique and authentic local experience.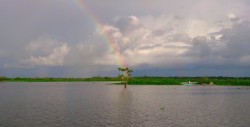 Iquitos
Next morning, bright and early on 15 May 2014, we left for Iquitos. At the airport we starting talking to three Aussie guys in the line in front of us. "Are you going to Iquitos?" I inquired. "Nah, we just came from there mate", was the reply. "Where did you stay?" to which they responded "San Pedro Lodge".
How perfect, I thought. I was investigating where we would stay in the jungle and San Pedro lodge was the place I felt compelled to go, but I was unsure on its authenticity. After speaking to those guys, I was convinced.
With a quick stop over in Pucallpa, my girl was quickly getting over her fear of flying. By this stage, including all our stopovers, we had taken off and landed seven times.
When we arrived in Iquitos it was clear that this would be a different Peruvian experience. The air was humid, the people wore more genuine smiles and the jungle roared from every direction. It is the largest city in the world which is only accessible by boat and plane. Therefore, it's auto-rickshaw city. And they're even more crazy then the Lima drivers.
First we stayed at the Nativa Apartments. We were greeted by nice staff and shown to our more-than-met-expectations room. We had booked it in Lima for two nights.
Once we settled in we went for a walk to the city center where we met a nomad sales rep named Roy, who quickly convinced us to go to an animal sanctuary about a fifty minute boat ride away (I'm sorry but I can't remember the name so just ask for the smaller version of Monkey Island). It cost 50 soles per person for the boat trip and 20 soles each to enter the conversation center.
It ended up being a great choice because we were able to actually meet, greet and play with an array of local wildlife. There were monkeys, macaws, toucans, anacondas, sloths and turtles with the cheesiest grins.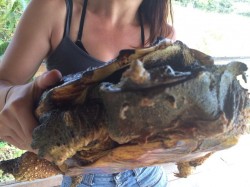 As it later turned out, the wildlife that we saw in the Amazonian surroundings wasn't as prolific as we'd assumed or hoped for.
Animals generally appear to nest away from humans, but with perfect timing, you can be surprised.
As a snapshot, we saw pink and grey dolphins and a random iguana just swimming what appeared aimlessly in the wide Amazon River. There was a big group of monkeys swinging playfully in the trees. Dragonfly and butterfly cities. Fish were cheekily touching me whilst I swam in the rivers. There were also bats, frogs, insects and a snake as well as many beautiful birds, including a huge vulture population.
Yet coming up close and personal to the animals at the reserve is dominant energy-exchanging fun. Usually their aim is to adopt baby orphans (usually saved from the black market) until they were old and skilled enough to be released back into the wild.
The following day we explored the city, purchased some locally made jewelry and then retired for the night to prepare for the jungle. We watched some Peruvian TV including the Wolf of Wall Street, which at the time was the only channel out of eighty speaking in English. It was also a good laugh watching The Simpsons in Spanish, especially when you know the episodes. The care bears ironically sounded like cartel drug dealers. Funny shit.
San Pedro Lodge
Upon waking we were ready for an authentic jungle experience, which is what we got. We did end up staying at the San Pedro Lodge which was only around 10 or so kms out of Iquitos. There are plenty of more expensive tours and lodges up the river but we were happy to be close to Iquitos so it was not too far to venture back in if needed. The San Pedro Lodge was still only accessible by boat, after all.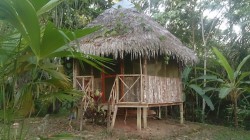 The place was inexpensive and rustic to suit. It was real. And beautiful.
During my stay, two more shooting stars strutted their dance.
The Norwegian owner allocates much of the proceeds to supporting the community of the local San Pedro village, which is only a stone's throw away; you can go and visit at your whim. There were also locally hired staff who cooked and catered amazingly. The village chicken was the best we've ever tasted.
The tour guide, Jino, was enthusiastic and genuine. We taught him some Aussie slang and profanity. He was pretty stoked when I told him: "You are pretty fucking awesome, keep that shit up".
We tasted some local favorites at the markets, went on jungle and river tours, visited local tribes, swung through the trees on vines like Tarzan and visited the Pilpintuwasi Butterfly Farm. The tribal communities were in many ways living authentically, but there was no doubt that they had been touched profoundly by the emerging global culture. We had a dance party with one tribe and blew their hunting darts at another.
The butterfly farm had a diversity of wildlife although they were not authorized to release animals back into the wild, something they are working on achieving. There was a 12 year old jaguar, birds, monkeys and other wildlife, among the butterflies.
You're not allowed to touch the monkeys, especially because they can get jealous and bite. But when a cute little baby spider monkey came up to me and climbed on my arm, well "it touched me", was my logic. It cuddled around my forearm in a full embrace and everyone was awing at how cute it was. Then it proceeded to release the warmest and sloppiest shit all over my newly purchased Anaconda wrist band. It was hilarious. I embraced it in the idea that the band had been through an initiation conducted by the Amazon. Its power has been monkeyfied, I thought.
We also visited the Peruvian version of Venice, Belen. It's gorgeous. We were told by the local guide that there is a floating nightclub that, when they get to full capacity, the place is submerged a foot under water. Now that's a rave I would have loved to experience. There's also a floating pub, but due to being short on time, we didn't get to stop for a cold one or two. If you get the chance, take it.
Iquitos was ticking all the boxes, but nothing was to compare to the Ayahuasca ceremonies.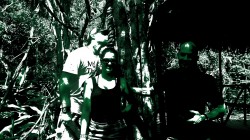 Ayahuasca
We had two sessions. See A Mindful Ayahuasca Experience for the discussion on what happened.
Miraflores, Lima
Fast forward to leaving our new jungle home. It was 23 May 2014. We had met some champion locals and foreigners and we exchanged details as relevant. We knew we had two nights left in Lima which was needed to properly process our experiences before we headed home on the challenging 27 hour trip.
During the first night at the Miramar hotel in Miraflores, Lima, there was an issue with our room. The following day I negotiated basically a free upgrade and the hotel was more than happy to accommodate our requests.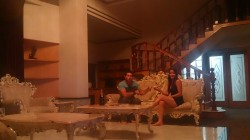 Welcome to the presidential suite. We had a part mansion for the night containing two massive living areas, two bedrooms, three bathrooms, a bar, spa, three TV's, and an expansive view – this place had it all.
Because we'd just come from a rustic jungle setting to living it up in style, it was classic yin yang symbolism. Even though both places had their advantages, I honestly preferred the jungle, although that wasn't going to stop me enjoying myself.
We didn't leave the room all day. We got drunk early, watched trash TV, and maximized the fuck out of its magnificence. Especially the spa.
Then the next day we explored Miraflores. It was surprisingly beautiful and it was icing to finally have a positive experience of the city's attractions. Some well purchased souvenirs, nice seafood, cheap rum and the rooftop at the dragonfly hostel rounded up the trip.
Conclusion
I've traveled fairly extensively over my years and the more I experience the more myself I become. In this respect, our Peru adventure was my best holiday yet, especially because I was able to become a more genuine me then ever before.
Did our Peruvian adventure change us?
Yes and no. Of course subtle changes are happening energetically whether you're abroad or at home, but more so in new contexts. We all naturally change vibration within each new moment.
In terms of learning, we expanded our understanding of Peruvian, Amazonian and Inca culture. We learned more about the historic and contemporary status of the region. We met wonderful people who we shared genuine experiences and growth with.
We also feel that the Ayahuasca ceremonies changed us—potentially on subconscious, atomic, molecular and cellular levels.
Yet there were no major epiphanies or mindfulness revolutions for either of us. Ultimately, we simply reinforced that we're interconnected energy within a multidimensional and life-abundant reality.
To anyone whose mind and heart yearns for such a point of view—it's always the final decision of anybody who decides to travel to the Amazon and participate in an Ayahuasca ceremony—but I'd certainly recommend it.
Love elephant and want to go steady?
Editor: Renée Picard
Photos: all images courtesy of Phil Watt