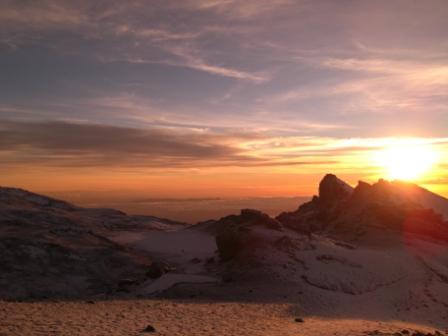 Summit night. Those words ignite fire and fear.
Any trekker out there will know that feeling—the echoing in your gut that spills into your soul and makes you feel alive. Non-trekkers can compare this feeling to a leap of the heart when you are nervous, excited and scared, all at the same time, ready to take on something huge.
This story represents a journey from the noise of naivety to the silence of maturity—albeit for a brief moment in time.
The night was black.
The blanket of fog and darkness was upon us: it was time to prepare for our summit climb.
The year of training before this moment and the long days of trekking to reach this stage, vanished completely.
All that remained was the question of "How did I get here?"
The climbing team, a glorious set of unique Beings bonded by their journey together, retreated to their tents to try and clock-up some precious sleeping time. Four hours of slumber to fuel and prepare our already exhausted bodies for the 12 hour ascent.
I watched my alarm go off. I hadn't slept. I was stricken by its vastness—the climb, the mountain, the challenge.
We gathered together at our mess tent, ready to begin.
A magical and eerie sense surrounded the group, encompassing all of us. The mountain taunted us. It had set us a mesmerising test to reach its peak. We had no choice but to follow its call.
The rocks and boulders around us, even the terrain under our weary and tired feet, were alive with texture; steam leaked from their pores.
The climb commenced.
Slowly a group of 25 trekkers, champions in their own right, began their own walk, hoping to reach their summit.
In contrast to the mood of the mountain, I was energized with excitement.
Crowned the "Morale Officer" of the group, I wanted to entertain the crowd.
So I talked.
I danced.
I sang.
I chanted.
I clapped.
I performed.
Quickly, however, we all became tired of the noise and silence started to drown us—it was now very real.
We walked in single file, slowly.
It was like a death march, one foot in front of the other, eyes ahead, staring into the endless darkness.
The group started to break apart, the faster walkers ahead, the slower walkers behind. I found myself meandering somewhere near the back. I panicked that I had lost my way. It was close to -20˚C and the feelings in my toes and my fingers had gone.
I was listening to my specially selected music playlist. Songs and rhythms which were meant to invoke my determination and ignite my stamina—but I was too weak and sleep-deprived to really "hear' them.
The beautiful sounds were only a faint noise to me.
My mind, which was usually full of chatter and random chaos, quietened. I could hear the thud of my own heart. It was bumping slowly, fading with each labored beat. It was then, for the very first time, I truly recognized and connected to the inhale and exhale of my own breath.
Silent. Exhausted. Drained. I stopped on that mountain side.
I was exposed to elements and exposed to my despair. I couldn't go any further.
I leaned on my walking poles, using them to hold up my defeated body and I started to cry.
I waited for some time, balancing on my poles, like a rag-doll propped up but ready to collapse into a retired heap.
All I could was do was listen and feel. Listen, then feel. Listen. Feel.
In that silent gap I heard "It," my soul, my fire, my consciousness, the universe, God, whatever or whoever you want to call It. It was a calming and poignant moment. I felt wise—I was wisdom.
I knew then that it was okay to stop, but, equally it was okay to move forward. There was no success or failure in either option, both were open to me. Both would teach me something valuable. The crippling burden of "getting to the top" (which, incidentally, I had placed upon my own shoulders) was removed.
I was now able to move forward. I decided to go. One step at a time—the only way it can be.
Then, something beautiful happened—the darkness of the night surrendered to the light of dawn.
The sun pierced the ridge of the endless black sky and I smiled from within. The landscape changed as the sun's glorious rays crept across Africa's floor.
This. Is. It.
I was here at Mount Kilimanjaro.
I could see. Renewed by my new vision, my energy surged.
I turned to my side and I was joined by an inspirational African guide from our group, Nelson. He had reached me, he had watched my struggle and witnessed my re-birth. He took my hand, held onto my backpack and led me towards my summit.
I climbed a physical and metaphoric mountain that day, and do you know what…it was fucking worth it all.
Love elephant and want to go steady?
Apprentice Editor: Lauryn DeGrado/Editor: Travis May
Photo: Via Author