"The way that you can strike right at the heart of systemic poverty is by creating a job. Specifically a prosperity wage job for a mother." ~ Rachel Connors
Today, Walk the Talk Show with Waylon Lewis was honored to feature Unreasonable Institute & Yellow Leaf Hammocks. The convo took place in a hammock, mostly, of course, and we got into business as an engine for social activism instead of consumption, one-for-one, B Corps, partnerships & make-up-sex in entrepreneurship, and the Unreasonable vision and challenges therein.
More from Yellow Leaf Hammocks:
Info from Yellow Leaf's site:
Every Yellow Leaf Hammock is 100% handwoven by hill-tribe artisans in rural northern Thailand. The opportunity to weave hammocks and earn a good wage is transformative for our weavers and their families.
These weavers and their children previously worked as indentured field laborers, surviving on just a few dollars a month. Through job creation, we are empowering weavers and communities to escape poverty and join the middle class. Instead of charity, we are providing them with the tools and the dignity to build a brighter future.
~
Info from Unreasonable Institute site:
The Unreasonable Institute exists to give entrepreneurs tackling the world's greatest challenges an "unreasonable advantage." How do they do this? Each year, they match a dozen carefully vetted ventures from around the world with 50 mentors (including the Chairman of Whole Foods, a guy who's helped over 20 million people out of poverty, and a Time Magazine Hero of the Planet) and 100 funders at a five-week bootcamp in Boulder.
Connect with Unreasonable on their website to access resources about entrepreneurship from a network of their mentors. Also, find info on the Unreasonable Launchpad on June 13th here.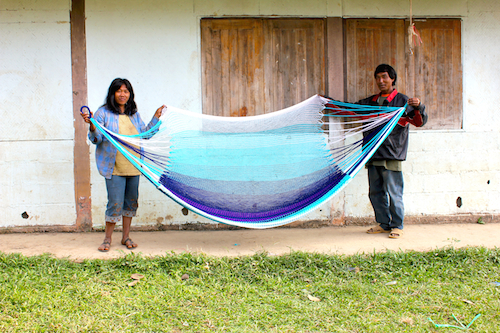 ~
We got your social mediums right heah:
Hangout on Google+ every Monday, Wednesday & Friday at Noon MDT.
Listen: Walk your Talk on your commute or over dishes with Soundcloud.
Subscribe directly to our award-winning Youtube Channel.
Editor: Rachel Nussbaum
Photo: Yellow Leaf Hammocks