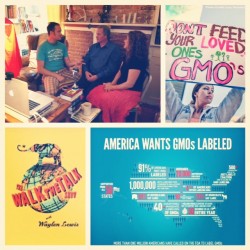 Waylon & everyday heroes from Right to Know Colorado, Larry Cooper and Tammi DeVille, discuss recent GMO labeling initiatives. This isn't a campaign for or against GMOs, it is a campaign for transparency.
#Right2KnowCO

"Our simple interest is to understand what is in our food." ~ Larry Cooper
How can we help?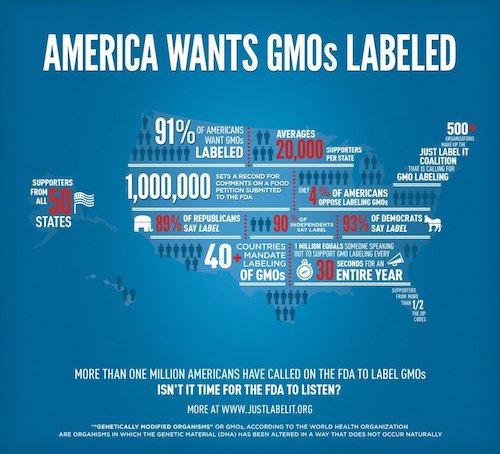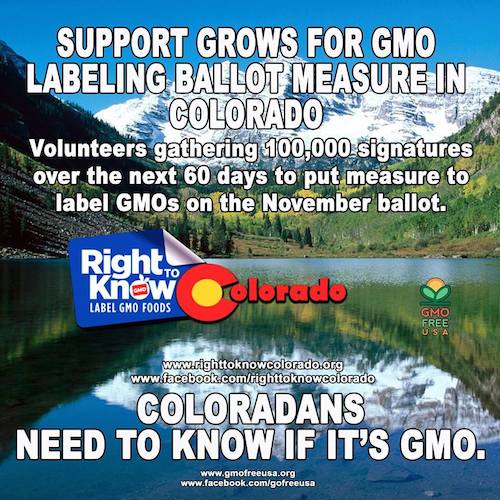 Right to Know Colorado GMO has launched a grassroots campaign to achieve mandatory labeling of genetically engineered foods or GMOs across the state. Our movement is built on the foundation that we have the basic right to know what is in our food and what we are feeding our families.
With mainstream news coverage and legislation in Congress highlighting the issue of genetically engineered foods nationwide, GMO labeling is on the rise as a hot topic in Colorado communities and households. Right to Know Colorado believes that Colorado consumers should have a choice when it comes to the ingredients and the  food they ingest.
This campaign gives Coloradans the opportunity to make informed decisions about their diet, health, and general lifestyle. Food labels list and describe nearly every detailed component of the food product, from the caloric values and processing information, to the fat and protein content and the known allergens. Adding a simple label for GMO ingredients would fulfill Colorado consumers' right to know, enabling them to make educated food purchases and dietary choices for themselves and their families.
Gaining Momentum
Our campaign is organizing to place an initiative on the ballot in November of 2014.  Summer 2013, the steering committee laid the groundwork for this initiative campaign: drafted the title language, implemented the initial fundraising strategy, and kicked off coalition building activities. We are now ready to collect signatures and are recruiting volunteers; we're amplifying our fundraising efforts and beginning public outreach on the labeling issue.
Support the Campaign
This campaign needs you in order to accomplish these goals! We are asking for your help to jump-start our organizing and fundraising efforts! Support the campaign by volunteering, contributing, and helping us spread the word. Please share the news about this campaign and GMO labeling with you family, friends, and other Coloradans.
Campaign Background
The campaign started over two years ago. A grassroots group gathered at Journeys for Conscious Living to work on solutions to issues they identified. There were over 120 people attending. They all voted on one issue to work on together and Labeling of GMO's came to the top. We have been working on this project since that time. We have had monthly meetings and gatherings. Last spring we put together a plan of action and implemented putting forward an Initiative on the Colorado State Ballot in November 2014 for Labeling of GMO's. We filed with the Secretary of State's office in Colorado last summer and went through a very vigorous process to move the issue out to this point. When we reached the Legislative Council at the Statehouse, an opponent showed up to oppose the work we are doing, The Grocery Manufacturers Association filed for a rehearing and then took the title to the Colorado Supreme Court. The issue committee won the battle but lost the war, so we lost valuable time (over four months). This of course was the goal of the Grocery Manufacturers Association. We have been on the streets now for almost two months. We have only used grassroots volunteers and have gathered almost 40,000 signatures so far. We have 60 days remaining to gather the needed signatures. We need 86,105 valid signatures. Larry and Tryna Cooper have been involved in community organizing for over 25 years. Larry Served on the Broomfield City Council and he Co-Chaired the Broomfield City and County Campaign to make Broomfield the 64th County in the State of Colorado. There are dozens of actively involved citizens from Colorado helping organize the campaign and hundreds are carrying petition sections gathering signatures to get the GMO Labeling Initiative on the Ballot this fall. Tammi DeVille Merrell is a grassroots volunteer who is managing all of the volunteers and communications for the campaign. She is very talented and organized and brings great business experience to the organization.
Connect with Right to Know Colorado on Facebook.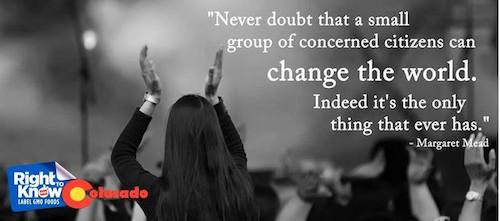 ~
One Take: In the Moment with Megan Westgate, of The Non-GMO Project.
The featured speaker at Naturally Boulder—a trade organization that brings together the many natural products businesses that come out of Boulder, Colorado—is The Non-GMO Project's Megan Westgate. In only 15 years, GMOs have taken over basic food staples, The Non-GMO Project, while not organic, is helping lead the citizen-based fight to #justlabelit. ~
~
More info:
~
Relephant:
~ ~ ~
We got your social mediums right heah:
Hangout on Google+ every Monday, Wednesday & Friday at Noon MDT.
Listen: Walk your Talk on your commute or over dishes with Soundcloud.
Subscribe directly to our award-winning Youtube Channel.
Editor: Rachel Nussbaum
Photos: Right to Know Colorado