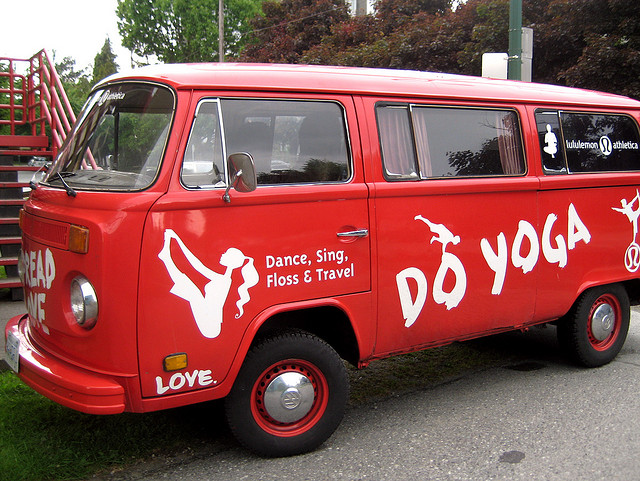 Last week the yoga world was abuzz: Tara Stiles, New York celebriyogi (yogalebrity?) spent a day riding around the city doing yoga poses in a glass truck.
The container simulated a W Hotel room, complete with champagne bucket, etc. Evidently she has partnered with the W, and the stunt was designed to advertise the yoga videos she created for them.
The New York Post ran an article about it, which went on to discuss the larger phenomenon of the yoga showoff: yoga selfies on Instagram, people doing yoga in the windows at Lululemon, etc.
The big question being, is this a bad thing or a good thing? Is it shameless ego-glorification that subverts the very foundations of yoga, or leading by inspiration?
Well…yes and yes. It is potentially both. But more so, it just is.
No surprise that people take yoga selfies—we live in a world dominated by images. More than ever, in this digital age, life is performance art. No question. Yoga included.
Even B.K.S. Iyengar, patron saint of the very purest of yoga purists, has done a lot of yoga demonstrations, and has this to say about it:
"When the beauty and harmony of the asanas are appreciated by onlookers, yoga also becomes a performing art."
Well of course it does. I have little patience for that attitude, prevalent in the New York yoga universe, that the physical aspect of yoga is inferior (and so are those foolish people who see yoga as merely a physical pursuit). Talk about subverting the foundations. Why get all judge-y?
Gossiping, shaming and finger-pointing are not the way enlightened beings behave. (Or if they are, I'm out of the ring.)
It is disingenuous to discount the physical. The physical is the gateway to the meta-physical. It is perhaps the only element of the yoga path that is accessible at first.
Iyengar says, "Each asana has an exact geometrical and architectural shape; thus it is also a fine art."
When I was asked a few years ago, randomly, through a friend from yoga teacher training, to do yoga in the window of Lululemon's Union Square store, I hesitated at first. Frankly it did seem kind of showoff-y.
I asked myself what my intentions were, and decided that, yes, there was an element of showing off my mastery of certain asanas (yoga poses)—but not for self-promotion. Heck, I wasn't even teaching classes anywhere. I had no products or services to sell. I thought it could be a fun adventure, and I also thought it might serve to instruct or inspire.
I did the window gig maybe four or five times, and every single time there would be at least one interaction with an onlooker—usually a young girl—that would just light up my heart. They did not respond to my "yoga body," my Luon pants, or my fancy moves (I actually did pretty simple poses in those windows), but they did respond to the beauty and harmony of yoga in action.
I wanted to share that.  And I believe it was received. Those window demonstrations may, in fact, have sparked the desire, in one of those little girls (or anyone else), to explore ways to achieve that sense of union between spirit, mind and body.
Yoga is a spiritual path that begins with the physical.
If one has begun to reap the fruits of the spiritual path and is indeed not in it for "just calisthenics," this would maybe show up as a certain equanimity, generosity of spirit, tolerance for the contradictions and imperfections that abound in the world, even—gasp—the yoga world. Instead, it seems that the yoga snob is just as alive and well as the yoga showoff.
Iyengar talks about the bhoga-kala (superficial/sensual/physical) and yoga-khala (spiritual/pure/divine) aspects of the art of yoga. He argues that what is needed is a blend of both:
"If there is only bhoga-kala, the art is merely sensual and not uplifting, while if there is only yoga-khala, it is too elevated and austere to be of value for society. To move, educate and inspire people, these two levels of art need to be combined and blended together . . . "
Maybe the W-yoga-truck endeavor leaned more toward the bhoga. Maybe it also was able to meet society where it is and offer value, a glimpse of something beyond the physical.
Either way, if Ms. Tara was able to spread the joy and shake up the rigidity of yoga, champagne buckets, high heels and all, then I say, "Why not?" Cheers to the hope that "this mortal body may drink the nectar of the immortal soul and the art may become divine" as Iyengar has said.
Love elephant and want to go steady?
~Apprentice Editor: Sarah Qureshi/ Editor: Travis May
Photo: Carolyn Coles via Flickr