Art changes people and people change the world.
I'm the visionary of Eco Art Installations, a not-for-profit enterprise focused on exploring creative potential, whilst raising awareness of ecological issues.
With waste management in mind, we have just created a wonderful example of "upcycling"—an interactive art installation at the Bamboo Centre in Auroville, India. Over 100 artists contributed, including local villagers, artisans and international artists all to send out a message to the world: "Trash is valuable—it's treasure."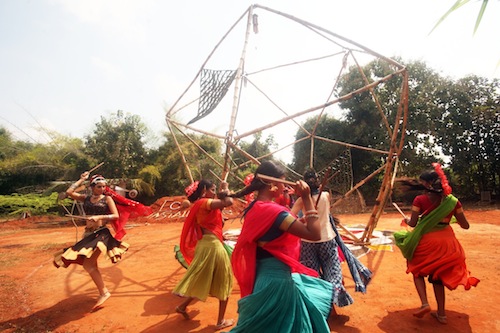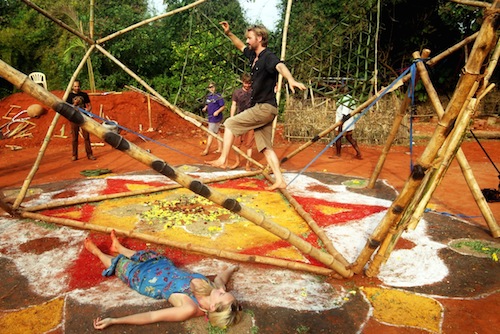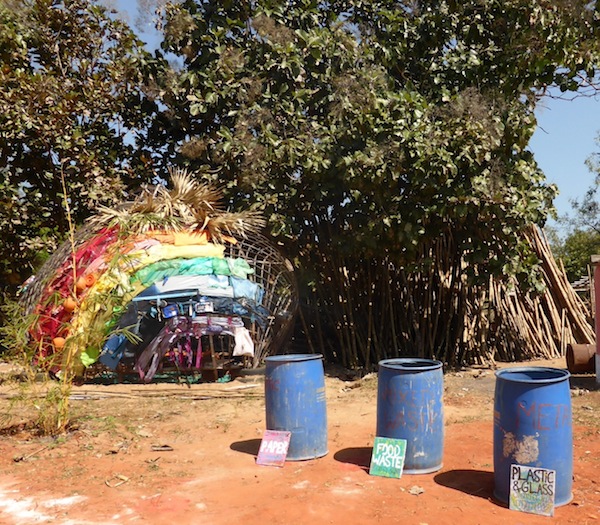 At a time when recent figures from the EPA (United States Environmental Protection Agency) report that only 8.8% of plastic produced is recycled, and figures are alarmingly even lower in developing countries, are some of us missing a trick?
In the spirit of "an invitation to imagine, eco create and co-inspire," this collaborative art installation comprised of a giant bamboo geodesic dome, a kolam, a mandala of dancing children and several site-specific pieces including a "Time Machine." The materials used were a combination of recycled materials (shoes, tires, telephones, clocks and cans) and natural materials such as shells, leaves and spices.
As the installation is ephemeral in nature, some short videos were made to document it, with music provided by Zilverzurf and Moby.
The project nurtured a cultural exchange of skills and was financed by a $900 Kickstarter campaign.
Some of the artists and organizations involved: Balasundaram Ponnusamy and the Kolam Artists of the Bamboo Centre, Mohanam Cultural Centre, Catherine Starostenko, Gaia Harvey Jackson of StampCollective and Joe Iredale of HalfCut, Reda Radi, Cosmo Brahman, Yatra Srinivassan of Yatra Multimedia, Balazs Virag, Lili Almassy, Balazs Budai, AuroTejas Hemsell and her dance troupe, Einat Ran, Kwizera Samuel, Gosha Bury, Axel Carlstrand, Sri Kolari, Romain Timmers, Madhu Jayamoorthi, Osiva of Yatra Arts Foundation, Prakash Sathiyatharan, Gorka Salas, Marutham Cultural Centre, Kottakarai Cultural Centre and Mala Dev of New Creation.
Eco Art Installations are currently raising the funds for their next dynamic installation due to take place in the Amazon Rainforest later this year. To contribute or find out more about this exciting art project please visit their website.
Love elephant and want to go steady?
Apprentice Editor: Guenevere Neufeld / Editor: Travis May
Photos: Eco Art Installations