Many years ago in a psychology class we had an assignment to write our eulogy in the way we thought it might be written if we died that day.
We were then asked to write one like we would like it to be read many years in the future. Then we were told to live every day of our short, precious lives in a way that ends with someone who loves us like crazy reading an updated version of that kick ass eulogy that was written under a tree in a college courtyard on a sunny day in the late 80's.
That is the best advise I have ever gotten and I have thought of it every day.
That was 25 years ago and I can honestly say I have done my best to live that life. A lot has happened in those years. Things are different now and I think it's time to revisit that life changing assignment.
It's a whole, whole lot to live up to and I'm not there yet—no where near—but I'm working on it morning, noon and night.
I hope my future eulogy goes a little something like this:
Dearly Beloved, we have gathered here today in this forest to celebrate the life of this very, very old woman whose kindness and generosity touched so many. If you haven't done so already please remove your shoes and grab a feather boa, some glasses, a hat or colored wig, a bustier or some other suitable costume item from the box near the giraffes.
I see you all got the memo to wear glitter and bring instruments–excellent. You can set them by the Mojito fountain if you prefer to not carry them and we can get started.
I know some of you are still shaking your heads and rolling your eyes in regards to the manner in which She died but as a reminder, She did always say that if she lived to be an old woman she would behave inappropriately because…well, who's going to stop an old woman?
At least she died smiling and more than likely, laughing.
There are extra copies of the newspaper with the article for those of you who didn't get a chance to read it. They are in a stack by the bathtub full of Merlot.
Our dear old friend would have given any of us the shirt off her back—probably because She didn't want to wear it in the first place—She was happiest climbing rocks naked, surrounded by dragonflies and nodding black eyed susans, exploring secret hot springs on a warm summer day.
She loved good food, good wine and good whiskey. She loved her motorcycles and sleeping outside— No doubt many of you have spent a night around a campfire with Her or staring for hours on end at the clouds or counting falling stars.
She told a lot of stories and made us all laugh regularly, even when things weren't all that funny. She had a way of turning lemons into lemonade and pouring you a glass that was always half full.
She worked hard and played harder. She never expected anyone to take care of her or her children. She worked for everything she had and as most of you know, she loved her work.
She wore so many hats throughout her life but through it all she made friends. She forged bonds with some of us that death cannot break. She was a fiercely loyal friend to so many.
Hers were the first hands that touched some of you, or your parent or grandparent. She loved being a midwife in her early years. She spend most of her years as a health practitioner and artist. She taught yoga and was a writer. She couldn't spell worth a shit but she could weave stories.
She loved her children beyond measure, and their children, and their children as well.
She traveled the world making friends, teaching and laughing as she went. She hiked the Triple Crown twice, skydived 100 times and rode her motorcycle all over the planet.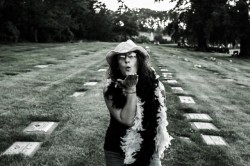 She lived a life free of fear, jealousy or regret. She loved in a way most people cannot comprehend. She was always honest and kind. Forgiving and patient. Direct and assertive. Loving and gentle. Wise and vulnerable. Creative and unpredictable. Smart and sassy. Passionate and strong and yes, sometimes aggressive, selfish and a bit crazy but always, always she loved and she laughed.
She will be greatly missed but her legacy lives on in her family, her stories and whatever that is in the locked trunk of the 68 Ford Falcon she parked over there in the field…
She asked that we celebrate her life doing the things she loved so for the remained of the weekend we will dress up, eat, drink, dance, do yoga, explore, skydive, tango, make faces at ourselves in the mirror, nap in one of the provided tents, do cartwheels, climb a mountain, catch a fish, make art, sing, forgive someone, forgive ourselves, write a haiku, drink whiskey and eat salad, sing "Puff the Magic Dragon", meditate, make love, play in the water, tell stories to babies, make daisy chains, laugh listen to Pearl Jam and Pink Floyd and Patsy Cline and last but by no means least…tell someone you love them.
Tell them once, tell them twice, tell them a hundred times. Wrap your arms around someone and laugh until your sides hurt and never, never ever forget that none of us are getting out of here alive.
Live like you mean it.
Live like its all you've got.
Live like you might be dead tomorrow.
Live like you have a eulogy to write.
Love elephant and want to go steady?
Editor: Renée Picard
Photos: Andrew Mylko