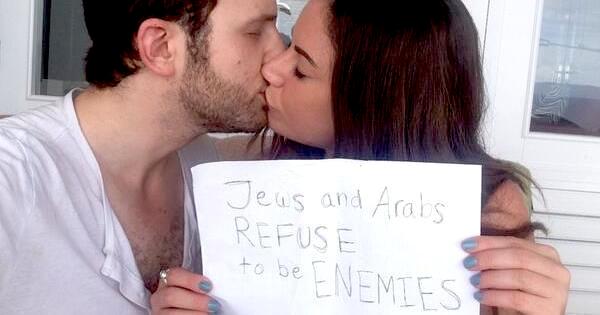 "He calls me neshama, I call him habibi. Love doesn't speak the language of occupation." @sulomeanderson
Jewish man and an Arab woman, Sulome Anderson, kiss for a picture posted on Twitter to support peace in the time of war for the "Jews and Arabs Refuse To Be Enemies" campaign.
"#JewsAndArabsRefuseToBeEnemies is bigger than me or my relationship."
"When it comes down to it, we love each other. It's not about being Jewish or Arab. He makes me laugh and I feel safe when I'm with him. That's what matters." ~ Sulome Anderson
Can't we all just get along and respect just being human. Learning to get to know oneself is the best first step to getting to know others and making a better world.
"There's nothing more important on our spiritual path than developing gentleness to oneself." ~ Pema Chodron
Jasmin is Israeli, Osama is Palestinian. They are a happy family !#JewsAndArabsRefuseToBeEnemies pic.twitter.com/Oy2Rjo08V7
Love elephant and want to go steady?