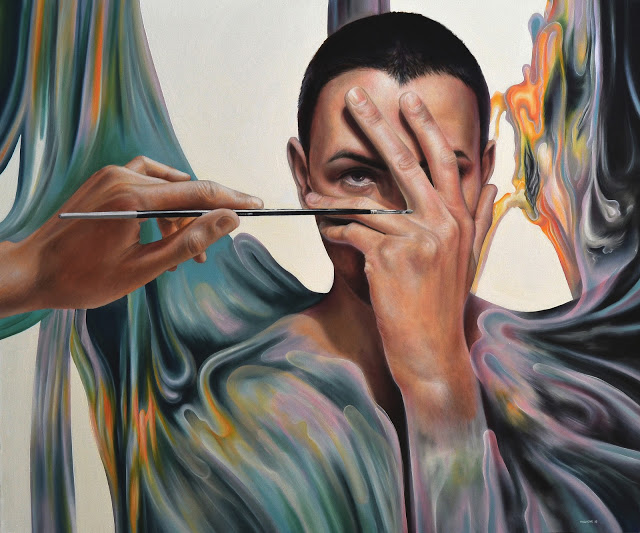 I did everything in order to avoid making them. I went to school. I got straight A's. I went back to school. I got more A's.
Yet I still continued to have feelings of failure.
Now I watch my son struggling when he tries new things. From tying laces to printing words, I watch him come up with excuses in order to avoid attempting these skills. Because he knows if he tries, he might not succeed the first time. He might fail.
At a recent meditation weekend at the Vancouver Shambhala Meditation Centre, our group was introduced to a Zen art exercise. We were each given a piece of blank paper and a glass of water. Without thinking about the outcome, we were instructed to dip a finger in the water and with open hearts and trust in ourselves, begin the creative process of placing dots on our page.
Turns out this was one of the terrifying exercises I've ever done. In fact, it was so difficult, I couldn't do it. I panicked. My mind went blank.
And then I started thinking: I knew I was in trouble when I first considered putting a dot right in the middle of the page and calling it a day. But then what would I do with all that extra time while my classmates were busy being successful in their creations? Would I just sit there looking foolish?
Or even worse, would my bottom lip begin to quiver? Would I cry?
I gave in to fear and decided to make a cherry tree in full bloom. I scattered the blossoms everywhere and soon my page was full of water drops.
And then the exercise was over. I felt horrible. Not only was my page a soggy dripping mess but how could I have failed so terribly at something so seemingly simple?
We went around the room sharing our process. People spoke about how amazing it felt not knowing where their dots were going next and how mind blowing it was to connect with their creative process in such a fundamental way.
I kept my mouth shut.
My harsh inner critic rose up and my heart heaved with sadness. I had chosen the path of fear: a spinning mind, a body frozen in panic. I could have slowed down, taken a deep breath, felt the nervous energy, confronted it, been brave enough to continue and connect with my heart.
In hindsight, this was a small failure that has impacted me in a profound way. I appreciate this experience because I would never have come to the place of learning and awareness I find myself in now. I'm not saying that if I had to do this exercise again I wouldn't have a similar response. What I do know is that I will be more aware of my immediate reaction: my mind and body, thoughts and heart, spinning and connection.
Through the Shambhala teachings, I learned that failure isn't a bad thing. Failing is actually a way to experience feedback if we're open to it. If, out of fear and habitual pattern, we close our hearts after we believe we have failed at something, this reinforces our negative belief and self-talk. But we can choose to remain open, feel the panic, desperation, frustration, and self-loathing and not run away from it. We learn that even with the presence of the nastiest of feelings, our world does not crumble apart.
The issue for me growing up is that I didn't keep trying. There was no persevering. When the going got tough, I quit. That's where real failure lies.
Now when I watch my son get frustrated, I try and sit with him and allow the feelings to be there. This is the opposite of what I really want to do, which is to run away. They are such big emotions and all I want is for him to be calm. But I know he has to work through it. I can offer support by letting him feel frustrated. By being there when he wants to give up and offering encouragement. And when he's had it, I can tell him we can give it another shot later. Together.
Making a mistake is not synonymous with failure, despite what your thesaurus may tell you. Making mistakes is part of learning. Without them there is no growth. We fail ourselves when we don't make room for mistakes and when we give up too easily because we don't trust ourselves. And by doing so, we are playing it safe and limiting our own creative potential.
We all make mistakes and when we do, we can choose to be compassionate with ourselves, like we would with a friend.
Love elephant and want to go steady?
Editor: Travis May

Photo: Pixoto/Alexandru Racu