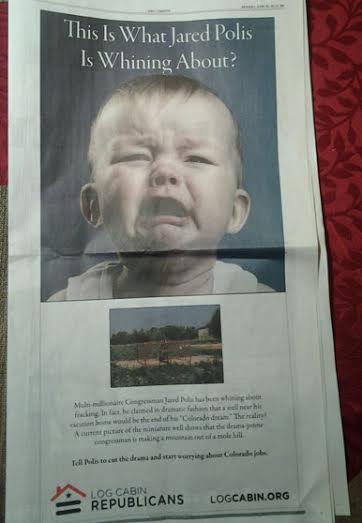 Log Cabin Republicans—a national organization supporting equality for conservative gays and lesbians—have been on a roll.
They are targeting openly gay Democratic Congressman Jared Polis, with full-page attack ads in Denver metro newspapers. These ads hone in on Polis' wealth and his opposition to fracking, possibly in response to several Polis-funded ballot initiatives that seek to pass stiffer regulations on unconventional oil and gas development and production (aka fracking).
The latest ad on June 30, 2014 in the Daily Camera insinuates that Polis is whining and crying over a "Christmas Tree" (valves and piping installed once a well has been fracked to regulate the flow of natural gas)—and that he needs to stop making a mountain out of a molehill and start worrying about Colorado jobs.
However, Log Cabin Republicans are only telling one side of the story. What is missing from their full page advertisement are photos of the giant fortresses built to hide tall fracking towers that come with 24/7 lights, loud sounds and noxious vapors that typify a heavy industrial fracking operation.
Where are the photos of the tank batteries housing toxic fluids found at each well site? Where are the VOC burners? The glycol dehydrators? What about the hundreds of large semi trucks toting clean water and fracking chemicals while tearing up the roads to and from the well pad?
Multiply this by a hundred or a thousand times and you've got a real problem.
Their ad is a diversion from the real issues, which encompass:
The degradation of the quality of our lives
Poisoning the air we breathe
The waste and 'destruction' of water necessary for all life
The devastating impacts to our health, especially to the young and the elderly (The Endocrine Disruption Exchange explains the ramifications in great detail. Click here for more information)
The plan to turn our beautiful Colorado into a sacrifice zone in order to ship natural gas and oil to overseas markets, etc. We can all thank Wunderkind Cory Gardner for voting at the Federal level to open the liquid natural gas (LNG) floodgates to Asia and beyond.
Taking away our rights to control what we want and don't want in our backyards!
This is not a political issue, but rather an issue of corporate powers that seek to take away our rights. Politicians on both side of the fence are selling us out for the sake of a profit.
The good news is, you do have a choice! There are two Community Rights Initiatives that will give us the power over our own destiny: #75 at the state level: the Colorado Community Rights Network and Home Rule for Boulder County —Boulder County Community Rights Network)
All you need to do is sign a petition. Better yet, get involved—volunteer to carry these petitions into your community, or whatever else is needed.
Let's bring the power back to the people. We can do it with your help!
Love elephant and want to go steady?
Editor: Renée Picard
Image: via the author and used with permission from East Boulder County United