A personal note from Waylon:
"We've all had, hopefully, a teacher or two or three who embodied what teachers should embody: joy in connection and discovery.
Askold was one of my best teachers, ever, and you'll see why here."
Waylon talks with his old (well, young) prof Askold Melnyczuk—a writer who's won awards for everything from everyone—about inspiring through teaching, the conflicts (and benefits) in mixing meditation and writing, and activism and the potential (or lack thereof) for pacifism to bring harmony to our small world.
Can't watch?  No problem listen to the conversation on Soundcloud
A gold mine of quotes on writing, meditation, activism and teaching:
"I loaf and invite my soul." ~ Walt Whitman
"We read to get privileged glimpses into other people and other lives." ~ Askold Melnyczuk
"It's very useful to remember [writing] is your call. No one can stop you from this. It's the one thing you can decide to do until it's done." ~ Askold Melnyczuk
"There is a rhythm to the process." ~ Askold Melnyczuk
"One of fiction's highest goals is to disillusion people. What's more valuable than getting rid of your illusions and have some closer contact to what is real, what is there." ~ Askold Melnyczuk
"I don't know if it'll ever be all perfect. Individual actions do matter." ~ Waylon Lewis
"You always have the freedom to change the trajectory." ~ Askold Melnyczuk
"There's nothing wrong with joy or cheerfulness, but the 'pursuit of happiness' is a myth." ~ Linda Lewis
"Writing has been largely commodified." ~ Waylon Lewis
Elephant is psyched to be working in partnership with Google+ on our new live video series, which features three live videos a week (that can be watched later, too).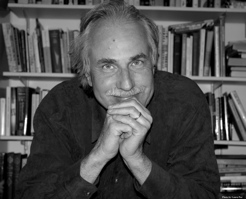 Askold's bio from his site: 
Askold Melnyczuk's first novel, What Is Told, was a New York Times Notable Book.  His second, The Ambassador of the Dead, was selected as one of the Best Books of the Year by the LA Times which noted that "Melnyczuk's Ambassador is an eloquent meditation on the human need for a rooted historical perspective. His ambassador, Adriana, invites comparison to one of the tempestuous Karamazovs. With her, he has brought the great tradition of Russian literature to American soil in a transplant that is a work of art."
The most recent, The House of Widows, was chosen by the American Libraries Association's Booklist as an Editor's Choice. About it, The Boston Globe wrote: "…a small gem of a novel that's filled with more crucial questions about the meaning of history than a hundred textbooks."  The LA Times noted: "Not only does the author explore the consequences of secrets in the context of personal history, but he also delves into how governmental cover-ups, especially in wartime, destroy lives. It's a beautiful novel and redemptive in its own way."
He has received a Lila Wallace Reader's Digest Writer's Grant, the McGinnis Prize in Fiction and the Magid Prize from PEN for his work as founding editor of Agni.  In 2011 AWP honored him with the George Garret Award for Outstanding Community Service in Literature.  His work has appeared in Glimmer Train, The Antioch Review, The Nation, Ploughshares, and The New York Times.  An essay on the art of fiction was a cover story in The Writer's Chronicle in 2012. An Associate Professor in the MFA Program at the University of Massachusetts, he also teaches at the Bennington Writing Seminars, and has taught at Boston University and at Harvard.  He is Founding Editor of Agni and Arrowsmith Press.
He is currently finishing a new novel, Smedley's Secret Guide to World History.
Relephant:
 ~
~
We got your social mediums right heah:
Hangout on Google+ every Tuesday & Thursday at Noon MDT.
Listen: Walk your Talk on your commute or over dishes with Soundcloud.
Subscribe directly to our award-winning Youtube Channel.
Editor: Rachel Nussbaum
Photos: Askold Melnyczuk