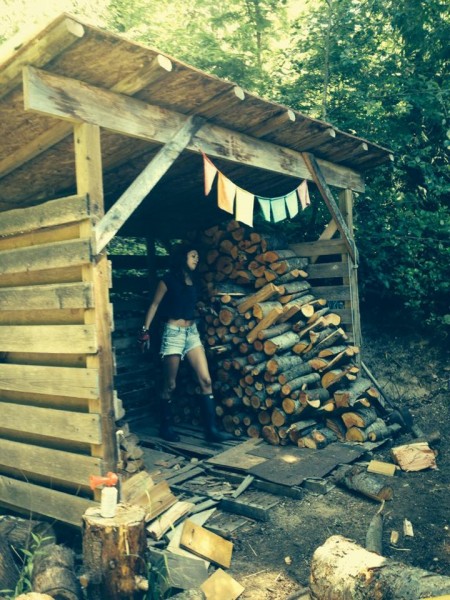 The most important thing I've learned about living is that the only thing deserving of my undivided attention is the moment I can tangibly taste, smell, touch and feel as it unravels before me.
Life always takes precedence over my phone, emails, social media Twitter twang, Instagram and Facebook messages.
Why? I don't get stimulated through this screen as I do out in this gigantic beautiful world.
Messages laying in my phone waiting for a reply will stay there, not because they are not important and the message isn't worthy of my time to reply. It lays there untouched because I'm too damn busy living.
"Here I am largely unmolested by obligations. There is no TV. To check e-mail I have to drive to the library. I go a week at a time without seeing anyone I know. I've remembered about buttercups, stink bugs and the stars. " ~ Tim Kreider
I'm busy breathing in the air of freshly chopped cedar, feeling the heart pumping blood through the human being I'm hugging, sitting next to and laughing with—right now. Wiping sweat from my face and listening to the birds singing around me in the hot afternoon heat.
Right now gets first pick, dips and grabs on my attention.
I care more about being present in the way the olive and ciabatta bread tastes from the bakery down the street, as I sit in a hammock with an Americano and absorb attentively the words falling from the human being sitting in front of me.
I try my darndest not to pitter patter away on my laptop or phone when I have fleshly human beings beside me, because their company calls to my soul more than an Instagram update of what kind of latte I am drinking.
I will never apologize for taking two days or a week to reply to a email or message. Call it selfish, call it inconsiderate—it's just the way I operate.
To be very clear with the world—life takes precedence.
Consumers check their phones an average of 150 times per day.
We forget to be here now. We forget what our phones and laptops take away from—life.
Living.
This video by Gary Turk hits it hard on the head.
Are we living in a world of smart phones, and dumb people?
Love elephant and want to go steady?
Editor: Emily Bartran
Photo: Author's Own