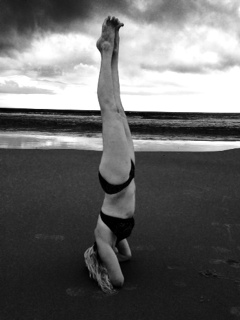 Confession: I am 44. I weigh 160 lbs—give or take—mostly give.
I have spent 99 percent of my life wishing I looked different. Specifically, thinner.
I have spent the other one percent  knowing that this makes me a complete bore, an ingrate, a sad, brainwashed victim of American culture, and someone who evidently is not intelligent or savvy enough to define reality on my own terms.
There hasn't been much space in between all this unrequited desire and acknowledgment of my shortcomings for self love.
And I am so damn tired of it.
So tired, in fact, that I have dared of late to do some scary things. Maybe not scary to you (although I regretfully bet if you're a woman you feel me all the way down to your self loathing bones), but scary to me—in hopes that the crucible of fear might burn away some of this ridiculousness before it's time to bid adieu to my imperfect flesh altogether.
Amongst these things have been: eating salt and vinegar potato chips (a lot of salt and vinegar potato chips), leaving the house without looking in the mirror, and allowing my husband to see me naked (briefly) in a non-sexual situation in unflattering light.
By far the scariest thing of all was deciding to do a headstand on the beach, in public, in a bikini.
Just getting into a swimsuit in the first place sends me spiraling into my own personal hell.
There's simply no hiding in them, unless you wrap yourself up in a swim dress, which I would be more than happy to do if the feeling of it in the water wasn't like being trapped in a wayward parachute.
And all the one pieces and tankinis in the world aren't going to hide my ass—which, let's face it, is the vortex of my insecurity.
That being the case, I inevitably opt for a sporty two piece, hoping that it won't at least look like I want to crawl under a rock and die the second I lose my cover up.
Normally, I would find ways to avoid the need to wear a bathing suit altogether, but this summer it had to be done. Our family was spending one whole week in a beach house in North Carolina, where the average temperature is a humid one million degrees, and my ten-year-old son was going to need some supervision in the raging surf.
So I shopped and I shopped, buying nothing, and picking instead about five suits from my swimsuit drawer which is overflowing with decades worth of failed attempts to find just the right few inches of fabric which would magically transform me into Christy Brinkley, or Naomi, or Giselle—depending on the year.
We arrived at the cottage and the moment was upon me. I made sure the bathroom door was locked and tried on all five suits—twice—before settling on the least hideous one. I threw on a t-shirt over it fast before I had time to ditch the whole thing (as I've been know to do)—my son was waiting for me, I could not disappoint him.
I trudged down the long wind worn wooden walkway to the beach, stomach churning. I slipped off my shoes and hopped across the scalding sand. I took off my t-shirt. And just before I let my son drag me into the waves I said, "Do me a favor, Danny. Snap a quick pic of me, would ya?"
As soon as I said it, my heart began to race. My body felt like it was bulging out in all directions, amorphous as a jellyfish.
"Just do it," I thought.
I walked down to the water's edge. What's scarier than taking a picture in a bikini? I thought. And suddenly I knew.
I knelt down in the wet sand. I folded my hands together as I have done so many times, and placed my head against them. I stuck my butt up into the air.
And I did a headstand, dammit.
I didn't look at the photo right away– I was too scared. My son and I played in the ocean for a good long while, came out, wrapped ourselves in towels and lolled around in the hot sun.
Later, much later that evening, I dared to peek. What I saw was a normal looking mom in a decent asana who looked kinda cool with her toes reaching for the clouds.
Not a supermodel, not a monster—just me.
And I was okay with that.
Do I think one photo is really going to fix my problem? Nope. But it's a step in the right direction.
I just hope I have the courage to take enough steps to eventually get where I want to go.
Love elephant and want to go steady?
Editor: Renee Picard
Photo: courtesy of the author