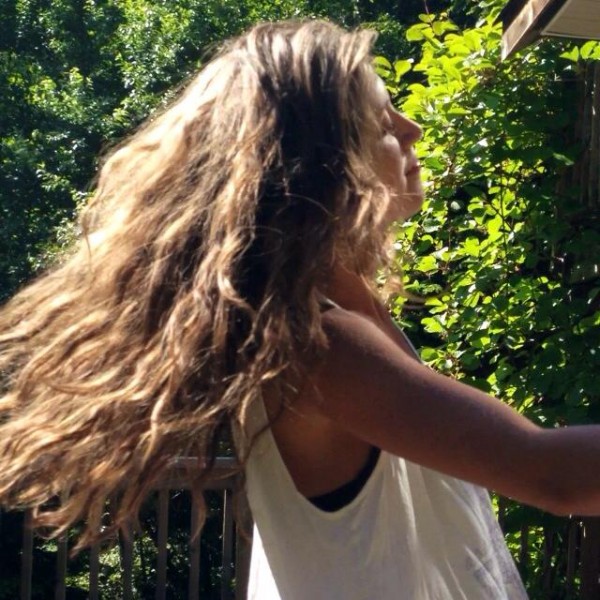 She loves to dance
She loves Brazilian samba
when sunshine reaches for her toes in the morning
Gently dancing on her thighs, finger tips and cheeks
It beckons warmly that the day has begun
"Why aren't you playing?" it coos.
There are no stars left to speckle the sky
She loves to swim naked, eat naked, dance naked, brush her teeth naked
She loves the sound of the hemlock trees swaying
She loves all coffee, but she loves French press the most
She loves delayed gratification and waiting for things worth waiting for
She loves that mug
The orange, yellow and brown one
That has a love story with her hands and her bed head
It knows how much cream she likes, and just how much sugar
It loves coffee almost as much as her,
Because it means it gets to be taken off the shelf and be part of the creation for the day.
She loves the creeks babble
The big white blue bells that aren't really blue bells,
But wild, strange flowers that she calls blue bells
That grow beneath her driveway
She loves seeing a print in the woods and knowing what animal walked before her
She loves driving home at dusk
Where the field of purple wildflowers and long grass
Glows with a orange hue
She would like for the world to always glow like it does then.
She would love dawn if she could learn to love the moon less.
She loves the smell of a musty thesaurus
She stays up late devouring language
Caressing each word with her tongue
She loves to light candles when it rains
Light a fire just for the crackle and calm
She loves to feel the ocean all around her
Laying on her back,
As her breasts salute the sky
She has a wild, wild mane
Eyes that hold the sea
Or maybe they reflect the sky
A smile that is like sunshine
She prefers to shower in the ocean
And marvel at starfish hugging below
Then spend time putting on a face that isn't quite her
She's too soft, and speaks too quietly at times
For she thinks those that speak too loudly rarely have anything worth saying
She loves to give, she's still learning to receive with grace
She has strong hands
From an axe and a drizzly, dreary winter
She should meditate more,
Drink more water,
finish more books
But she prefers to do as her spirit beckons
She is happy alone,
But she lives to touch and be touched by the souls passing by
She believes that if you don't think you're a little bit weird you haven't spent enough time with yourself.
She doesn't have much time for small talk
She loves no equalizing connections
Where you don't take your time before you dive deep in
She prefers soul fucking to just getting naked
She loves to be challenged
Even to be wrong
For she knows she will never know or experience everything
And she wants to stretch her existence as wide as the sea.
Love elephant and want to go steady?
Editor: Travis May
Photo: Author's Own