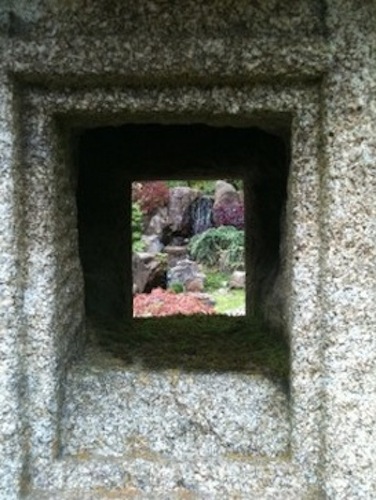 Warning: Naughty language ahead! 
I wrote this poem after a year of great personal loss.
I was having an ugly custody battle with my ex.
At the same time, my 68 year old Daddy transitioned after a three year battle with Multiple Myeloma, a rare blood cancer.
My hand was on Dad's heart as he took his last breath. One of the most profound gifts I will ever receive in this lifetime. Right up there with three cesarean births and learning transcendental meditation.
TM saved my life. TM helped me overcome the stress of post traumatic stress, which I believe humans beings have in some form or another—from various experiences—as long as we are in this human existence.
When my Dad transitioned, I had just finished reading The Tao of Pooh by Benjamin Hoff.
During a month spent with my Mom and three children we took a trip to the Milwaukee Zoo.
I have many sweet childhood memories there. That day was a very different trip to the zoo.
This is the poem I wrote that day while sitting on monkey island. There are still smeared teardrops of ink on the original.
The Who Knew Zoo.
Scores of human beings attempt conversations with the animal kingdom,
But very few take heed.
To the theater absurd this can lead.
I pondered the Tao of Pooh while at the zoo.
The birds weren't diving.
The fish weren't flying.
Eeyore was whining.
Lone Tigger was crying.
The orangutan gazed wisely,
While turtles fucked riotously,
Owl shape shifted on his soapbox,
As gecko emitted a spectrum of light.
The graceful giraffe licked her own nose.
"I'm certain I could do that." mused Christopher Robin.
Rabbit kept tabs over all as
Pooh shared a picnic of pie in the sky with Piglet.
The intrepid lioness encouraged the other beasts
To know their confidantes by observing tracks,
Giving audience to the first roar,
Having uneven claws trimmed,
And jumbo fangs removed.
The hazel-eyed cat quietly muttered, as she attempted
To sagely quote old Aesop,
Transcendental Meditation can domesticate the untamed.
*
June 24, 2015: The poet has modified and dedicated this poem to the memory of Helene Yellin who passed away in Fairfield, Iowa on Tuesday, June 23rd 2015. She was the loving wife of Jerry Yellin for 65 years, mother of four sons and six grandchildren.
Helene's husband, Jerry Yellin, who is 91, flew the final combat mission of WWII. Jerry has since, dedicated his life's mission to spreading the message of peace and Transcendental Meditation. Jerry had severe PTSD after the war. Jerry's co-pilot , Phil Schlamberg, was the last vet killed in action in WWII. Actress Scarlett Johansson, recently taped a PSA with Jerry Yellin to honor the memory of her great uncle, Phil Schlamberg, who disappeared on August 15, 1945 while flying with Jerry on the final combat mission of 1945.
Sunday, August 16th, 2015 is the 70th anniversary of the end of WWII. Jerry Yellin hopes to get a bill through US Congress abolishing holidays that honor war and establish an International Peace Day.
 
~
Love elephant and want to go steady?
~
~
Editor: Ashleigh Hitchcock