I tried online dating and found the perfect person to get naked with—me. It required a little patience and effort. But it was worth every moment.
First, I met a man named Eric for a coffee date.
He was from the upper west side and had published two books about travel. His father used to be a reporter for the New York Times. He had bright blue eyes that sparkled, and very long curly hair that looked exactly the way I would love my own hair to look: coiffed but careless.
Every other part of Eric was pretty much un-groomed. He wore stained sweat-pants with a hole in the thigh. His shoelaces were untied and his fingernails were dirty. He had something small and green stuck in his teeth. But he gestured in a lively way with his hands and talked about the two books he wrote.
He laughed loudly, like he was really enjoying himself, when I said some silly things. He tapped my hand and said—as if he was suddenly remembering something he meant to say an hour ago (even though we just met an hour ago)—"Oh! You would like this!"
I wondered how Eric could possibly know the slightest thing about what I would like. And then I remembered that in my OkCupid profile, I had told the whole world that I like Art Garfunkle better than Paul Simon.
I sat somewhere in the back of my head and watched Eric perform for me his best routine of a single dad who had a lovely life, coached little league, listened to jazz, did not care for grammatical errors, and wanted to meet an honest woman.
I found cheap tickets online to a show near Eric's house and invited him. He sat and fidgeted beside me. I clapped loudly and could feel Eric glance at my enthusiasm. He yawned. His hand shifted from his own knee to my knee and he slowly petted me. I felt like he was secretly telling me to calm down.
He was embarrassed by my public happiness. Or maybe he was not used to a woman who paid for him. Or perhaps he didn't like the shirt I was wearing. It slid off my shoulder and offered a bra strap to the world. Or maybe he liked it very much and wanted to get us back to his house where he imagined taking it off. Or then there was always the possibility that he had met a friend in the bathroom and smoked some weed and was sleepy.
I did not know Eric well enough to know any of this. We were both pretending.
This is what happens when you meet people online, the same way as when you meet them at your mother's bingo games, or via your friend at church, or at the bar down the street. It is all the same. Except it is different from the people you met when you were in the second grade. Those people are different.
Once, at the reading table in the second grade, a boy named Matthew offered me a booger. He was picking his nose and saw me looking. I stuck my tongue out at him, because that is what I did a lot of the time, when I was seven years old. Matthew offered me a booger straight from his nose and I will never forget that.
I will forget most of the things that Eric ever said to me or did in my presence. Eric got mad at me for something insignificant and we haven't spoken in over a year. There is simply no need to speak again. We were just passing through. I am less interested in Eric than I am in who I was with Eric.
I met another man online named Justin.
I liked Justin and we are still friends. He is a sweet guy—the kind of man who can wear suspenders, high tops, and a striped shirt with absolutely nothing to be ashamed of. He can pull that off. He likes world beat music. I kissed him. Well, actually, we kissed together and we rolled around on his bed a little, with his cat skulking under it.
Justin took his pants off and I took some of my clothes off, but then there was this horrible moment when I felt like Justin wouldn't have cared who he was with and would have been just as happy jerking off to porn on his computer as he was rubbing himself around on me. I felt my body freeze and the whole room freeze, and my brain freeze. I pushed Justin away and said, "I feel like an object."
Justin was sorry and he didn't know what to do. Neither did I so we got crackers and cheese and put an old Paul Newman movie on. We put our clothes back on and we sat with our feet on his coffee table, his cat in between us. I watched for about thirty minutes as Paul Newman took off his shirt in the movie and stared into the sun. Then I left Justin's apartment and went home with myself.
When I was little, actually right around the same time that Matthew was offering me his boogers at the reading table; I had a vision of myself as a grown-up. It included making large abstract paintings in a huge barn. I pictured being the kind of woman who owned a barn that had been converted into a painting studio. I pictured having a stained glass window in the barn. I wanted to own horses too. I don't know where I thought I would keep the horses if I were painting in the barn.
That's what being an optimist is like. You don't worry about where the horses are going to sleep.
I have not come any closer to owning a horse than I have come to owning a ship.
I recently updated my online profile to try to make it more authentic. I found myself writing about what I am looking for instead of what I was offering. I am not offering a dream. I don't want to sell myself and put spin on it. I feel cheap like I am hawking rhinestone jewelry in the mall, when I try to sell myself on OkCupid. I don't know what to tell these men.
I want to tell the truth but the truth is that I am tired and lonely. How do you say that and make it witty? I like my life even though I am tired and sometimes lonely. I wonder what it would take for me to not be lonely any more.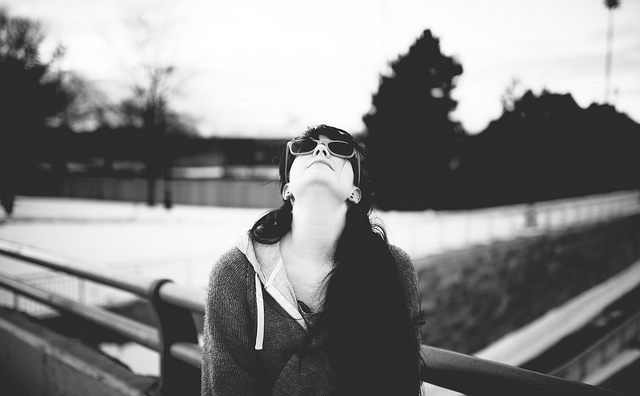 When Eric and I were talking, one time as we walked hand in hand down a fashionable street on a sunny day, I told Eric that I thought he should write another book. He should write a book about his online dating experiences. "This is interesting stuff," I said to him. "I bet married people and people who are not brave enough to get online and meet other people would be interested." Eric shrugged and said, "Yeah, maybe."
Inside, I heard myself say this and I wondered if I was really saying it to myself instead of to Eric.
I tell my children, all the time, to be their best selves. What I tell my children and what I tell myself are slightly different. I tell my children: "You did a really good job today being you!" My youngest son, when I say this, inevitably gets a shiny look in his eyes, and says, earnestly, "Thank you!" And then, sometimes, he says, "You too, mama."
What I tell myself is: "You should do better."
I resolve to talk to myself the same way I talk to my children. I learn at the same time that I instruct. I take another breath and another. Each breath brings me closer to the end. But I am still here.
I go back to my online profile and edit it. I say this: "I will not sell you lemons. I have made lemonade and it is sweet and well-stirred."
I look at those words for a few minutes and then delete them. (Too sappy. Silly. Something just not right.) I turn on the camera in my computer and let my shirt fall off my shoulder, turning an expectant face at just the right moment.
The face that stares back at me in the photograph is soulful and earnest. She looks slightly sultry and inviting. She has big brown eyes. Her hair is swept to the side and the tentacles of a colorful tattoo creep up over the curve of her shoulder. But she doesn't look familiar to me.
She looks like someone I would like to know. I think I will give her a call and see if we can meet for coffee.
I wonder if I could have just skipped meeting Eric and Justin, skipped the trying so hard to make myself match a stranger, and gone straight to the source. Made a profile for the woman I really wanted to meet: myself.
This morning, make arrangements with yourself to meet for coffee. Find that one outfit in your closet that you feel most yourself in, and dress to meet your self. Make sure you have clean fingernails and do not wear stained or ripped sweat pants. Dress in a way that pleases you and says to your inner self, "You are worth taking care." Try saying this to yourself: "You are doing a good job becoming your true self."
Sit by the lake or in the park, on a bench and notice the ways in which your hand curls beautifully around the steaming cup. Appreciate the feel of the air ruffling your hair. Say hello to the perfect person for you.
Let your shiny self meet your rumpled self. Be in public with your new partner—you. Notice the way your toes curl when you are happy. Just the way you are.
~ Emilie Mitcham
Love elephant and want to go steady?
Assistant Editor: Kathryn Muyskens / Editor: Catherine Monkman