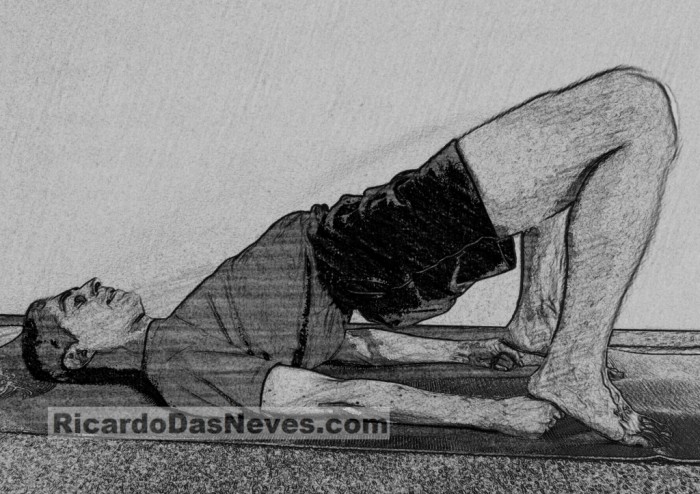 As much as I like to use props in my yoga classes, I like poses that don't require them at all.
This is why, while you can do the Fist-Heel Quad Stretch with a block under your heels, if you don't have a block handy, I'm assuming your hands are, ahem, handy.
1. Lie on your back with your knees bent and your feet hip-width apart.
2. Scoot your shoulders down toward your heels, or walk your heels in. Do this slowly carefully—if your muscles are tight, you could trigger a cramp somewhere. When your hands are close to your heels, lift the heels.
3. Slip your hands, as fists, under the heels. Lower your heels onto the fists, relaxing your legs. Stay for five long, slow breaths.
Benefits: A thorough stretch to your quads, shoulders, and hip joints.
Avoid if: Again, approach this pose slowly so you do not get a huge cramp anywhere in your legs. If your range of motion doesn't allow for the placement of the hands underneath your heels, then it's time to reach for the yoga blocks, put them under your heels and save your prop-avoiding ways for other poses.
Final Thoughts: This pose also qualifies for the "I don't feel like doing yoga but I should do some, but I'm also feeling lazy, so I think I'll just try something and see if I get inspired" category.
Come to think of it, many of the poses that I document on my visual yoga blog have a suspicious tendency to fall in this category…
Love elephant and want to go steady?
Editor: Emily Bartran
Photos: Author's Own