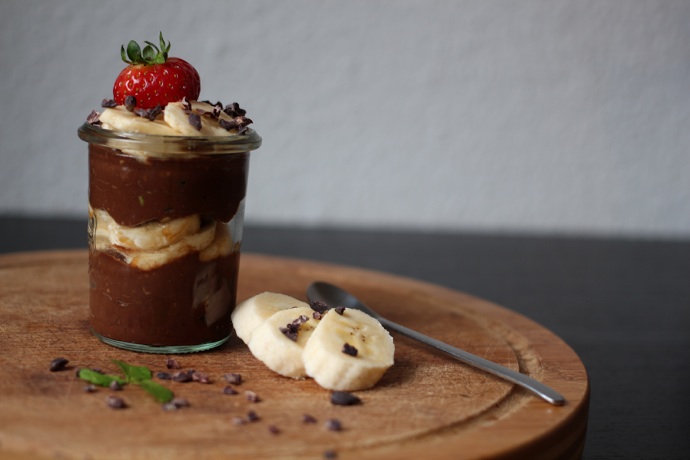 This recipe is raw, vegan, sugar & gluten-free.
Love chocolate? Love bananas? Love creamy, sweet and delicious desserts that leave you feeling nourished instead of guilty afterwards?
Then you're going to love this.
I have to admit, when i first heard about making chocolate mousse from avocados ages ago, I was skeptical. How can you turn a green vegetable into a mouth-wateringly sweet chocolate substitute? Can you substitute chocolate anyway?
After weeks of experimenting to find the "right" combination and balance of ingredients and measurements (to the delight of my boyfriend, who probably never had so much avocado in his life), I came up with this piece of dessert heaven.
I am a big believer in using food to nurture yourself, instead of torture, and in my work with women who struggle with food, weight and eating disorders, I show them how to fall back in love with food, their bodies and themselves and how to eat in a way that feels right for them.
So if you feel scared around food and in particular sweet things (out of fear to put on weight or to start a binge), this recipe is just right up your street—as it is free from all the usual binge trigger suspects: sugar, wheat and flour, and helps you to nurture instead of torture yourself.
Here's all you need to make two servings. Prep time: 10 minutes.
1 large avocado (or 2 small ones)
1 tbsp melted coconut oil
3-4 tbsp raw cacao powder
⅛ cup orange juice
3 tbsp raw coconut nectar (or maple syrup)
2 bananas
Cacao nibs
Instructions:
1. Half, peel and mash avocado into a creamy mousse.
2. Add orange juice, coconut oil, coconut nectar and cacao powder.
3. Slice banana.
4. Take a dessert glass, layer it with chocolate mousse, sliced banana, chocolate mousse, sliced banana.
5. Sprinkle with cacao nibs and garnish with strawberry.
Happy eating, loving and nurturing!
Love elephant and want to go steady?
Author: Anna Sperlich
Editor: Catherine Monkman
Photo: Author's Own