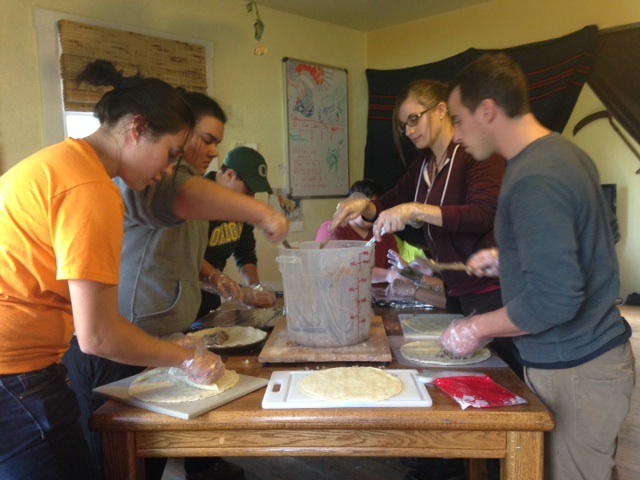 "All the darkness in the world cannot extinguish the light of a single candle." ~ St. Francis of Assisi
The Burrito Brigade, the brain child of Heather Beck, CJ Myers and Sean Reber, made its debut in March 2014, and since that time has prepared and distributed over 10,000 vegan burritos to the hungry—all through private donations and the work of volunteers.
So simple yet so brilliant a thing that has changed the lives of many, and is continuing to do so.
Every Sunday, volunteers of all ages meet to cook, prepare and one by one, rain or shine, hand deliver backpacks full of burritos to camps, parks and the downtown area.
Food for the hungry is hard to come by on the weekends, since most organizations operate Monday through Friday. So, Beck decided to fill that gap for at least a few locals in need. In March, she put a post on her Facebook page asking if any of her friends wanted to help make burritos and deliver them to the homeless camps. CJ Myers replied, and the two of them made 35 burritos the first week.
That number is now up to over 400 and steadily increasing.
Beck chose burritos because they are affordable and sustainable. Wrapped only in foil, and the ingredients often the overflow from private and community gardens, they are not only feeding the hungry, they are doing it with little waste and minimal resources.
In true grassroots fashion, one day a week at about noon, CJ turns on some music, pulls out the cutting boards, fires up the stove and opens his home and his small kitchen to friends and strangers alike.
In the first nine months, over 1,000 volunteers (including donors) have been involved.
The people who donate their time do so for a variety of reasons. Some have been fed by the Brigade while homeless, others are fulfilling high school graduation community service requirements and others, thanks to the magic of social media, heard of the project and just want to support its efforts.
One woman I spoke with said she keeps coming back not only as a way to serve the community, but as a way to build community.
People come and go, but those who return are getting far more out of the experience than fulfilling a need to give. They are developing relationships with like minded people, friendships with solid foundations based on kindness, generosity and shared vision.
All of the food and supply donations come from restaurants, private individuals and local non-profits. Each week an "Angel Donor" consistently contributes 400 vacuum sealed, plain plastic bags of granola. In the true spirit of giving for nothing more than the sake of giving, a middle man delivers the bags in order to maintain the donors anonymity.
Heather Beck, CJ Myers, Jennifer Riehl, Lily Frey and Al Jones are the coordinators and organizers of this tiny grassroots enterprise. They all have jobs and lives that keep them busy, yet one day a week they come together with other  members of the community in an effort to help end hunger.
The Burrito Brigade has no religious or political affiliation, they are just a group of motivated people who saw a need and are doing their best to fill it. Having some fun and making some friends along the way is an added bonus.
In every city, everywhere, there are active citizens making a difference and reminding us all that there is still a whole lot of good in the world.
Getting involved in your community is not difficult and does not necessarily require much time, money or effort, and it can make a dramatic difference in the lives of others. It feels good to be part of a project, a team, a vision, a dream.
The possibilities are endless.
Helping children read, transporting the elderly to appointments, teaching yoga, coaching soccer, feeding the hungry. There are non profits and small groups such as the Brigade in need of volunteers everywhere doing just about anything you could think of but—if you, in a state of inspired genius,  have managed to think of something that's not already being done in your community—slip on Heather Beck's shoes and make it happen. You won't regret it, and you might end up with a few new friends.
In the words of Margaret Mead,
"Never believe that a few caring people can't change the world. Indeed, it's the only thing that ever has."
The Burrito Brigade's mission is to feed the unhoused and hungry of Eugene Oregon through a local community network of personal donors and nonprofit partnerships while engaging our community in the fight to end hunger. They are currently working toward 501c3 status.

You can check out the Brigade on their Facebook page for more information and to find out how you can help.
Love elephant and want to go steady?
Author: Kimby Maxson
Editor: Emily Bartran

Photo: Provided by Author